CHATSWORTH, Ga. - Mike "Boogie" Gilbert lost his teeth in the storm.
The 60-year-old masonry worker leaned on the frame in the doorway of his Murray County, Georgia, motel room Friday afternoon and brushed the white and gray hairs of his mustache with his thumb and index finger.
He was tired of being stranded. He was scared of going broke. He was anxious to go back home, wherever that would be.
"We lost everything," Gilbert said. "We're looking for someone to help us find a place. I'm 60 years old and broke down bad. I've done rock and brick work most of my life, and when you work for cash money most of that stays in your pocket or goes somewhere else."
Gilbert and his wife Sabrina were living in an apartment on Highway 286. The EF3 tornado that swept through tore off their roof and destroyed most of the units at the complex.
"We're just in a really bad way," Gilbert said.
They were able to save some clothes, but not much else.
"I have false teeth, I lost them," Gilbert said, waving his hand to imitate a gust of wind. "Now I don't even got any teeth."
After the tornado that hit Murray County Sunday night and left seven dead, dozens of families were displaced from their homes. Churches, community organizations and groups of volunteers joined together to help out the hundreds of people who were affected.
The American Red Cross helped by setting up more than 50 people with rooms at the Super 8 motel in Chatsworth free of charge. The nonprofit also is providing three hot meals a day for guests, handing out medical supplies and other necessary items.
Red Cross volunteers and Super 8 staff members are all wearing protective masks that cover their noses and mouths, a reminder that the country is still dealing with the coronavirus pandemic. With such tight quarters, hotels and motels have been largely abandoned in the Southeast for nearly a month as shelter-in-place orders are forcing people to stay home to help flatten the curve.
But when a tornado hits and people need somewhere to stay, there aren't many options.
***
Patricia Watson sat at the edge of her bed and leaned heavily on a cane with her right hand. She looked like she had been in a fight with a bear.
There are bruises on her arms, both sides of her head, a group of cuts and abrasions on her back, three stitches on the inside of her ankle and 18 on the outside for a cut she swears is infected from debris.
But here she was, so she felt like she won.
"It hit us like a freight train," Watson said. "Our trailer flipped over four times and it threw me 25 feet."
First responders found Patricia unresponsive and far away from her husband, Chris Watson. The two of them took shelter together in a closet before the tornado hit.
The Watson's mobile home was on Norton Bridge Road before the tornado flipped it over. First responders told Patricia Watson they thought they lived in the subdivision across the way based on how far the home was thrown.
Chris Watson has been back and forth between the Super 8 and the destruction site to find as many of their belongings as possible. In their room at the motel, black garbage bags are piled on a spare bed and plastic tubs full of clothes and kitchen supplies crowd the carpet and dressers.
The transition has been difficult.
Chris Watson said it's been hard not working. He works in shipping and receiving in the textile industry.
"I've always worked," he said. "That's the way I was raised.
"It's like one day you have sunshine and the next day you have darkness," Patricia Watson said. "What do you do? You can't see nothing. You can't sleep because of the nightmares. Your whole world gets turned upside down."
Down the hall, Tracy Bush and her son Dev'eyeon Pinkett, 9, escaped the worst of the storm by seconds.
The two heard a bad storm was brewing so they got in the car and headed to Dalton for the night.
"We made it out just in time," Bush said. "Dev'eyeon turned around and saw the trailer being picked up and spun around."
Dev'eyeon was lying on his stomach watching TV with half a pizza on the bed. Bush said he's been having nightmares about what he saw. Adjusting hasn't been too hard on them. Bush works at a nursing home in Murray County and knows how to keep herself and her family safe in a time like this. She works the night shift and is able to sleep well at the motel. She also raved about the work the Red Cross is doing for everyone.
Dev'eyeon said he's doing all right, too. He practices dribbling his basketball every day and hangs out with some of the other kids at the motel. He grabbed his ball and started to dribble outside their door when the cleaning staff came to make its rounds.
"He'll do this all day," Bush said. Dev'eyeon took it to the parking lot once he saw the carts roll out.
Two doors down, William Morrison was sitting at a small table near the window with his oxygen machine. Morrison lived at the same apartment complex as Mike and Sabrina Gilbert but had a much different experience.
"I had a glass of water sitting on the kitchen table," Morrison said. "If you go back and check, that water will still be there."
Morrison was able to escape the worst of the storm but is stuck in limbo. He has nowhere else to go for the time being but is counting his blessings.
The Watsons found a new place to stay and hope to move in by Monday. Bush hoped to be out before the weekend ended, as well.
Mike Gilbert and his wife might have a harder time than others. Like many affected by the seven tornadoes that came through Southeast Tennessee and North Georgia, they are at a loss for what to say and what to do. Gilbert also knows he and Sabrina are among the lucky ones at the end of the day.
They're alive, and because of that they feel lucky.
"I'll live in a tent if I have to," Gilbert said. "If I just had some teeth, I'd be happy."
Contact Patrick Filbin at pfilbin@timesfreepress.com or 423-757-6476. Follow him on Twitter @PatrickFilbin.
Photo Gallery
2011 Soup Sunday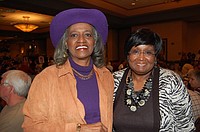 With soups from 24 restaurants to choose from, it was impossible to leave hungry from the Feb. 20 Soup Sunday at Embassy Suites.