Democratic presidential candidate Michael Bloomberg drew hundreds of people to downtown Chattanooga Wednesday for a rally emphasizing his electability against President Donald Trump.
Keeping with the rhythm of his campaign, the billionaire and former New York City mayor used his speech at the Bessie Smith Cultural Center to focus less on his Democratic rivals for the nomination and more on the current commander-in-chief, calling himself the "un-Trump" candidate.
"I'm a New Yorker, but I'm not afraid of Trump and Trump is afraid of me," Bloomberg said to the crowd.
Since the Senate did not vote to impeach the president, he must be voted out in November, he said.
Any mention of defeating Trump brought cheers from those gathered, which numbered in the hundreds with an overflow crowd in another room at the center and others outside on the lawn. Many of the people there on Wednesday said they are undecided about who they will vote for on March 3, though they preferred more moderate candidates.
"I'm really kind of juggling [Joe] Biden, [Pete] Buttigieg and Bloomberg," said Alex Bennett.
The Fort Oglethorpe, Georgia, resident said beating Trump and supporting a candidate with a strong health care plan are his two main issues. At least six other people in attendance mentioned health care as their top voting issue.
Photo Gallery
All Academies Ball 12.27.08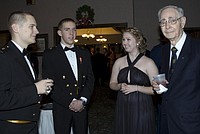 Many of the voters said they were encouraged by Bloomberg's history as a businessman and mayor. Most of the other candidates in the Democratic field are too progressive, said Marvin Watson.
"Looking at the advertisements he's put out, he seems like the only one who can go against Trump," he said.
Bloomberg far outspent his primary rivals in the final quarter of 2019, spending more than $188 million, according to the Federal Election Commission. However, he chose to skip the Iowa caucus and New Hampshire primary, instead focusing his efforts on Super Tuesday, the day when 14 states including Tennessee hold primaries. The plan may be working. A Quinnipiac University poll released Monday showed Bloomberg in third place nationally among Democratic voters and independent voters who lean Democratic, trailing Vermont Sen. Bernie Sanders and former Vice President Joe Biden.
While still undecided, Grady Burgner said the strategy of not engaging with the other Democratic candidates has proven effective.
"They have been chewing each other up and dropping out and he's only gotten stronger," Burgner said. "I think staying out of it was smart."
Bloomberg's choice of venue - the Bessie Smith Cultural Center, a local organization to remember and empower African Americans - was an interesting choice for a candidate with a controversial past on race relations in the country. As New York's mayor, Bloomberg oversaw the "stop and frisk" policing strategy that disproportionately targeted people of color, the majority of whom were found to be innocent, and was the focus of multiple lawsuits. Before launching his campaign last year, Bloomberg apologized for the policy at an African American church in Brooklyn.
However, "stop and frisk" returned to the news after audio from 2015 was released Monday in which Bloomberg defends the practice, saying all the crime in "virtually every city" is done by young men of color. "The way you get guns out of the kids' hands is to throw them up against the wall and frisk them," Bloomberg said in the audio clip.
In a news conference after the rally, his first public comments since the audio was released, Bloomberg said he did not think his words would hurt his standing among African American voters. He was elected three times in the most diverse city in the country, he said.
"Those words don't reflect the way that I've governed, the way that I've run my company or the way that I've lived," Bloomberg said.
LaVora Davis Bundy said Bloomberg's work with former President Barack Obama inspired her support. The former mayor's "stop and frisk" policy is in the past and does not bother her, she said.
"I forgive him for that, and I'm focusing on what he's doing now," she said.
Bloomberg's position on fighting climate change helped win over Jan Rubio. She likes his messaging and wants the United States to return to the Paris Climate Agreement, from which Trump withdrew in June 2017.
At least a dozen protesters gathered outside the center, the majority of whom said they plan to vote for Sanders. Bloomberg personifies the problem of money in politics, said Frank Eaton, a Hixson resident.
Minutes before Bloomberg's rally began, Anna Grabowski ran onto the stage to protest the candidate, yelling "plutocracy" into the microphone before being escorted off. Bloomberg is trying to buy the election, Grabowski said after the rally.
The former mayor made several local references during his speech, including Chattanooga being home of the MoonPie, how the city has become more environmentally friendly and his record of raising teacher salaries - which has been a monthslong debate in Hamilton County.
Bloomberg said he plans to campaign in every state in the country in hopes of building a geographically diverse coalition to win the presidency. However, any Democrat will struggle to carry Tennessee, a state that voted overwhelmingly for President Donald Trump in 2016 and has not gone to a Democrat since Bill Clinton in 1996.
Bloomberg's visit marks the beginning of early voting in Tennessee, which lasts until Feb. 25. Tennesseans will vote in the Super Tuesday primary on March 3.
Contact Wyatt Massey at [email protected] or 423-757-6249. Follow him on Twitter @news4mass.