Photo Gallery
Hamilton County Schools facilities report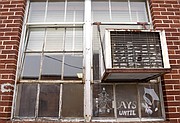 Hamilton County school board members still don't have a plan for what they are going to do with the final facilities report they are expected to receive from a consultant in March.
MGT Consulting Group is slated to present the final version of a 10-year facilities plan, broken into three phases, for dealing with the county's $1.36 billion in deferred school maintenance to the school board on March 3.
But what happens after the board receives those recommendations is still up in the air.
Chairman Joe Wingate, of District 7, and board member Jenny Hill, of District 6, have challenged their fellow board members to come up with a strategy for how to engage with community members and prioritize certain projects, but board members brought few ideas to a called meeting Wednesday night.
Hill presented an idea for establishing a citizen's panel and building community consensus around a final plan to the board at its annual retreat last December, but only board member Tucker McClendon, of District 8, added to Hill's plan.
Both agree that board members should hold community meetings in each district, but McClendon also hopes the board will hold a joint meeting with the county commission to discuss the district's needs.
Board member Karitsa Mosley Jones, of District 5, was frustrated after Wednesday's meeting.
"I feel like we were coming in today to talk about next steps and I feel like this is the fifth time since December that we talked about how we felt about the plan that we don't have yet and not what we are going to do with it," Mosley Jones said. "I would like for us to come to these meetings and talk about what we are supposed to talk about. If we're talking about a plan, let's figure out if we want to include the community or we don't want to include the community. Are we going to have more community meetings? Are we going to take time to have three more work sessions?"
Mosley Jones and several other board members agreed that establishing a strategy could help address concerns from parents and families.
Board member Joe Smith, of District 3, said he mostly agreed with Jones. Wingate needs to set a deadline for the board to come up with a final 10-year plan that it can present to the county commission, Smith said.
But he also argued that the question of funding comes first - how are we going to pay for a 10-year $869 million plan, Smith asked Superintendent Bryan Johnson.
"Is that not a question we need to answer on some level before we come up with a three-phase plan? Don't we need to have some idea of what to expect in terms of revenue before coming up with a plan?" Smith asked.
Johnson said the district is in the early stages of the fiscal year 2021 budget process and has not discussed making a request for capital funding outside of its general operating budget request from the county commission.
He did acknowledge that he and Hamilton County Mayor Jim Coppinger have ongoing conversations about the school district and how to fund its capital needs.
McClendon added that he thinks the district needs to rethink how much it allocates toward deferred maintenance each year.
"Another part of our problem that I have not heard talked about yet is our maintenance budget. Three million dollars a year is not suitable for this district," McClendon said. "I think the national average, according to MGT, is $15-20 million. We saw the list of what we could do with $15 million last budget cycle out of our fund [balance], imagine what we could do with $15 million every year."
For the past decade, the district has generally budgeted about $3 million for nominal maintenance needs throughout the school year, leaving larger projects to be funded by the county's capital budget.
In total, the district has spent about $93 million on school facilities in the past 10 years, Chief Business Officer Brent Goldberg told the Times Free Press last July.
Johnson acknowledged McClendon's idea was something his team and the board could look at during this year's budget process.
The school district will host community listening sessions to discuss the FY 2021 budget beginning on Feb. 10 at Signal Mountain Middle/High School.
Contact Meghan Mangrum at mmangrum@timesfreepress.com or 423-757-6592. Follow her on Twitter @memangrum.