Protests over the killing of George Floyd by a Minneapolis police officer continued for a second day in Chattanooga, eventually leading to the deployment of the National Guard and multiple arrests downtown Sunday night.
After a peaceful demonstration in Coolidge Park Sunday afternoon, hundreds of protesters marched across the Walnut Street Bridge and down Market Street before regrouping on the steps of the Hamilton County Courthouse on Georgia Avenue.
"Right now it's going to be us against the police department until we get some justice," one protester said. "The laws weren't written for the color of my skin. And they wonder why I'm angry."
An altercation occurred there between protesters and law enforcement after two or three protesters removed light fixtures from the courthouse and tore down a United Way banner tethered between the fixtures. They then threw the banner off the top of the stairs while a majority of the crowd of protesters yelled, "Don't do it."
Hamilton County Sheriff's Office deputies came out of the building with non-lethal weapons drawn and tackled two people, arresting one. Law enforcement had physical altercations with several people on the courthouse stairs, leading to at least one man falling down several steps.
As tensions grew, dozens of officers lined the street while protesters stood on the sidewalk outside the courthouse. At least one explosive went off and the Chattanooga Police Department later confirmed that Hamilton County Sheriff's Office deputies deployed tear gas. Many of the several hundred protesters fled into the street and state troopers in gas masks as well as Chattanooga police formed a line between the activists and the courthouse.
At least one protester, held up by two friends, asked an officer in an unmarked vehicle how she could get to the hospital.
Tension mounted after the altercation on the courthouse steps and as protesters made their way back across the Walnut Street Bridge, there was heavy police presence.
Chattanooga police officers met the protesters at the north end of the bridge, where officers had barricaded Frazier Avenue. Protesters approached the end of the bridge, many with their hand up shouting, "Hands up, don't shoot."
Multiple standoffs continued into the early morning of Monday as law enforcement officers in riot gear, Tennessee Highway patrolmen and eventually National guardsmen barricaded various parts of Frazier Avenue and Market Street, attempting to disperse protesters.
In some cases, protesters stood toe-to-toe with law enforcement. At least two people were led away by officials in North Chattanooga with one man being tackled to the ground by Tennessee Highway patrolmen. Multiple instances of fireworks or firecrackers being thrown toward law enforcement also occurred.
Photo Gallery
Chattanoogans protest police brutality - May 31, 2020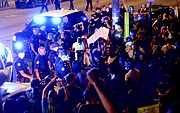 Earlier in the evening, more than 50 protesters assembled at Mayor Andy Berke's house, drawing chalk body outlines in the street and writing the words "I can't breathe" in the driveway, according to Chattanooga Police.
While police stuck around to monitor the property, the protesters reportedly left to briefly protest at the Hamilton County Jail. Berke said earlier in the day that he "encourages everyone in Chattanooga to exercise their First Amendment rights and express themselves in a safe way."
A spokeswoman for the mayor's office said Sunday that the city had no plans to implement curfews or other restrictions at this point in the protests, unlike other Tennessee cities including Nashville and Murfreesboro, which instituted an emergency curfew due to "threats to public safety," according to Tennessee Gov. Bill Lee.
Throughout the evening, many protesters in Chattanooga expressed feelings of distrust and animosity toward law enforcement. They often chanted "F*** the Police" and spoke out against police brutality across the nation and here in Chattanooga.
"Right here in Chattanooga, Tennessee, we've got to come together. They don't want no unity," one man said during the early hours of the demonstration Sunday evening.
Crystal Jones, one of the organizers, spoke about how she was afraid for her daughter and was tired of watching black men and boys dying in police custody.
"I'm traumatized because I see this play over and over. You got to speak up. It's wrong, it's not right and it could be you," a she shouted into a megaphone in reference to the death of Floyd in Minneapolis.
The diverse group of protesters was largely made up of young people, but both people of color and white people were involved in Sunday's protests.
Steve Benson, a 22-year-old activist, said he was marching for all of Chattanooga.
"It shouldn't have to resort to civil unrest for us to bring change," he said "We see systematic oppression on a daily basis, not just in Chattanooga but on a national scale, and it's really just time to stop it."
Mo, a 22-year-old Latino man also helped energize the crowd before it began to march Sunday.
"It is our duty to fight for our freedom. It is our duty to win. We have nothing to lose but our chains," said the man, who did not share his last name. "I'm undocumented, I'm queer and I'm here to say black lives matter."
Local activist and candidate for Chattanooga's City Council Marie Mott, who led the day's earlier protest, called for decreasing funding for the police department, increased educational opportunities and encouraged protesters to vote in local elections during Sunday afternoon's demonstration.
"A gathering like this, although good, is not enough. It takes multiple tactics to put pressure on the system," Mott told the crowd. "If they're not going to hear us, then we have to take our power back. We outnumber every police in this city. We outnumber every elected official. We've got to vote and register our people to vote. If there's no justice, then there will be no peace."
As of early Monday morning, the Times Free Press has not confirmed the number of people arrested in Sunday's protests.
Contact Rosana Hughes at rhughes@timesfreepress.com or 423-757-6327 with tips or story ideas. Follow her on Twitter @Hughes Rosana.
Contact Meghan Mangrum at mmangrum@timesfreepress.com or 423-757-6592. Follow her on Twitter @memangrum.
Contact Sarah Grace Taylor at staylor@timesfreepress.com or 423-757-6416. Follow her on Twitter @_sarahgtaylor.