For the most part, the finalists for this year's Best of Preps Female Athlete of the Year award were single-minded in their focus. The majority of the six finalists were not multisport athletes, but each one definitely dominated her sport of preference.
Because of coronavirus concerns, this year's banquet will be held online rather than in a banquet setting. The virtual Best of Preps banquet will be shown on both the Times Free Press Facebook page as well as timesfreepress.com at 7 p.m. Thursday.
The six finalists are Heritage's Rachel Gibson, East Hamilton's Madison Hayes, Signal Mountain's Camilla Mincey, Gordon Lee's Gracie O'Neal, Hixson's Abby Rector and Bradley Central's Anna Walker.
Gibson, a junior pitcher, backed up her GHSA player of the year honor from 2018 by leading Heritage to a second Class AAAA softball state championship this past fall. The future Clemson Tiger won 23 games with a 0.95 ERA, allowing only 78 hits and striking out 296 batters while walking just 37 in 161 innings. Gibson, voted the Class AAAA pitcher of the year by state coaches, was at her best in the postseason, allowing three earned runs in seven games while striking out 70 batters in 36 innings, including a 16-strikeout gem in a semifinal against Oconee County.
Photo Gallery
2020 Best of Preps Female Athlete of Year finalists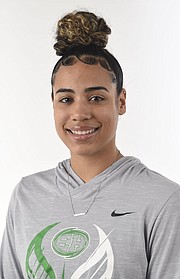 Hayes, a two-sport star, led her volleyball team in kills as an outside hitter and is a three-time all-region player. Her future, however, is in basketball, where she became one of the Chattanooga area's most decorated athletes of all time. The versatile 6-foot-1 guard and Mississippi State signee was named a McDonald's All American, the Gatorade state player of the year and a USA Today All-American, and she earned a second straight Tennessee Class AAA Miss Basketball award after averaging 26 points, 12 rebounds, 3.5 assists, 3 steals and 3 blocks per game. She finished her prep career as the state's No. 3 all-time leading scorer with 3,057 points to go along with 1,582 rebounds, 516 assists, 471 steals and 305 blocks. She also helped the national 3-on-3 18-under team win a FIBA World Cup gold medal.
Mincey helped lead the Lady Eagles to their second straight Class A soccer state championship. The junior forward led the area with 32 goals in 23 games. Signal Mountain closed the season on a 12-win streak by outscoring its opposition 80-7, including 12-1 at the state tournament, where Mincey scored three goals and assisted on four. At state, she scored a goal or assisted on one in the first nine minutes of all three matches.
O'Neal is one of the most decorated athletes in Gordon Lee history. She won her third consecutive individual GHSA cross country state championship this past season, earned five individual titles and helped secure one team crown in track and field during her high school career and owns school records in the cross country 5-kilometer run (18 minutes, 19 seconds), as well as the 800-meter run (2:23), the 1600 (5:14) and the 3200 (11:23) in track. O'Neal, who also was an all-region basketball player this year, has signed to run for the University of Georgia.
The versatile Rector was a driving force in a 22-win volleyball season for the Lady Wildcats. A Bryan College signee, Rector led the area with 600 kills and was among the leaders in digs, aces and blocks. The four-year varsity starter holds school records for kills (1,608) and digs (1,594) and helped her team reach the Class AA sectionals all four seasons, during which she also accounted for 215 aces and 110 blocks.
One season after helping guide Bradley Central to the Class AAA basketball state title, Walker averaged 17.8 points and 6.1 rebounds to help her team return to the state tournament. The 6-1 wing, a two-time all-state selection who has signed with the University of Tennessee at Chattanooga, was unable to play in the state tournament, however, after injuring an ankle in the sectional round, and the Bearettes were unable to repeat as champions without their team captain.
Contact Stephen Hargis at shargis@timesfreepress.com or 423-757-6293. Follow him on Twitter @StephenHargis.