Doug Plumlee stepped to the podium on Sunday, as he has each week for decades. He prayed. He read from his Bible. He delivered his sermon. He encouraged the faithful.
But for the first time in more than 30 years of preaching, the pastor of Ridgedale Baptist Church led a Sunday service for empty pews.
Thousands of faithful in Chattanooga - the city many pastors warmly refer to as the "Buckle of the Bible Belt" - could not sit in their familiar church seats on Sunday. Wooden benches and padded chairs were empty after faith leaders throughout the region canceled worship services over public health concerns and as COVID-19 spread across the state.
The number of confirmed COVID-19 cases in Tennessee increased to 39 on Sunday from Friday's total of 26, according to the Tennessee Department of Health's daily virus update. No deaths related to the coronavirus have been reported in Tennessee.
Late last week, Plumlee and other leaders decided to cancel in-person worship services at Ridgedale and direct people to watch the service on Facebook Live. Otherwise, the service resembled any other: announcements, music, a sermon, more music.
Ridgedale, like dozens of other houses of worship, announced its closing late last week while local, state and federal officials declared states of emergency. In her message directing Methodist churches to close, Dindy Taylor, bishop of the Holston Conference of the United Methodist Church, said remaining open would be an unnecessary risk.
"The faith community has an important role to play in slowing the speed of disease transmission," Taylor said in a statement Friday. "Large gatherings of people are a petri dish for spreading the infection."
Photo Gallery
Church in Chattanooga amid coronavirus outbreak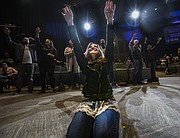 (Read more: Chattanooga priest with coronavirus had contact with hundreds of people in weeks following exposure)
(Covering coronavirus: Let us know how we are doing)
On Friday afternoon, the Episcopal Church of East Tennessee released a statement saying Brad Whitaker, rector of St. Paul's Episcopal Church, tested positive for the new coronavirus, marking the first confirmed case in Hamilton County. The priest fell ill after attending the Consortium of Endowed Episcopal Parishes in Louisville between Feb. 19 and 22.
St. Paul's is working with the Chattanooga-Hamilton County Health Department to notify people who may have had contact with Whitaker in the weeks between when he returned to Chattanooga after possible exposure and when his test results came back positive.
The Southern Baptist Convention did not issue any directive to member churches to close, allowing each church to make its own decision. Brainerd Baptist Church originally said it would remain open by taking special precautions, but by Friday evening Pastor Micah Fries announced all services were canceled and encouraged people to watch live-streamed worship services.
Calvary Chapel, Grace Episcopal Church and Mizpah Congregation all closed worship to the public but live-streamed their services.
Not all doors closed
While most churches in Chattanooga shuttered their doors or directed people online, Sunday worship was not entirely digital.
Ushers at Olivet Baptist Church wiped down pews between services and asked people who were coughing to move outside the sanctuary, but otherwise it was business as usual. Bishop Kevin Adams said the faithful need to know they are not alone at a time like this.
"People need hope right now, need faith right now," Adams said. "I've never seen anything like this before. It's caused widespread fear around the world. People need a safe haven because people need to get together to laugh and worship."
Those in the pews at multiple churches said the fears over the coronavirus would not shake their faith.
Rosina Bell said she would remain diligent about washing her hands, but would not suddenly stop greeting the people at Olivet with a handshake or hug.
"I'm not afraid of the coronavirus because Jesus' name is bigger than any other name," Bell said. "God did not give us a spirit of fear. He gave us a spirit of strength."
(Read more: Chattanooga service groups must balance safety with caring for the homeless as coronavirus worries grow)
Several blocks east, at Redemption to the Nations, Sam Everette said there was no doubt he was coming to church. There is a lot of fear being spread, he said.
"People are continuously being bombarded with fear," Everette said. "We can't get trapped."
Kevin Wallace, lead pastor at Redemption to the Nations, said the church cannot lose its focus in a time of fear and uncertainty.
"There is a report that's greater than the report of fear," Wallace said from the podium. "And that is the report of the Lord."
Two weeks ago, the Diocese of Knoxville suspended the use of communion wine at services, which in the Catholic tradition is typically given by sharing a chalice. On Friday, Bishop Richard Stika said the diocese would not stop mass at any of its 51 parishes and mission churches but reversed that decision Saturday night, granting Catholics an exemption for the rest of the month.
Catholic churches in the area remained open, but few people were in attendance. The Rev. Manuel Perez, pastor at St. Stephen Catholic Church, said the church must do what it can to keep people safe, even though it is hard to console those who are physically isolated but may be suffering.
Staff photographer Troy Stolt contributed to this story.
Contact Wyatt Massey at [email protected] or 423-757-6249. Follow him on Twitter @news4mass.