Merritt Potter woke up Wednesday wrestling with a difficult decision.
The owner of White Oak Barber Shops has seen his business drop off considerably in the days since the COVID-19 pandemic started to hit home and people started cutting out "non-essential" activities.
Potter, 75, owns shops on Dayton Boulevard and Lee Highway, businesses that were producing consistent revenue a month ago. By Monday of this week there was hardly any revenue at all. Should he shut down his businesses and put employees out of work or risk long-term financial damage by staying open?
"We used to have 40 or so customers a day at each shop and my barbers would be busy all day long," he said. "Right now - with it being a non-essential item - customers just aren't showing up."
Potter decided Wednesday to shut down the Lee Highway location, but after discussing the situation with his employees, he chose to remain open in hopes things will turn around sooner than expected.
"We never know what the next day will be, but we will try to tough it out," he said. "I can only hope it's a temporary thing."
Choosing whether or not to give up activities that once seemed essential is becoming a priority for everyone in the wake of the coronavirus pandemic. The decision, as it has been in the San Francisco area for its 7 million residents, could be made for us, but as of now Chattanoogans can still choose to keep that eye appointment, get those teeth cleaned, grab a massage or do any of the non-essential activities they want.
Photo Gallery
Coronavirus and 'non-essential' activities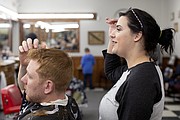 But should they?
"It's pretty obvious, the more consistently the people in our community avoid those non-essential things, the healthier our community will be," said Tammy Burke, a registered nurse with the Chattanooga-Hamilton County Health Department. "The goal is to prevent the spread of the disease.
"But, it also depends on a person's definition of what is routine or essential. Some people are under the care of physicians for chronic care or therapy, and they still need to go. Our advice is, if you have questions, contact that dentist's office or doctor's office and discuss the reason for the appointment. Can it safely be postponed? If so, that would be our recommendation."
What are considered "essential" businesses? Under the California order, that would be supermarkets, pharmacies, banks, gas stations and essential government functions and businesses.
Everything else - from physical therapist, dentist, chiropractor and ophthalmologist offices to hair salons, bars, restaurants and gyms - is non-essential.
Nationally, the U.S. Centers for Disease Control and Prevention and the White House have not mandated restrictions, only offering recommendations. As cases of COVID-19 rise - Wednesday there were 6,519 cases of the strain in the United States (up from 4,661 cases the day before) - area businesses are left grappling with the delicate balance of keeping folks safe and staying afloat financially.
"We have to balance stopping the spread of this disease with keeping businesses afloat and getting goods and services to our people," Burke said. "It's a constant struggle."
The American Dental Association recommended this week that "dentists nationwide postpone elective procedures for the next three weeks. Concentrating on emergency dental care will allow us to care for our emergency patients and alleviate the burden that dental emergencies would place on hospital emergency departments."
The ADA statement went on to say, "It is up to dentists to make well-informed decisions about their patients and practices."
For some, like East Brainerd Dentistry, it led to the decision to close its practice for all elective dental treatment through Tuesday, April 7. Owners Dr. Adam Crow and Dr. Charles Hooper will still perform essential treatment as scheduled and handle emergency calls.
For others, like the husband and wife team of Linda and Dr. William C. Turner in East Ridge, the choice, for now, is to keep all current appointments and try to reassure patients that the office is safe.
"I tell people, typically, we prepare for the worst every day because we don't know what people have or don't have when they come in," Linda Turner said. "We have stepped up sanitizing after every patient leaves - doors, bathrooms and seating areas. Other than that, we try to stay sanitized all the time and prepared for the worst."
The Turners are constantly in touch with other practices in the area and are aware conditions can change in a hurry.
"I know of one office that takes temperatures of patients when they come in," Linda Turner said. "We may come to that, but we know our patients so well that we believe they wouldn't come in if they were sick."
While Chattanoogans are deciding whether to get their bangs trimmed or their backs adjusted, folks in San Jose, Calif., have no choice until at least April 7. Mayor Sam Liccardo, speaking to The Associated Press, said the area's "shelter-in-place" order is the right move.
"History will not forgive us for waiting an hour more," Liccardo said. "This is our generation's great test, our moment to stand together as a community."
While non-essential businesses and their employees take a beating economically, there may be national help on the way. The White House Tuesday asked Congress to approve a massive economic rescue package for businesses and taxpayers.
"That would certainly help, but when you break it down to an individual person, yeah, it would help pay some bills, but it won't keep the economy alive," Potter said of the stimulus plan. "It's not enough. People have to have their weekly paychecks.
"Hey, I don't have all the answers. This is unknown territory for all of us."
Contact Lindsey Young at lyoung@timesfreepress.com or 423-757-6296. Follow him on Twitter @youngsports22.