His mom behind the wheel of the family car, Lajuane Davis, 18, sat in the passenger seat as he was handed his cap and gown, a sign to stick in his front yard, information on tentative graduation schedules and how to wrap up his senior year.
High school was a rough ride for Davis. The past few months, since schools closed due to the coronavirus pandemic, were "his hurdle to overcome," said his mother, who declined to give her name.
But Hixson High School changed everything for Davis. As a Wildcat, he found success.
Now, he is just about to cross the finish line with 205 classmates, teachers and staff members at Hixson High. They are trying to celebrate the graduating seniors as much as they can.
Photo Gallery
Hamilton County seniors say goodbye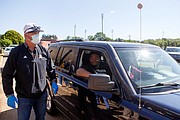 "It's bittersweet," said Brian Bray, assistant principal and athletic director. "We saw him blossom. He's one of your favorites, and there are others. I'm glad I was able to see him today and got a chance to tell him how proud I am of him."
Hixson seniors, sometimes with their parents or sometimes alone, drove through a curbside relay line of sorts outside the school on Thursday. They turned in their laptops and sports uniforms and picked up T-shirts, caps and gowns, yard signs and smiles and cheers from their teachers and guidance counselors.
Rebecca Jeter said what has taken place during her senior year has been a shock.
"We all came in at the beginning of the year thinking this was our senior year and it was going to be great," Jeter said as she wiped away tears Thursday. "It was kind of a shock at first to be dealing with school closing and missing out on things."
Jeter, a runner, never got to run in a track meet during her last year in high school.
The first meet of the season this spring was rained out. The next one was canceled because of COVID-19.
She's stayed connected with her teachers and counselors and classmates, Jeter said, through Zoom calls and online classwork. She hopes they'll be able to have an in-person graduation this June or July.
As she pulled away from the drive-thru line Thursday, after getting her picture taken in front of a congratulatory banner, one faculty member yelled after her, "I'll miss you! I love you!"
Hamilton County Schools has announced a tentative schedule for graduations either in June or July. The Tennessee Department of Education has left decisions on whether to host graduation ceremonies up to local school boards, and has encouraged districts to consult with regional health departments and to follow social distancing guidelines.
Some districts are considering drive-in ceremonies or splitting students into smaller groups to decrease the size of the ceremony. Most Hamilton County schools typically hold their ceremonies at the McKenzie Arena, the Tivoli or Memorial Auditorium, but the district is working with schools that would prefer to hold the ceremonies in their own football arenas.
Nearby, Cleveland High School in Bradley County came under fire after the district announced it would still host graduation as planned on May 15 in the school's arena. After a petition collected more than 2,000 signatures, the district announced plans had changed. The school is also hosting a "Grad Party" drive-thru similar to Hixson's on Saturday, May 9.
Amanda Shackleford, president of Hixson's Parent Teacher Student Association, is the parent of a senior herself. She said it's been sad to see their senior year upended.
"I hope we're able to have a physical graduation and celebrate them in that way," Shackleford said.
The PTSA helped organize Thursday's drive-thru and has been sharing spotlights of each senior online and on Facebook in recent weeks.
Thomas Davis, 18, another senior, said he wasn't very bothered by staying at home when schools closed at first.
But seeing so many of his teachers dancing to music, clapping and cheering as seniors drove through campus Thursday made him realize he'll miss it, Davis said.
"It didn't hit me at first that we're really not ever coming back here again," Davis said. "All this stuff they're doing is really sweet."
Since the drive-thru fell during National Teacher Appreciation Week, many of the seniors also tried to show their teachers that they were appreciated.
Sydney Buckner, a senior and president of the school's Student Government Association, encouraged her classmates to hang signs in their car windows. She had one in the window of her VW Beetle that read "We miss you, teachers!"
"We aren't here to give them cards and stuff like we normally would," Buckner said. "They've been doing so much for us."
Contact Meghan Mangrum at mmangrum@timesfreepress.com or 423-757-6592. Follow her on Twitter @memangrum.