Mark Wood was feeling fine on Wednesday afternoon when he came to get tested for COVID-19 at the Avondale Youth and Family Development Center on Dodson Avenue.
He drove over from his home in Brainerd after he saw a Facebook Live video of a clinician sticking a nasal swab up Chattanooga Councilman Anthony Byrd's nose to test for the coronavirus.
Byrd and Wood were among the 380 people who received free COVID-19 testing either by drive-thru from their vehicles or walking up to the Avondale center parking lot - where Cempa Community Care, a nonprofit primary care provider focused on infectious disease prevention and treatment, hosted its second "pop-up" testing event in a week.
Wood, who works for the city and does cleanup at the center, said Byrd's video convinced him to get tested. He wanted to make sure he isn't unknowingly carrying the virus, since evidence is emerging that more people with COVID-19 might not show symptoms.
While he doesn't know anyone who's been diagnosed, he said he also doesn't know many people who have been tested.
"They're kind of skeptical of it," Wood said. "People saying this and that - they may be sticking it in your nose, they may be giving you the virus - there's a lot of rumors."
Byrd, who lives a block away and whose district encompasses Avondale, said those misconceptions and distrust among his constituents are what prompted him to post video of himself getting tested so that people could see what it's like.
"I thought it was going to hurt because of all the stuff I hear, but it wasn't nothing. It was super easy. It just made my eyes water," Byrd said. "Now I feel a little tingle in my nose, but outside of that it was a smooth sail. It only takes three minutes out of your day. I took a longer time filling out the paperwork."
He hung around for a couple hours and met at least three people who came because they saw the video.
Photo Gallery
'Pop-up' COVID-19 tests at Avondale center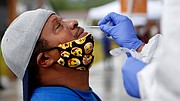 "You hear that perception that they're not doing [testing] in the African American community - they're just not looking out for us - but this just kills all that perception," Byrd said, speaking of Wednesday's event.
The event is part of Cempa's effort to bring free COVID-19 testing to Chattanooga's underserved communities in partnership with Alleo Health System and LifeSpring Pediatrics - who provided manpower for the event - and the Hamilton County Health Department, which provided half of the testing supplies.
Cempa CEO Shannon Stephenson, co-chair of the community testing subcommittee of the region's COVID-19 Task Force, said the committee's work sparked the new series of mobile testing events.
Last week, the group tested more than 200 people at the first testing event in Alton Park. While that number was impressive at the time, Wednesday's event far exceeded expectations.
The first car showed up to get in line around 8:30 a.m. for testing that started at 10 a.m. By 11 a.m., the line of cars was two deep and backed up to the road.
Despite the volume, at its peak the whole process took about 45 minutes from start to finish to get tested, Stephenson said.
People who came for testing were handed a plastic clipboard with forms to fill out with their personal and demographic information while they waited in line. One side was in English and one side Spanish.
Everyone was given one mask to wear while waiting and another to take home. Those who showed up on foot were asked to stand on a line with markers spaced 6 feet apart. Volunteers ran traffic control and answered questions. Test results will be available within 24 to 72 hours.
Stephenson said Cempa planned for 250 people, and when forms started running low, the Avondale family center stepped in to help make copies to keep collecting that vital information.
The event took about a week of planning.
LaDarius Price, community outreach manager at Cempa, said having a relationship with the community led to Wednesday's success.
"We didn't just show up in Avondale today. A lot of the people that are here working today grew up in this community, are constantly in this community day in and day out serving," Price said. "So when we come to the community to provide a service, those individuals respond because they know for one they can trust us, and then the relationship has already been built."
Cempa, along with La Paz, the health department, Clinica Medicos and LifeSpring Community Center, will host another COVID-19 testing on Friday between 10 a.m. and 3 p.m. at 1402 Bailey Ave.
More free testing options this week are listed in the Times Free Press website.
Contact Elizabeth Fite at efite@timesfreepress.com.