Protests over the killing of George Floyd by a Minneapolis police officer continued for a second day in Chattanooga, hours after parts of an overnight demonstration turned violent.
Outside the Hamilton County jail and courthouse on Sunday, local activist Marie Mott led a protest of around 250 people who gathered on the street and courthouse lawn holding signs such as "Solidarity not sympathy," "Skin color is not reasonable suspicion" and "The thugs are wearing badges."
After leading chants of "I can't breathe" - some of Floyd's final words, as well those of Eric Garner who was killed by police in New York in 2014 - Mott detailed how the history of racism and oppression has for centuries kept black Americans from breathing.
"It seems to me that our first breath needs to be a cry out for justice," Mott said. "Our first breath needs to be a cry out for equity. Our first breath needs to be a cry out for inclusion. Our first breath needs to be a cry out for divesting from the police, and investing in education."
On Sunday evening, several hundred people assembled in Coolidge Park to protest Floyd's death. There was a large police presence and some demonstrators mentioned instances of alleged police violence in Chattanooga.
Protesters carried signs that said "End police terror" and chanted, "No justice, no peace."
A woman who said her 24-year-old son was killed in Louisville, Kentucky, spoke to the crowd with a megaphone.
"Hopefully we can stop and there won't be more mothers like me. Trying to learn to live again. Trying to learn to exist," she said.
According to Chattanooga Police, over 50 protesters assembled at Mayor Andy Berke's house Sunday evening, drawing chalk body outlines in the street and writing the words "I can't breathe" in the driveway.
Berke said earlier in the day that he "encourages everyone in Chattanooga to exercise their First Amendment rights and express themselves in a safe way."
Protests were expected to continue into the evening, past deadline for the Times Free Press.
Sunday's afternoon gathering focused attention not only on Floyd's killing in Minnesota but actions by local law enforcement. For example, the crowd chanted "Justice for Javario Eagle," a 24-year-old who was killed outside of his home by Chattanooga police in 2015.
Photo Gallery
Bale Elementary Playground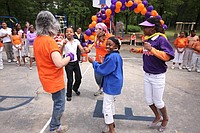 (READ MORE: Police protesters spray-paint statue, damage fountain in Chattanooga; at least six arrested in mostly peaceful demonstrations)
Mott criticized Chattanooga Police Chief David Roddy for speaking out against police violence in other cities but not doing more to protect local residents from violence by local police.
She cited Desmond Logan, who raped several women in his custody in 2018, and Benjamin Piazza, who was put on desk duty after punching someone about 10 times during an arrest in 2018. Roddy did condemn Logan's actions, although after after Logan admitted to the crimes.
Roddy recently got national attention and praise for speaking out against the killing of Floyd. Local and national news outlets are not looking at his full record, Mott said.
"Under his watch, we've been brutalized. We've been raped. We've been murdered," she said.
The Times Free Press reviewed several of those cases, and Roddy outlined a number of reasons he is more circumspect in discussing local cases, including possible undercutting of discipline or criminal repercussions for bad actors if he betrays any bias beforehand.
LaMonte Solomon came to Sunday's protest after seeing the first parts of it live streamed. He said it is sad that it took Floyd's death, captured on video and shared widely, to get some residents organized and willing to support change. Solomon said he has not watched the Floyd video and will not.
"I still am not going to watch it because it takes away a part of me," he said. " I didn't have to watch it to know what's happening to black people."
Floyd's death is the latest killing of a black American to receive national attention, following the killings of Breonna Taylor and Ahmaud Arbery in recent months. Floyd died after a police officer knelt on his neck for nearly 10 minutes during an arrest.
Saturday night, several altercations broke out between protesters and police, resulting in at least 11 arrests. A water fountain at the Hamilton County Courthouse and the windows of some downtown businesses were broken. Two cars were burned.
Tamara Woodard, an African American who helped lead the rally, spoke to the dozens of white protesters gathered. She told them they must fight for justice every day, not just when it is convenient. If the white people currently supporting the protests stop after this weekend, they are no better than racists, Woodard said.
"It's time that you as white people hold your white folks accountable," she said.
(READ MORE: Arrests, cars burned, statue defaced: Civil rights leaders reflect on night of unrest in Chattanooga)
The leaders of the protest, including Mott who is running for a City Council seat in District 8 in 2021, reminded those gathered to vote in November and vote out people who are not working for change. Mott, borrowing from the Black Lives Matter movement list of demands, said there needs to be a divestment of local funds from law enforcement and into education or employment programs.
This was the first protest this weekend for Alexa Birch, who stood near the back of the crowd gathered on Walnut Street. She said she felt motivated by the diversity of the people who came and how many seemed committed to using their privilege for good.
"It's really inspiring to see all different races coming together to support the black community," Birch said.
Satff writers Sarah Grace Taylor and Meghan Mangrum contributed to this story. Contact Wyatt Massey at wmassey@timesfreepress.com or 423-757-6249. Follow him on Twitter @news4mass.