Photo Gallery
Stove Works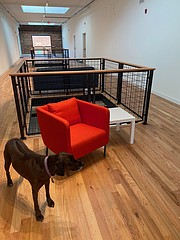 A year ago, Charlotte Caldwell walked through the former Tennessee Stove and Manufacturing site on Holtzclaw Avenue describing to a reporter her vision for the 55,000-square-foot building she bought in 2017. The building was once home to Tennessee Coffin and Casket Co. and later the stove business founded by her great-great-grandfather, J.L. Caldwell, that is now known as Modern Maid.
She bought the building for sentimental and philanthropic reasons, but at the time it was literally a shell of its former glory. Caldwell, who has a background in art administration, saw the potential, however. As she walked through the space, which was little more than brick walls, she described then how it would one day be used by contemporary artists from around the world who would come here to work in a communal atmosphere with other artists at no charge to them.
That vision comes true Nov. 2, when seven artists will move into living quarters on the second floor of the building. An eighth, CC Calloway, has already moved in and is helping get things ready. Her main project at the moment is getting an old Risograph digital duplicator up and working. While the second floor will be living space, the first floor will be home to a large and small gallery and metal, wood and print shops.
The idea for such a space started to formulate about 15 years ago after a discussion with a friend about the lack of venues for contemporary artists in the Southeast, Caldwell said.
"Then I went to New York and worked there and I just wanted to do something like this back home," she said.
Her original idea was to start with something small, maybe a 5,000-square-foot space, but sentimental feelings changed that. Those feelings probably clouded her thinking, she admitted.
"There was a lot of blind ambition," Caldwell laughed. "I was certainly ignorant to the scale of the thing, and I didn't intend to take on as much square footage, but I have a personal history with the building."
The nine living quarters are located next to each other along two walls separated by a long hallway broken up by four large openings covered by skylights, which give both the hallway and the gallery below an open, airy feel. At the end of the hallway is a huge open room with a large galley kitchen and a sitting area on one end and a door to a patio overlooking the large lawn that Caldwell said will be the site of exhibits and public events.
"The artists will have the best view in the place," she said.
While showing off the kitchen, she pointed out the new wok on the commercial gas range.
"Joshua Bienko, a volunteer artist from Knoxville, said a wok is a great tool for bringing people together," she said. "The idea is that the artists will live and work together and share ideas," Caldwell said.
Each resident space has a public space for working and open houses, as well as private living spaces. While there is no charge for rent, the artists are responsible for their living expenses such as travel and food. Grants and donations help to fund the program, Caldwell said. The Stove Works' Up-For-Grabs Naming Rights Campaign is a way that people can donate and feel like a part of the community.
By donating between $10 and $3,000, patrons get the right to name everything from spoons to toilets and power tools. You can name a fire extinguisher after your closest friend, pet or a loved one, for example.
Caldwell said the idea is a play on the gallery naming programs at major galleries in bigger cities and has raised $26,000 of its $80,000 goal to date.
Calloway, 27, said the COVID-19 pandemic caused her to move from Austin, Texas, back in with her parents in Augusta, Georgia, and the residency provides her several key opportunities. She works in several mediums, so having the various tools and shops available to her is huge.
"For me this provides me with a lot of things, but mostly it's the time to work on my art without worrying about cost of living," she said. "Also networking, especially now because it is hard to get out and network. This provides me with this bubble and lots of voices. I'm hoping there will be some professional opportunities, and the access to tools with a full wood shop, metal shop and print shop is amazing."
The space will officially open to the public on Dec. 18 with an exhibition featuring works by 30 artists from all over the world, including Egypt.
In addition to Caldwell, the Stove Works staff includes Mike Calway-Fagen, curator and director of exhibitions; Caroline Gikas, operations manager; and Josiah Golson, education consultant.
Contact Barry Courter at bcourter@timesfreepress.com or 423-757-6354.
Fast Facts
Residency: 9,000 square feet Workshops: 7,500 square feet Main Gallery: 5,000 square feet Side Galleries (2): 1,350 square feet total Classroom: 1,200 square feet Library: 850 square feet Online: www.stoveworks.org/residency Opening: Nov. 2. Artists in Residence: Brian Zimmerman, St. Louis, MO bwzimm.com/home.html Klypi (AC Carter), Birmingham, AL klypi.com io. Albiqui, NM www.aiden-simon.com LeAndra LeSeur, Jersey City, NJ lleseur.com Jessica Lynne, New Port News, VA www.jessicalynne.co Sean Clark, New Orleans, LA www.sgclarkart.com Stephanie Loggans, Chattanooga, TN www.stephanieloggans.com CC Calloway, Augusta, GA www.cccalloway.com