A recent study suggests dining out could be linked to a higher risk of contracting COVID-19, but Chattanooga restaurant owners and industry representatives say the research is flawed and unfairly targets struggling businesses.
The report is an example of "the bullseye they have put on the back of small restaurants," said Wes Agee, co-owner of Charlie's Quick Stop Barbecue and Bakery on Main Street.
"We might see 1,000 to 1,500 people in a fantastic week, but WalMart sees that many in an hour or two every day," he said. "The big-box places, none of those guys are being picked on."
(Read more: Coronavirus bringing lasting change to Chattanooga area restaurants as they fight to stay open amid increase in takeout, delivery options.)
Findings from the U.S. Centers for Disease Control and Prevention and Vanderbilt University Medical Center study show adults with COVID-19 were more than twice as likely to report dining in a restaurant in the 14 days before getting sick compared to adults without COVID-19.
"We think this could be due to people sitting in close proximity to one another in restaurants and not being able to wear masks while eating," said Dr. Wesley Self, associate professor of emergency medicine and senior author of the study.
The July study, which had a sample size of 314 people in 11 states including Tennessee, acknowledged the importance of measures such as social distancing, choosing carryout over dine-in, and wearing masks when not eating or drinking.
(Read more: Mayor Coppinger extends Hamilton County mask mandate as coronavirus continues to spread.)
In response to the study, the National Restaurant Association released a statement pointing out that researchers did not distinguish between indoor and outdoor dining, and pointing out that the CDC acknowledged in the report that factors other than dining out could have been the source of exposure.
"There is no clear evidence that the virus was actually contracted at a restaurant versus any other community locations," the association wrote in its statement. "It is irresponsible to blame the spread of COVID-19 on a single industry."
Mia Littlejohn is co-owner of Proof, a bar, restaurant and culinary incubator that helps launch and guide restaurateurs. Proof has moved from offering only to-go orders in April to adding outdoor dining in May and expanding its patio and adding indoor, socially distanced seating in June.
At every step, the restaurant has exceeded requirements in terms of masks, health checks and other measures to keep diners and employees safe, Littlejohn said.
"We're at about 50% of indoor capacity, and we expanded and doubled the size of our patio," she said. "Everyone who comes in, we get their temperature check."
Having a lot of room to work has been a key factor in keeping people apart, Littlejohn added.
"Luckily we have a lot of space, so it has not been too tricky for us to provide people with space," she said.
Restaurant owners are extremely focused on operating safely because their livelihoods depend on it, Littlejohn said.
Photo Gallery
Chattanooga restaurant owners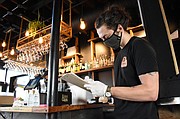 "Right now, a lot of the conversations among restaurant owners are how will we be able to survive if there's another shutdown, and what steps we can take now to set ourselves up for better to-go experiences and better and safer indoor experiences," she said.
Jake Raulston, owner of Naked River Brewing on Chattanooga's Southside, said he also has a lot of space to work with, and that makes it easier to observe social distancing guidelines.
"We're a little bit out of the norm because we have such a large, spread-out area," he said. "The large outdoor patio and the huge spacing on the inside really keeps everyone separated."
Rob Mortensen, the CEO of trade group Hospitality Tennessee, said the study results are flawed on multiple levels, including using a small sample size and a sample of people inherently inclined to be out and about - and therefore at more risk of contracting COVID-19.
"People who are out at restaurants, especially those who were out early on, were the ones who said, 'I don't care, we're going to go live our lives,' and those folks are more likely to do a lot of things," Mortensen said. "How do you know you got it at a restaurant? You could have gotten it shopping at Target or at a clothing store or from your 19-year-old son coming home from college."
Restaurateurs, particularly small business owners, are "kind of getting beat up right now," Mortensen said.
Raulston said the industry is more focused than most on keeping people safe.
"My friends that own restaurants are taking the highest precautions," he said. "You can pick any business and say, 'Yeah, people going out are more likely to get it.'"
Contact Mary Fortune at mfortune@timesfreepress.com or 423-757-6653. Follow her on Twitter at @maryfortune.