Even an Olympic gold medalist can run into hard times.
Chattanooga's Venus Lacy, 54, can attest to that.
The 6-foot-4 Lacy led her Brainerd High School basketball team to the 1983-84 state championship. She went on to win a national championship at Louisiana Tech University and was named the nation's top player her senior year. In 1996, she and her U.S. basketball teammates won Olympic gold in Atlanta.
But in 1997, Lacy said, everything changed. She said she suffered a traumatic brain injury in an automobile accident and was plagued for years afterwards by memory loss and depression.
In April of this year, her monthly Social Security disability payments were cut nearly in half when her son, Alex, turned 18. Soon she couldn't pay her car insurance and was more than two months behind on her rent.
"I was on the verge of getting put out" of her home, she said.
Lacy said she would sometimes accompany her nephew to Chattanooga's AIM Center, where he's a client. On one such visit, she said, she struck up a conversation with Donna Maddox, the AIM Center's president and CEO.
"I told her about my situation," Lacy said. "I have a hard time trusting people but, by the grace of God, I told her stuff about myself I'd never told anyone before. I knew she really wanted to help me."
That help came from the Neediest Cases fund, money which went to more than square Lacy's rent and get her car insurance current. Then, in September, she started a "wonderful" job with Keithcare Inc. working with disabled adults.
Photo Gallery
Venus Lacy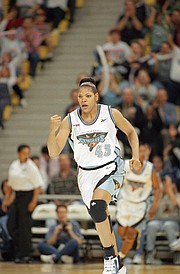 "I believe in giving back, and it's not all about money," she said. "I get to give back through Keithcare."
Lacy said she never outright asked for help at the AIM Center - and she knows why.
"I guess that's pride – because of who I am," she said. "You don't want people to look at you a certain way, but when you need help, you need help. If it wasn't for Ms. Donna, I wouldn't be here - I'd be living in my car or something.
"I still have depression," she said, "but I decided I wanted my life back, and now I have my life back."
Started in 1914 by former Chattanooga Times Publisher Adolph Ochs, the Neediest Cases Fund provides one-time assistance to people like Lacy, who are faced with unforeseen circumstances that leave them unable to pay their bills.
Funded by donations from Times Free Press readers, the Neediest Cases Fund is managed by the United Way of Greater Chattanooga and distributed to people in need who are referred by partner agencies.
Recipients are required to be employed to receive assistance from the fund, which fulfills basic needs such as housing, utilities and food to those who need one-time help to become self-sufficient.
Last year, readers donated well more than $80,000 to the fund, almost doubling the giving seen in a typical campaign year.
Donations to the Neediest Cases Fund campaign are accepted through the end of December.