At the start of the COVID-19 pandemic last March, Erica Libby of Walker County, Georgia, headed to the local Tractor Supply Co. and picked out a half-dozen chicks.
"I wanted a small backyard flock for a learning experience for my son," Libby said of her 6-year-old. "I thought, 'What better time to try something new?'"
She wasn't alone - baby chicks were a hot commodity last spring, as panic buying led to shortages and higher prices of eggs and chicken in stores and people looked for ways to fill their time while quarantining at home.
Interest in raising chickens in urban environments has been growing over the past decade, with some people citing the ability to more sustainably and ethically raise their own food as reasons for adding chickens to their backyards.
Photo Gallery
Raising chickens in the Chattanooga area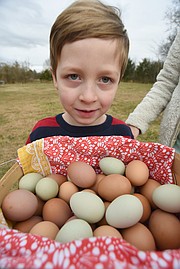 Several local municipalities have in recent years introduced ordinances related to keeping chickens in response to requests from citizens.
The Chattanooga City Council voted down a proposed urban chicken ordinance in 2013 that would have allowed up to 10 hens by special permit. The city only allows chickens in agricultural zones, but in 2017 the council reduced the minimum lot size requirement for land to be zoned for urban agriculture from 20 acres to 5 acres.
Area towns such as Lookout Mountain, Georgia, and Signal Mountain have passed laws in the past few years establishing regulations and permitting processes for keeping chickens within their limits. Others, such as the city of Soddy-Daisy, have discussed doing so.
A new chicken ordinance is coming up for vote soon in the city of Red Bank, which currently only allows residents to keep chickens on lots of 2 or more acres.
"Right now a lot of people are interested in keeping backyard chickens, just a handful of them for eggs," said Red Bank Mayor Hollie Berry, who requested City Manager Tim Thornbury draw up an ordinance that would allow for keeping chickens on smaller lot sizes - though the exact lot size is still to be determined since most lots in Red Bank are much smaller than 2 acres. "I wanted to open that up to as many Red Bank residents as possible."
Red Bank Vice Mayor Stefanie Dalton said she spoke to several citizens who are interested in keeping chickens on their property but were prevented from doing so based on their lot size.
"America is a place of independence and self-reliance, and a lot of people are wanting to take some matters into their own hands and be more sustainable and provide for their own families, and they have the land and the capability to do so, but we would have to permit them to do so," Berry said.
When the pandemic began last March, Walden resident Sarah Campbell and her husband Johnathan were among the many Americans who decided to raise chickens for food security reasons, in addition to growing vegetables and dehydrating food to stockpile.
They ordered a dozen chicks that were shipped live to the Signal Mountain post office, where they picked them up and took them home to raise under heat lamps in their bathroom until they were old enough to move outside.
"They each have their own very distinct personality," she said, which made it harder when all the chicks mysteriously disappeared from their homemade coop the first night they spent outside.
She said they plan to get more chickens at some point - though they'll purchase a pre-made coop this time - because she likes the idea of eating at least one thing a day that came from her own yard. But she questions whether it would be more sustainable for her to purchase eggs and chicken from a local producer rather than raise her own chickens.
Libby said keeping chickens has been quite a learning experience for herself and her son, but she would definitely choose to do it all over again if she could.
She suggests anyone interested in getting a backyard flock do plenty of research on types of chickens and how to care for them. Tractor Supply Co. offers vitamins in drop form for chickens that can help prevent deficiencies that lead to common issues, Libby said.
She said there are also some issues you just can't prevent, such as hawk attacks and aggressive roosters, that you may have to learn to accept. But she said the benefits of raising chickens outweigh the drawbacks.
"It's been a very therapeutic activity, as far as getting out of the house," she said.
Libby has nine hens and one rooster, and the latter was an unintentional purchase.
"There's always a chance you'll get a rooster in your bunch," she said, explaining that it's difficult to distinguish a chick's sex when it's very young. "So I accidentally have a rooster, and he's kind of hard to handle."
Each hen usually lays one egg a day in the warmer months, but in the winter they don't lay as many - usually one every other day.
If you're thinking about getting your own backyard chickens, finding out whether they're legal where you live is a good place to start. Libby lives in unincorporated Walker County near Chickamauga, in an agricultural zone where chickens are allowed.
Here are the local laws relating to keeping chickens in the Chattanooga area:
Chattanooga: Allowed on agriculturally zoned land or tracts of land containing 5 or more contiguous acres. People who have kept chickens or roosters on a tract of land containing 2 or more contiguous acres prior to Dec. 1, 2005, may continue to do so, but not if they stop for 30 or more continuous days.
Chickens must be kept in a manner that does not constitute a nuisance, including foul or offensive odors, and no more than 20 fowl are allowed per acre.
Collegedale: Allowed on agriculturally zoned property.
East Ridge: Prohibited.
Fort Oglethorpe, Georgia: Prohibited.
Hamilton County (unincorporated): Allowed.
LaFayette, Georgia: Allowed, as long as conditions are sanitary and chickens are not excessively noisy or a nuisance to neighbors or citizens. Chickens must be confined in pens on the owner's property. Raising poultry for commercial purposes is prohibited.
Lookout Mountain, Georgia: Allowed in single-family residential district.
Lookout Mountain, Tenn.: Allowed, as long as they're kept in a clean enclosure and prevented from roaming at large.
Ringgold, Georgia: Allowed.
Signal Mountain: Allowed by special permit from the town manager. Roosters are prohibited, and no more than eight hens are allowed per single-family dwelling. Chickens are prohibited in commercial, office and multi-family residential districts (including duplexes). They must be kept in a secure enclosure, which must provide at least 2 square feet per bird, be approved by the town manager and not be visible from the street. The ordinance, available at signalmountaintn.gov, outlines other requirements, including setbacks. Initial permit application fee is $35, and annual renewal fee is $15.
Walden: Allowed.
Walker County (unincorporated): An unlimited number of chickens are allowed in the A-1 agricultural zone. In the R-1 and R-2 residential zones, 12 chickens are allowed per acre. Chickens are prohibited in the R-1 residential zone.
Contact Emily Crisman at ecrisman@timesfreepress.com or 423-757-6508. Follow her on Twitter @emcrisman.