Southeast Tennessee's two urban counties experienced dramatic increases in unsheltered individuals in the past year, according to data released Wednesday by the Chattanooga Regional Homeless Coalition.
The data, gathered during the annual point-in-time count of area homeless people, showed a more than 80% increase in unsheltered individuals in Hamilton County, from 201 in 2020 to 364 in 2021. Bradley County's unsheltered population more than doubled, from 51 in 2020 to 120 in 2021.
The numbers released Wednesday offer a glimpse of some of the economic fallout from the ongoing COVID-19 pandemic on area residents. Advocates said the pandemic worsened existing problems, specifically the climbing rental costs and lack of affordable housing for low-income individuals.
The U.S. Department of Housing and Urban Development requires agencies across the nation to conduct a point-in-time count every January. The report offers a single-day snapshot of the local homeless population, which includes those in emergency or transitional housing, as well people living without adequate shelter.
The full report will be sent to HUD in April, but the data focusing on unsheltered people in the region was alarming and needed to be shared immediately, said Wendy Winters, executive director of the Chattanooga Regional Homeless Coalition. The sharp rise in the unsheltered population, whose living conditions often make them the most vulnerable to physical and mental health challenges, is devastating, Winters said.
"Those that have been on the street for quite a while have been there for a long time because there's no affordable units to be had," she said.
Rent or utility relief
Applications for rent relief in Tennessee are open. People can apply by calling 844-500-1112 during normal business hours or by visiting bit.ly/TN-rent-relief.To qualify, a household must make below 80% of the median household income in the county. A list of this threshold for each household size is available online.
The coalition, which serves Hamilton County and 10 surrounding counties, predicted a rise in the number of people experiencing homelessness when the count began in January. The economic impacts of the pandemic, such as job loss or decreased hours, were hurting individuals already struggling to keep up with Chattanooga's already difficult housing market. The coalition reported a 150% increase in calls to its hotline in 2020 compared to 2019.
Chattanooga is a community that cares, Winters said, and many people reach out to the coalition to help. But the best way to address the problem is to get more property owners involved, she said.
The coalition received around $4.4 million to help provide housing and support services to those in need. The money can be used to pay a double deposit on a rental unit, for example, Winters said.
"Chattanooga is growing. And there's lots of new developments. But if that new development doesn't include affordable housing, then we're going to continue to see these rises in the unsheltered count," she said.
People living on the street often experience trauma and have other underlying health concerns that can be better treated once they have a stable place to live, Winters said. The coalition considers housing to be a form of health care, she said. The "housing first" model is one adopted and promoted by some of the leading organizations in the field, including the National Alliance to End Homelessness.
Photo Gallery
Chattanooga's unsheltered homeless population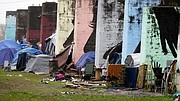 Jackie Clay, executive director of Family Promise of Greater Chattanooga, said her organization saw a surge in people needing assistance for help paying for rent and utilities. The number of people Family Promise helped jumped from 324 in 2019 to 850 in 2020. Much of the increased demand was due to pandemic-related job loss, Clay said.
"Lots of folks who came to us were working in the service industry and they were either laid off or their hours were cut drastically because of COVID-19," she said.
Those looking for shelter face a market with high prices and limited supply, especially multi-bedroom units that single-parent families need, Clay said.
"When you're trying to place people into permanent housing, you have to have the housing to put them in," she said.
Clay said the federal eviction moratorium, which is set to expire March 31, has helped keep even more people off the street. The Tennessee Housing Development Agency is offering rent relief for people who faced economic hardship in the past year and make 80% or less than the median income of the county.
Contact Wyatt Massey at wmassey@timesfreepress.com or 423-757-6249. Follow him on Twitter @news4mass.