After a crack in the Interstate 40 bridge over the Mississippi River in Memphis shut down one path over the nation's largest river earlier this month, a natural question comes to mind: What's the condition of bridges in the Chattanooga area?
According to the Tennessee Department of Transportation, most of Southeast Tennessee's major bridges spanning large bodies of water or major traffic thoroughfares are in good shape, but there are a few bridges with issues, such as the State Route 60 bridge over the Tennessee River between Meigs and Rhea counties.
Tennessee is ranked 10th in the nation for number of bridges, with nearly 20,000. Tennessee inspects all state- and locally-maintained bridges, whereas other states only inspect the state-maintained bridges. In Tennessee, there are 8,400 state-maintained bridges. The remainder are locally maintained.
A handful of local bridges in Southeast Tennessee stand out on the state's "poor" condition list because of where they are, but none of them are considered by TDOT bridge engineers to be unsafe, according to spokesperson Jennifer Flynn. Some repairs are underway, and others are coming soon.
"We are concerned about all bridges, which is why our bridge inspection and repair program is so robust," Flynn said.
"If our bridge inspectors find a problem on a bridge that they consider to be an immediate danger, they will close it. Period," she said. "Our bridge inspectors have the authority to do that, even on a local bridge. If a bridge is open, our bridge engineers consider it to be safe."
BRIDGE OUT
In West Tennessee, an emergency repair contract for the 48-year-old I-40 bridge over the Mississippi River between Arkansas and Tennessee was awarded after inspectors found a crack in the span that forced its closure on May 11, according to The Associated Press. The bridge is one of only three routes over the Mississippi River from Tennessee, and affected traffic has been rerouted onto the nearby 71-year-old Interstate 55 bridge during the work. Repairs have already started, but officials have been unable to project a re-opening date.
AP reports the crack was documented by an Arkansas official in 2019 but it was not reported. That employee has since been fired.
A highway bridge is defined by National Bridge Inspection Standards as a public, vehicular structure, more than 20 feet in length, that spans an obstruction or depression. There are 19,915 such structures in Tennessee, and that number does not include about 400 bridges owned and operated by federal agencies, according to TDOT.
"On-system" bridges are those maintained, owned and operated by the state and include bridges on or over interstates, state routes and miscellaneous highway bridges such as those in state parks. There are 8,420 on-system bridges in the state, of which 271, or 3.2%, are considered poor under federal standards.
"Off-system" bridges are those found on roads owned, maintained and operated by local governments, including counties, cities and townships. There are 11,495 off-system bridges, of which 605, or 5.3%, are considered poor.
Among all of Tennessee's bridges, about 4.2% are classified as poor, according to TDOT.
Photo Gallery
Chattanooga bridges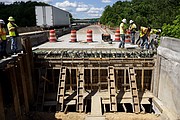 'POOR' BRIDGES
Flynn said the federal government's "poor" label for bridges shouldn't be taken to mean a bridge is dangerous. Poor condition can mean the bridge might need attention to maintenance, is aging or doesn't meet modern design standards, like the Market Street Bridge in downtown Chattanooga.
The Market Street Bridge is on the poor list because it is considered structurally deficient for its age and narrow lanes, but the structure was rehabilitated in 2006 to maintain its condition and operation and is frequently inspected and maintained. As a steel truss bridge, the Market Street Bridge can't be modified or widened, so it remains behind the times, Flynn said. It continues to be maintained as the historic span it is and it can be kept safe and operational with regular maintenance.
In the case of the State Route 60 bridge, bridge inspection showed the span in fair condition, Flynn said, but an underwater inspection caused a poor rating.
State Route 60 was completed in 2007, but it shows up on the poor list because of conditions underwater called "scour critical," she said. That means that if enough material is washed away, or scoured, from around the footing of a pier or column, it could become unstable, Flynn said.
"If a bridge is listed as scour critical, that fact alone does not mean that it is rated poor. It simply means the bridge is susceptible to scour, which is the eroding of materials by swift flowing water," she said.
"We have to keep a close watch on scour critical bridges during heavy rain and flooding events," she said. "If a bridge is found to actually have a scour problem like the SR-60 bridge over the Tennessee River, then the bridge may need to be rated poor. According to our bridge manager, State Route 60 falls into that category."
The danger posed by cracks depends on where the crack is and whether it's in concrete or steel, Flynn said.
"If a bridge is concrete, cracks are not normally a problem. If the bridge is steel, then a crack - depending on where on the structure the crack is located - could create a traffic problem," she said, noting the shutdown of the I-40 bridge.
Cracks and peeling concrete are the reason a $1.42 million contract was issued to Mid-State Construction Co. for repairs to the poor-rated Amnicola Highway bridge, actually a pair of bridges, over State Route 153 near the Chickamauga Dam, according to officials. Repairs there will start soon.
The Moore Road bridge over I-24 is on the poor list. It dates back to 1960 and was struck Jan. 7, 2020, by a big rig hauling an oversized load. Repairs were made to stabilize the bridge immediately after the strike, while it is set to be replaced in phase 2 of the Interstate 75/Interstate 24 Interchange Improvement project added to the state's Transportation Improvement Program for fiscal years 2022-2024.
OTHER BRIDGE WORK
Elsewhere in Southeast Tennessee, there are several state bridge projects upcoming, underway or nearly complete.
Contractor Mid-State Construction is wrapping up almost $2 million in bridge repairs on U.S. Highway 27 over Big Soddy Creek in Soddy-Daisy in a Hamilton County project that should be complete by the end of the month, according to Flynn.
In Polk County, the contractor, Charles Blalock and Sons, is working on foundations for the new $12.6 million signature "gateway" bridge over the Ocoee River that started in the fall of 2020 and is expected to be complete by May 2022. The new bridge replaces the old one built in 1937, officials said.
In Bledsoe County, Jamison Construction is repairing the State R0ute 30 bridge over the Sequatchie River in an $828,768 project expected to be complete by Sept. 30.
In Sequatchie County, Southern Constructors is repairing the U.S. Highway 127 bridge over the Sequatchie River under a $511,306 contract with the same finish date as the Bledsoe project.
And in Chattanooga, bridges are being replaced all along I-24.
Replacement of the Spring Creek Bridge over I-24 is about halfway done as part of the ongoing first phase 0f the $132.6 million I-75/I-24 Split project by C.W. Matthews Contracting Co.
The new Belvoir Bridge over I-24, finished at the end of March, and the I-24 bridges over Germantown Road, expected to be completed by the end of August, are under a separate $32.9 million contract with Bell and Associates Construction, according to TDOT.
Work during the Split project replaced a bridge on southbound I-75 that TDOT believes was damaged by a passing big rig prior to a concrete rail falling from the bridge onto the roadway below on April 1, 2019, an incident that injured a motorist and shut down the interchange for hours.
Most of the work in Tennessee is funded through the state's 2017 IMPROVE Act, which increased gas and diesel taxes for the first time in nearly 30 years, raising about $350 million annually for highway and bridge projects.
Tennessee Gov. Bill Lee traveled to Memphis on Tuesday to assess progress on I-40's bridge repair and meet with Arkansas Gov. Asa Hutchinson to discuss the need for immediate federal action on infrastructure as Congress weighs President Joe Biden's American Rescue Plan.
"While Congress ponders the definition of infrastructure, we call upon the federal government to prioritize the safety of actual roads and bridges," Lee said in a statement.
The current plan designates $182 million to Shelby County and $161 million to the city of Memphis, Lee said, adding 5.6% of the plan's estimated $2 trillion in spending is dedicated to roads and bridges.
"I commend the state of Arkansas, the Coast Guard and the Army Corps of Engineers for their work and look forward to meaningful action out of Congress to address the condition of our roads and bridges across the country," Lee said.
Flynn said TDOT leaders are taking a wait-and-see approach to Biden's plan and "will be looking at the details of it closely."
"At this time, it is just a proposal and it will take some time to gain a full understanding of the legislation and its full impact," she said.
Contact Ben Benton at bbenton@timesfreepress.com or 423-757-6569. Follow him on Twitter @BenBenton.