This is one of the last weekends to see fall leaf color for much of the region's lower elevations and the Cherokee National Forest, Ocoee River Gorge and parts of North Georgia.
Mostly, leaves across the region have deepened to a ruddy-brown but some spectacular views filled with yellow, red and orange are still visible in the mountains near the Tennessee-Georgia line, where 2021's fall colors are lingering longer, said Kim Hatcher, a spokesperson for the Georgia Department of Natural Resources.
"I am traveling this week in North Georgia and fall color has been better than I remember in recent years," Hatcher said Thursday in an email. "It's gorgeous right now."
Hatcher said areas around Vogel State Park and Georgia Highway 348 in Union County are at their peak and quite vibrant, and spots in the Chattanooga region of North Georgia are worth a look.
Photo Gallery
Fall colors on display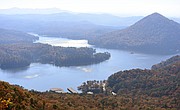 "The maples, sourwood and chestnuts are stunning - mostly yellow, red and orange," she said, noting Thursday's weather system was bringing windy, wet weather. "Today's rain and wind will blow some of this down, but I think there will still be some beautiful fall color through the weekend and beyond."
The U.S. Forest Service's fall foliage prediction map, providing a broader look, shows colors in the Southern Appalachians and much of the nation are largely past peak, while the only peak and near-peak colors are predicted now far to the south in Florida, Louisiana and Texas.
According to forest service information on the Chattahoochee-Oconee National Forest in Northeast Georgia, colors usually peak there around Oct. 24 and feature the hues of tulip poplar, dogwood and maples. The colors start from the highest elevations and cascade down the slopes, descending about 1,000 feet in elevation each week.
(READ MORE: The 10 best overlooks in the Chattanooga area to see fall colors)
On the Tennessee side of the state line in the Cherokee National Forest in Polk County, forest service officials on Oct. 26 reported "beautiful fall colors" on the Cherohala Skyway between Tellico Plains, Tennessee, and Robbinsville, North Carolina, according to a post on the national forest's social media page. Photos posted Nov. 2 in the Great Smoky Mountains National Park, two hours north of Chattanooga by car, still showed reds, oranges and yellows in some areas, though trees at upper elevations appear leafless.
Times Free Press photos taken Wednesday in the Polk County mountains show plenty of yellows and oranges, though higher elevations were more brown, while photos taken last weekend in Murray County show Fort Mountain State Park still blazing with color in places set off by a backdrop of evergreens.
Where colors remain
Meagan Jolley, spokesperson for See Rock City atop Lookout Mountain, said nature's fireworks show opened late this year, and there's still color to be seen at the famous tourist destination.
"It did seem a little later this year than previous years, but we had vibrant colors starting the week of Oct. 18 that have continued until now," Jolley said in an email. Jolley said colorful leaves are still on the trees in the park first established as a public attraction in 1932.
People are still coming for the view, according to an emailed statement from See Rock City President and CEO Susan Harris.
"We have continued to see very strong visitation numbers this fall, even outside of our special event Rocktoberfest held on weekends in October," Harris said. "We just appreciate the opportunity to continue to welcome people to beautiful Rock City Gardens in every season."
(READ MORE: Forest Service aims to conserve more than 5,000 acres of North Georgia woodlands)
Hatcher said the best viewing in the next few days will be around Fort Mountain in Murray County, Red Top Mountain in Bartow County and Cloudland Canyon in Dade County, about 25 miles southwest of Chattanooga.
"Black Rock Mountain and Moccasin Creek are past peak fall color. Typically, Northeast Georgia peaks before Northwest Georgia," she said.
"I think this year is especially pretty because Georgia received plenty of rain during the summer, then sunny days during early fall. We haven't had many significant storms to blow down much of the foliage yet," she said.
In the Chattanooga metro area, companies generating business from nature's colorful display look for most visitation in October.
Fall color cruises into the Tennessee River Gorge have been a tradition for the Southern Belle since the riverboat was christened in 1985, Chattanooga Riverboat Co. group sales manager Joy Reinert told the Times Free Press in September.
In the mid-1980s, the color change peaked "the second and third week of October," Reinert said. "Over the last 35 years, it's gotten later and later in the season."
Mid-November is usually prime time now, she said, which has prompted officials with Chattanooga Riverboat Co. to tack on additional sightseeing cruises in November.
The Chattanooga Riverboat Co. has two more cruises to see the Tennessee River Gorge's last hurrah Friday and Saturday afternoon, according to the company's website.
Why the change
Leaves turn green each spring using pigments - chlorophyll, xanthophyll and carotenoids - to harness energy from the sun. The chlorophyll absorbs red and blue wavelengths but not the green ones that are reflected back to our eyes, according to the forest service. The other "fall colors" are always there but are just hidden by the chlorophyll.
As temperatures cool and days get shorter, leaves on deciduous trees stop producing new chlorophyll, and the summer's green color breaks down to reveal the other pigments that have been masked all season as fewer hours of daylight cause the green to fade and the colors beneath to show.
Weather has an effect, and temperatures have been higher than usual.
(READ MORE: Why climate change is making it harder to chase fall foliage in the Chattanooga area)
According to the Tennessee Climate Office at East Tennessee State University, October was warm across the state with most areas reporting temperatures 4 to 6 degrees above normal, based on 1981-2010 30-year climate data. Inclement weather played a large role across the state in October with storms, wind, two tornadoes and flash flooding in some areas of the state. Many counties got 5-8 inches of rain the first week of October, followed by cooler weather finally moving in mid-October.
Brandon Wasilewski, meteorologist with the National Weather Service office in Morristown, Tennessee, said temperatures in October for Chattanooga were 3 degrees above normal, while rainfall was considerably higher at 4.72 inches, compared with a normal of 3.59 inches.
Data from the weather service's office in Rome, Georgia, tells a similar story for early October but with slightly higher temperatures and a little less rainfall than the immediate Chattanooga area, Wasilewski said Thursday in a phone interview.
(READ MORE: 'It was a whole different world': Nashville area state park debuts colorblind viewfinder)
According to the National Park Service, some studies show that a hot summer, rainy fall and even nitrogen pollution are related to a shorter, duller foliage season, while a later color change is associated with warmer, earlier spring and fewer fall storms.
Climate factors
Climate change ultimately plays a role in the overall shift of the timing of the color change, according to Nick Bradford, program director of research and innovation at the National Environmental Education Foundation in Washington, D.C.
"Warmer temperatures due to climate change have delayed leaf coloring and leaf drop," Bradford wrote in an article published on the foundation's website. "Satellite observations indicate a delayed fall 'changing of colors' of up to four days per decade in North American temperate forests since 1982. Warming temperatures have also been associated with earlier onset of spring - the combination of an earlier spring and a delayed fall season has increased the active growing season."
So grab the kids and jump in the car for a last ride of the 2021 "leaf-peeping" season with a decent weekend's weather anticipated.
WRCB-TV Channel 3 meteorologist Cedric Haynes said Chattanooga weather going into the weekend should be drier and cooler.
"Friday will actually be a decent day with mostly sunny skies, but temperatures will be about 10 degrees cooler. Highs will only be in the lower 60s," he said on his blog. "A second dry front moves through the area Friday night ushering in another shot of colder air. This will set us up for a dry but cold weekend. High temps will struggle to reach the lower 50s and overnight lows will drop down into the 30s."
Another cold front passing through Sunday night will lead to a cooler start to the week, he said.
Contact Ben Benton at bbenton@timesfreepress.com or 423-757-6569. Follow him on Twitter @BenBenton.