At least 1,459 Hamilton County children ages 5 to 11 have rolled up their sleeves and received their first dose of a COVID-19 vaccine since becoming eligible this month.
Many county health departments in Tennessee began vaccinating the newly-eligible age group on Nov. 4, with vaccine shipments reaching most local pediatricians and health clinics throughout the following week.
Across the state, more than 12,500 children between the ages of 5 and 11 had received a dose of Pfizer's vaccine for younger children, which is currently the only authorized COVID-19 vaccine for that age group. The dose for younger children is a third the size of the dose given to teens and adults.
Dr. Allen Coffman, a pediatrician at Highland Pediatrics in Hixson, said the clinic received its shipment on Nov. 5 and is vaccinating on average 60 children per day.
"The energy has been extremely positive and exciting. So many parents have been waiting for this," Coffman said.
LifeSpring Community Health, which provides COVID-19 vaccines to all ages throughout Chattanooga in addition to pediatric care at its downtown clinic, got its doses Wednesday morning and vaccinated 28 children that afternoon, according to the director of nursing, Jill Fikkert.
"I was really pleased," Fikkert said. "About half of those were our patients and the other half were community members that I think found us through word of mouth or social media or on our website."
Although children typically fare better against COVID-19 than adults, the disease can still cause severe illness and disability in young people. Hamilton County school-aged children accounted for roughly one in four of the county's new COVID-19 cases in the month after classes resumed in August, and at least three of the county's coronavirus-related deaths occurred in residents younger than 10.
(READ MORE: Hamilton County student survives rare syndrome linked to COVID-19)
Vaccinating more children also will help schools operate more safely and with less disruption and create fewer opportunities for the coronavirus to spread throughout the community.
Photo Gallery
Hamilton County children aged 5-11 get vaccinated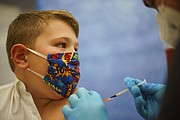 However, parents who want their children better protected against COVID-19 will have to wait for more than a month to reach the full benefit of vaccination, and Hamilton County Schools recently scrapped its face mask mandate, which was put in place largely for those who were too young to be vaccinated yet.
As with older age groups, Pfizer's vaccine regimen requires a second dose given three weeks after the first, and two more weeks must pass after that for the immune system to mount a full response.
On one hand, Fikkert said she thinks it may be easier to vaccinate young children at higher rates since the vast majority have a pediatrician and access to health care.
"I think that we won't have as many barriers to being able to see them," she said.
But while many parents are eager to get their children a jab, others - even those who are vaccinated themselves - are unsure.
"I think the issue maybe this time around will just be parental hesitancy and/or concern, just because it is so new," Fikkert said. "I would encourage them to call their pediatrician and ask any questions that they have. I am sure their pediatrician would be more than happy to answer any questions and alleviate fears and just discuss the benefits."
(READ MORE: What to know about vaccines for children aged 5-11)
In an online forum hosted by the Harvard School of Public Health on Friday, immunology and infectious diseases professor Kizzmekia Corbett said any vaccine authorized or approved for any age group goes through a highly vetted process.
"And they must stand the test of time," she said. "It's not just that first, initial bit of data that informs this process. The regulatory agencies continue to watch and monitor these vaccines as they roll out into your children, and so if at any point at any given time there's a red flag, you will know and we will all know."
More than 1 million U.S. children in the 5-11 group already have taken their first dose of vaccine, according to the U.S. Centers for Disease Control and Prevention.
The number of Hamilton County children ages 5-11 already having received their first dose of vaccine amounts to 5% of that age group's population in the county as of Friday, according to data from the health department. It took the 12- to 15-year-old group two weeks longer to reach that same level of vaccine coverage.
As of Friday, 56% of Hamilton County residents were at least partially vaccinated and 51% of residents were fully vaccinated. That compares to 58.7% fully vaccinated in the U.S. population as a whole, according to the CDC.
A list of upcoming vaccination events and locations can be found on the Hamilton County Health Department website. Children under 12 cannot be vaccinated at the health department's drive-through sites and must get an appointment in order to be vaccinated through the department.
The website vaccines.gov allows people to search for locations offering specific types of vaccines, including for children younger than 12.
Contact Elizabeth Fite at efite@timesfreepress.com or follow her on Twitter @ecfite.