The Hamilton County Board of Education's special committee to address content concerns in school reading materials held its first meeting Tuesday, and members had difficulty agreeing on the group's mission.
The committee and its chair, Rhonda Thurman, went back and forth over whether the group would address only library books or if the panel's scope would address books in classroom libraries as well.
Thurman said she had seen some teachers bragging on social media about how they were offering "restricted books" for students to check out in their classrooms, and she wanted to prevent that. She said an outside group was putting books in classroom libraries that were not vetted by administrators.
Committee member Angela Favaloro of the group Moms for Social Justice asked if Thurman was referring to her group's efforts. The group was part of an effort to use grant funds to supply a curated selection of books to classroom libraries in 15 local schools. Favaloro said the books, which include books Thurman finds concerning, were approved by school administrators.
Later in the meeting, Favaloro said she wanted an attorney present at subsequent meetings to clarify whether any decisions made would violate the rights of students. Autumn Witt Boyd, another committee member, said she agreed.
Photo Gallery
Hamilton County Schools book review committee meets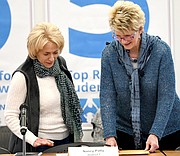 "I'm certainly not wanting to violate anyone's rights," Thurman said, after expressing that she didn't understand how restricting books violated students' rights. "I'm just wanting to inform the public about what their tax dollars are paying for, what's in the libraries, the process."
Nicole Galletta, an elementary school librarian on the committee, said the majority of her library's books were not paid for with taxpayer dollars.
"We work really hard to raise money in order to provide books for our students," Galletta said.
Committee member Wayne McBrayer said the fact that the books were not paid for by taxpayers "does not exempt them from a standard."
"If we cannot agree that we can get together as a group of parents, educators and professional people and say that some of this stuff is unacceptable and how do we keep this out of our schools, parents are going to lose complete and total, total confidence in public schools, and I don't blame them," Thurman said of books on which she has received complaints, including "More Than We Can Tell" by Brigid Kemmerer, "On the Come Up" by Angie Thomas, "Far from the Tree" by Robin Benway and "The Hate U Give" by Angie Thomas.
Thurman said books that follow "community standards" shouldn't include things that aren't acceptable in the classroom or in "polite society."
"We can't go through and tell everybody every word they can't say," Thurman said. "It's kind of like pornography; you can't define it, but you know it when you see it. If you see some of these words, you know it's just not right."
After much discussion, the committee agreed to consider for potential changes Hamilton County Board Policy 4.402, Selection of Instructional Materials (Other than Textbooks), which states library books are monitored but that families can have "sensitive content" reviewed by the district under another policy 4.403, the Reconsideration of Instructional Materials and Textbooks.
"Parental disclosure and prior notice does not include books located in the school library or classroom that are intended to provide optional reading material on each student's individual reading level. These books will continually be monitored; however, there may be sensitive content contained in these books that was not previously reviewed by school personnel," the policy states.
The next meeting is Feb. 22 at 5:30 p.m. at the school system's central office.
Contact Emily Crisman at ecrisman@timesfreepress.com or 423-757-6508.