Kareem Orr won't be between the white lines of SoFi Stadium's football field for a single snap of Super Bowl LVI on Sunday night. But that doesn't mean the 25-year-old cornerback hasn't played an important role these past two weeks as a member of the Los Angeles Rams' practice squad in preparing the NFC champions to face the Cincinnati Bengals.
"Just helping our offense any way we can," Orr, the former Notre Dame High School and University of Tennessee at Chattanooga star, said of his role on the Rams' practice squad. "Just running the Bengals' defense, letting our offense see what they'll face. You're just going hard every day, trying to bring the energy."
So come 6:30 p.m. Sunday on NBC, there's a good chance you might spy Orr on the sideline in street clothes, bringing all the verbal energy he can to his teammates on the active roster.
"We're all close," he said last weekend. "We're here to help each other out. Just being on the sideline is unbelievable. I can't wait."
Orr has waited patiently to earn a permanent spot on the active roster of an NFL team for most of the past three autumns. He spent the 2019 and 2020 seasons on the Tennessee Titans' practice squad, though he did get on the field for a combined seven regular-season games. He appeared in two games for the Rams this season ahead of the playoffs, finishing with four total tackles against the Arizona Cardinals on Dec. 13 and playing again the following week against the Seattle Seahawks.
Now he'll have a great view as the Rams become the second consecutive team to play the Super Bowl at home.
"It's unbelievable," Orr said. "The stadium itself is amazing. But the atmosphere, too. Great fans. You see a lot of famous people in the stands."
As for the most famous celebrity he's seen, Orr quickly replied, "Jamie Foxx."
Photo Gallery
Kareem Orr through the years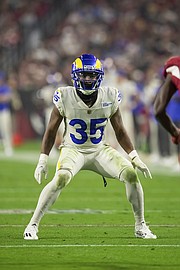 Orr keeps up with Notre Dame coach Charles Fant and UTC as much as possible, even as the Mocs went a somewhat disappointing 6-5 this past season.
"I was catching scores whenever I could," Orr said. "I thought they could have been way better than they were."
The Rams have been way better than most this season thanks to the notable additions of former Georgia Bulldogs star Matthew Stafford at quarterback and Odell Beckham Jr. at wide receiver.
"Unbelievable talents," Orr said. "And they get better every play."
Yet as unbelievable as this day is for Orr, it is arguably even better for his former high school coach.
"I can't lose," Notre Dame's Fant said Saturday morning. "I grew up in Cincinnati, a lifelong Bengals fan. My family and friends have been sending me 'Who dey' messages on social media for two weeks."
In case you're wondering, the "Who dey" chants began during the 1981 season, when the Bengals reached the Super Bowl for the first time, ultimately losing to the San Francisco 49ers. It goes like this: "Who dey? Who dey? Who dey think they gonna beat dem Bengals? Who dey? Who dey? Who dey think they gonna beat dem Bengals?
"Nobody!"
And that may be the case, though the Rams were favored by four points as of Saturday and Fant is forsaking his childhood heroes to root for L.A.
"I love the Bengals," he said of the AFC champions. "But I'm cheering for the Rams. That's my dude."
Fant talked to Orr on Friday.
"He sent me a couple of pictures," Orr said. "They were all wearing white jumpsuits with Super Bowl logos on them. Kareem was standing next to (All-Pro defensive lineman) Aaron Donald."
In truth, it's the Tennessee Valley's high school football reputation that can't lose Sunday, what with Ridgeland product Vonn Bell and former Fort Payne kicking sensation Evan McPherson starring for the Bengals and Orr in the Rams' camp.
"Yeah, Vonn and I text all the time," Orr said last week. "But not these two weeks. We probably won't talk to each other at all until we're both on the field at the end of the game."
As Fant was talking about Orr and the wonder of having three Chattanooga-area athletes share pro football's biggest stage, he thought about the 30-yard field his Fighting Irish have practiced on through the years, which is hardly an ideal situation for building championship teams or players.
"From 30 yards to the Super Bowl," he said, "is pretty amazing."
Contact Mark Wiedmer at mwiedmer@timesfreepress.com. Follow him on Twitter @TFPWeeds.