It was a rainy night with about 2.1 inches of rainfall officially at the Chattanooga airport as of 3:30 a.m., according to our news partner Local 3 News. Radar estimates have 2-4 inches of rain north and west of Chattanooga with the heaviest rain just now moving through Georgia communities. Several flood advisories are in effect.
After a heavy night of rain streams prone to flooding, roads such as Davidson Road made the morning commute problematic. Roberts Mill Road will be closed for the immediate future due to overnight damage from rainfall, according to a news release from the Hamilton County Mayor's Office.
The Chattanooga Fire Department responded to two water rescues Wednesday, according to a news release. The first rescue was on Lower Mill Road, where a car tried to cross the flooded roadway and stalled. Two people were removed from the scene, the release stated.
The second water rescue happened on School Drive, where the driver of a car went around the barricades and stalled out in the water. Dallas Bay Volunteer Fire Department responded to assist with their boat due how deep the floodwaters were, and one person was removed from the scene.
The flooding and damage come three years after a mudslide destroyed a Signal Mountain Road Subway restaurant and led to its neighbor, Shuford's barbecue restaurant, being deemed a "dangerous" structure by the city.
Photo Gallery
Arkansas vs. LSU Baseball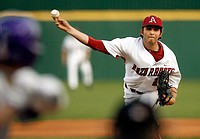 Arkansas takes on LSU Friday, April 8, 2011, at Baum Stadium in Fayetteville.
The following locations in Chattanooga are closed or have limited access, according to the city transportation department:
- 7600 Davidson Road (flood gates are down)
- 711 E Main Street
- 8000 Shallowford Road
- 4600 Bonny Oaks
- Boy Scout Road at Sandswitch Road
- 3300 Jersey Pike
- Gadd Road at Lynnhaven
- 800 Mountain Creek Road
- E 23rd Street at Hickory Street
- Davis Lane at Paw Trail
- 107 Culver Street
The HamCo Highway Dept. reports Roberts Mill Road will be closed for the immediate future. The roadway was damaged overnight due to the extremely heavy rainfall. The highway department is in the process of contacting a geo tech stabilization company to assist in the assessment. pic.twitter.com/RdLqTSO1w3

— Hamilton County Government (@HamCoTNGov) February 23, 2022