Over the past decade since the state established the border tax zone in East Ridge to help the city land Bass Pro Shops and other retailers, restaurants and hotels at Exit 1, East Ridge has realized one of the biggest influxes of new investments since the city's early days after its creation in 1921.
The number of workers at businesses leading into Camp Jordan has jumped to more than 500 employees. Across I-75 from the growing Camp Jordan area, Chattanooga Red Wolves owner Bob Martino is planning the biggest new dollar investment ever in East Ridge at the new soccer stadium and surrounding housing and commercial development.
But while East Ridge's entrance to Tennessee from the south along I-75 is growing, the city's overall population has remained relatively stagnant over the past six decades and the median income and home values in East Ridge trail the rest of Hamilton County, according to U.S. Census Bureau estimates. Along most of Ringgold Road and the subdivisions around East Ridge's main thoroughfare, business and home values have failed to keep pace with the recent boom around parts of Exit 1.
To help all of East Ridge continue to grow, a group of East Ridge businesses is organizing a new nonpartisan, nonprofit organization known as Pioneering Tomorrow to help promote the city and advocate for ideas to help East Ridge's future.
Mike Steele, a former East Ridge mayor and current spokesperson for the Pioneering Tomorrow initiative, said the group wants to position East Ridge "as the best place to live, work, play and retire in Hamilton County."
Photo Gallery
East Ridge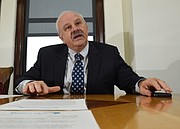 "Having an engaged business community is an essential part of building a stronger East Ridge," Steele said in a telephone interview. "We'd like to have business owners from U.S. 41 (on the eastern edge of the city) to the tunnel (entering Chattanooga on the west edge of East Ridge)."
So far, more than 30 businesses of all types have joined Pioneering Tomorrow, and Steele hopes to attract at least 50 local businesses interested in promoting the city and helping it grow.
The new business alliance will seek to work with East Ridge government, Steele said, but it will not endorse candidates or push for particular tax policies. However, a number of business leaders decided to launch the new initiative after the East Ridge City Council voted 3-2 last fall to raise the city's property tax rate for the first time in a decade.
The new rate boosted the average city property tax bill in East Ridge by 28%, although the city's effective tax rate was still lowered due to an overall increase in assessment in the city.
The new property tax rate of $1.25 per $100 of assessed valuation in East Ridge is only about half the property tax rate in Chattanooga and Ridgeside, but it is higher than Red Bank, Soddy-Daisy or Walden, according to the Hamilton County Trustee's Office.
Steele said he hopes the new group will initiate and drive a discussion on how the business community and elected leaders can work together and make strategic decisions that will attract more businesses and visitors to all areas of East Ridge. Such growth would aid businesses and homeowner values while helping keep city tax rates lower, Steele said.
"We want to do what we can to foster a better environment to encourage younger people and families to want to move into East Ridge and to help attract and build more small businesses in East Ridge," Vince Butler, a media specialist working with Pioneering Tomorrow, said in a phone interview.
East Ridge, like many of Chattanooga's older suburbs that grew up primarily after World War II, has an aging stock of houses in older subdivisions that have generally not been upgraded and boosted in value as much as other areas of the county. In the 2020 census, for instance, the median home value in East Ridge was $133,200, or less than 70% as much as Hamilton County as a whole. Only 58% of homes in East Ridge in the most recent census were owner occupied, which was also below the 64.1% homeownership rate for the county as a whole.
Steele, who served as East Ridge mayor from 2006 to 2010, said he remains committed to East Ridge even though he moved out of the city after his home was destroyed in a 2011 fire. He relocated to Ooltewah to be closer to his grandchildren but also because building a new home in an older subdivision didn't seem to make as much financial sense as building elsewhere.
With most available lots already developed with homes, apartments and businesses, East Ridge's population has remained relatively stagnant since 1970.
"It's going to take more of a redevelopment than just new development," Steele said.
Earlier this year, Food City opened a new and larger $12 million grocery store in an abandoned bowling alley on Ringgold Road, which Steeele said he hopes other growing businesses will replicate.
"The growth of East Ridge has always been driven by an independent, pioneer spirit -- starting with the Lomenick family to Weldon F. Osborne to many others who have helped build East Ridge into the city we all enjoy today," Steele said. "Pioneering Tomorrow is about solving problems and creating new opportunities that will improve the quality of life for all residents in East Ridge, support the ongoing needs of the business community and spur new investments to ensure our great city is capturing the type of growth, economic development and visitors that will lead our community into the future."
City property tax rates
The city property tax rates per $100 of assessed residential property in Hamilton County are:
— Ridgeside: $2.55
— Chattanooga: $2.25
— Lookout Mountain: $2.02
— Lakesite: $2
— Signal Mountain: $1.70
— Collegedale: $1.39
— East Ridge: $1.25
— Soddy-Daisy: $1.12
— Red Bank: $1.10
— Walden: 53 cents
Source: Hamilton County Trustee's Office
Contact Dave Flessner at dflessner@timesfreepress.com or 423-757-6340. Follow him on Twitter @DFlessner1.