Skyler Oakley was expecting holiday travel mayhem at the Chattanooga Airport on Monday when he arrived for his flight to Florida. Instead, he was first in line at the Delta ticketing counter -- with zero stress about making it to his gate on time.
"The more chill, the better, as far as I'm concerned," Oakley said Monday afternoon while waiting for his flight to take him to a large family gathering for the Thanksgiving holiday in Cape Coral, Florida. "I figured it would be crazy, but that's not the case."
Monday's flight was Oakley's first experience at the Chattanooga Airport, where business travel and other passenger activity Monday remained relatively slow ahead of an expected holiday travel rush Wednesday.
Nationwide, AAA predicts air travel over the holiday weekend is expected to be up nearly 8% over 2021 with 4.5 million Americans flying to their Thanksgiving destinations this year. That's an increase of more than 330,000 travelers and represents nearly 99% of the 2019 volume.
"Anticipate long TSA (Transportation Security Administration) lines," Paula Twidale, AAA's senior vice president of travel, said in a report on the holiday travel week ahead. "If possible, avoid checking a bag to allow for more flexibility if flights are delayed or you need to reschedule."
Air travel is still below the levels reached three years ago before the pandemic, but Chattanooga Airport Authority President Terry Hart said Monday leisure air travel is expected to jump Wednesday when most public schools in the area are off for the Thanksgiving holidays.
"Based on airline bookings, Wednesday will be the busiest day outbound, with Sunday being a big return travel day," Hart said in an emailed statement. "This is due to the airlines still operating at less capacity."
Photo Gallery
Chattanooga holiday travel rebounds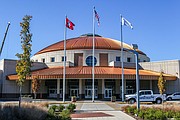 Road trips
Most of the estimated 54.6 million Americans who will travel 50 miles or more from home this Thanksgiving will do so by car, according to AAA. Although gas prices are the highest in a decade, the number of motorists on the highway is expected to be up 1.5% over last year and at 98% of the pre-pandemic peak set in 2019.
This year is projected to be the third busiest for Thanksgiving travel since AAA started tracking in 2000.
"Families and friends are eager to spend time together this Thanksgiving, one of the busiest for travel in the past two decades," Twidale said.
Chester Bratt, a Detroit motorist who filled up his gas tank Monday at the Circle K gas station in Ringgold, Georgia, was traveling home for the holidays from Atlanta.
"This area seems to have some of the best gas prices anywhere I've been," Bratt said while refueling his car with regular gas priced at $2.99 a gallon.
The online gas pricing service GasBuddy.com said the average price of gasoline in Chattanooga is 54 cents a gallon lower than the U.S. average. Gas prices here are especially appealing for Canadian motorists used to paying the equivalent of nearly a dollar more a gallon for fuel.
"It's not always easy to compare with prices in gallons in the U.S. and in liters back home in Canada, but prices here are definitely a lot lower," Peter Ecclestone, an Ontario motorist, said Monday while refueling his car near Chattanooga for less than $3 a gallon for regular.
Fuel falls
The price of regular fuel in Chattanooga dropped by 12.4 cents a gallon in the past week to $3.10 a gallon at the start of this week, according to GasBuddy's survey of 170 stations in Chattanooga.
Gas prices are up 5.7 cents a gallon from a year ago and are the highest for any Thanksgiving week since 2012, when the average price of regular gas in Chattanooga was $3.14 a gallon, according to GasBuddy.com.
Although up from a year ago, gas prices are down by more than $1.50 a gallon from the peak levels reached in June and fell more than what most analysts had expected going into the traditionally busy travel week ahead.
"What an incredible turnaround in the last week," Patrick De Haan, head of petroleum analysis at GasBuddy, said in a report Monday on the nation's gas prices. "It's terrific news as motorists prepare for Thanksgiving travel, with tens of thousands of stations under $3 per gallon, and thousands more to join in the next few weeks, barring a dramatic turnaround."
DeHaan said most motorists should get some relief at the pump this week after oil prices plummeted last week to briefly trade at less than $80 per barrel.
"It's not impossible that if oil markets hold here, we could see a national average of $2.99 around Christmas, certainly the gift that every motorist is hoping for," DeHaan said. "Drivers shouldn't be in a rush to fill up as prices will come down nearly coast-to-coast into the heavily traveled Thanksgiving holiday."
Rising tourism
With more travelers enjoying cheaper gas -- at least compared with most of the summer -- hotels and tourist attractions in Chattanooga are also hoping for more business.
"We're on track for visitor numbers to be similar to, if not better, than 2021," Hugh Morrow, president of Ruby Falls and chairman of the Chattanooga Tourism Co., said in an emailed statement Monday. "Same-day ticket sales are strong, and we expect this to continue all week as folks visiting family and friends venture out to explore together."
A survey by the American Hotel and Lodging Association found 31% of Thanksgiving travelers plan to stay in a hotel during their trip, compared to 22% who planned to do so last year. The survey also found that concerns about COVID-19 are fading among travelers but are being replaced by economic challenges such as inflation and high gas prices.
"This survey bolsters our optimism for hotels' near-term outlook for a number of reasons," association President Chip Rogers said in a report ahead of the holidays. "The share of holiday travelers planning hotel stays is rising, plans for business travel are on the upswing and hotels are the No. 1 lodging choice for those certain to travel for leisure in the near future."
Jonathan Armstrong, regional director of sales and marketing for the Dynamic Group, which owns several Chattanooga hotels, said hotel bookings are increasing because of the Thanksgiving holiday as well as Chattanooga's holiday events, including the Lighted Boat parade, the Enchanted Garden of Lights at Rock City, ice skating at the Choo Choo and the new Asian Light Festival at the Chattanooga Zoo.
"These activities and adventures encourage families that may have traveled home the same day to explore the Scenic City and stay an evening -- or two," Armstrong said in an emailed statement Monday.
Contact Dave Flessner at dflessner@timesfreepress.com or 423-757-6340. Follow him on Twitter @DFlessner1.