Chattanooga has experimented with and promoted electric vehicles for nearly a half century as home to one of the first electric vehicle test tracks, an early electric bus manufacturer, a national research and advocacy group and the country's first all-electric bus shuttle that has operated downtown for 30 years.
Last week, Volkswagen of America began shipping the first of its all-electric ID.4 SUVs made in Chattanooga to dealers around the country as the German automaker shifts gears and engines in a move to replace dozens of its gas-powered vehicle models with new electric vehicles by the end of the decade.
But for all of Chattanooga's roots in the growing EV market, nearly 98% of Chattanoogans still rely on gas-powered vehicles even in a town that once billed itself as an all-electric city.
As of June 30, Hamilton County had 750 all-electric, battery-powered vehicles and 385 plug-in hybrid vehicles licensed in the county, or less than 2% of all licensed vehicles. Most of the all-electric cars on the road in Chattanooga are Tesla vehicles, according to data compiled by the Atlas EV Hub, an online platform that tracks trends in the EV market.
"Electrics are popular and exciting to some and gaining appeal all the time, but EV buyers are not the majority by any means," Larry White, general manager of Mountain View Chevrolet, told the Chattanooga Times Free Press in a phone call last week. "I think over time, we're definitely going to see more EV models and cars on the road, and it's going to be a big part of our future as long we can get the product. But gas engines today are cleaner than they have ever been and are getting better mileage, and they are going to be around for a long time."
Electric vehicles offer a cleaner and more sustainable means of transportation and are being pushed around the globe to help limit the burning of gasoline, which the Environmental Protection Agency says is now the biggest source of carbon emissions linked with global climate change.
One key to convincing car buyers to switch to electrics is letting motorists see and experience the new EV models, which a Drive Electric gathering in Chattanooga on Saturday helped highlight for several hundred EV owners and prospective buyers.
"It's going to take a while to have enough opportunities to let people see and experience an electric vehicle for themselves and possibly ride or drive an EV because that is where the real 'aha' moment happens," said Jonathan Overly, the executive director of the East Tennessee Clean Fuels Coalition, who was among a coalition of EV supporters at Saturday's rally. "These EV cars are fun to drive, and while they may cost a little bit more upfront, they are cost-effective over the long term because they are less expensive to operate and refuel."
Drive Electric Tennessee is pushing to have 200,000 light-duty cars and trucks on the road in the Volunteer State by 2028. That represents a tenfold increase in EVs, but would still be less than 4% of all of the nearly 6 million licensed vehicles on the road in Tennessee, Overly said.
SUPPLY CHAIN WOES
EV adoption has recently been hampered by computer chip shortages and other supply chain problems that have depleted car inventories and forced many car buyers to wait months for new electric vehicle models.
White said the computer chip shortage has limited new car supplies, which he said is delaying the delivery of most of the all-electric Chevy Bolts he sells by 60 to 90 days. Buyers aren't able to drive off the lot with most cars today, and test drives for the new electric models are still limited at most dealers.
"That's why these Drive Electric events are so important to show off what is on the market today," said David Graham, a former manager in TVA's EnergyRight Solutions program who has driven electric vehicles since 2011.
Graham helped organize Saturday's EV rally through the local Drive Electric Scenic City chapter as one of four across Tennessee during National Drive Electric week.
"I love cars, and I love sustainability, so driving an electric car just makes sense," Graham said.
Matt Williams, a 27-year-old Ringgold resident who typically drives 40 miles a day back and forth to his job in Chattanooga, said he was won over to electric vehicles after getting a chance to get behind the wheel of an EV. Williams said his decision to go electric was motivated more by the overall appeal of the car and not just trying to save the planet.
"There was immediate acceleration and no gear shifting, and it was just a fun, quiet and a great ride," Williams said during Saturday's Drive Electric rally.
Williams said he began researching what EV to buy and ended up two months ago buying a Hyundai Ioniq 5, which he says he is able to recharge at home every night and avoid trips to the gas station.
Photo Gallery
2022 Chattanooga Drive Electric Festival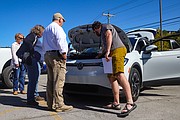 LOWER OPERATING COSTS
A study by the University of Michigan's Transportation Research Institute found that the average cost to fuel an electric car was $485 a year, compared to $1,117 for a gas-powered vehicle. A 2020 Consumer Reports study similarly showed that EV drivers tend to spend about 60% less each year on fuel costs compared to drivers of gas-powered cars.
Louise and Denise Lee were among those at Saturday's event looking at Volkswagen's new ID.4, which has been made in Germany until VW added the electric SUV to its Chattanooga production lines over the past year.
"We're pretty much decided that our next car is going to be battery powered," Lee said. "There is a lot of inconsistency in gas prices, and EPB is more reliable than Exxon."
For most EV users, the bulk of the "refueling" needed to keep their car batteries going can be done overnight when they park their car in their home garage or driveway.
"Eighty to ninety percent of the charging for EVs happens at home," Elizabeth Hammitt, director of residential energy and environmental solutions at EPB, said in a telephone interview.
With a typical range of 250 miles between charges for most EVs, most Chattanoogans won't need to access public charging stations that frequently. The price of home electricity to recharge batteries is less than half the price for such power from gasoline, and electric vehicles don't require regular oil changes.
RANGE ANXIETY
But for long-distance travel or for those living in apartments or homes without access to home chargers, public charging and rapid recharging stations will be critical, Hammitt said.
In response to such demand, EPB is working with TVA to create one of the Fast 50 locations along the interstate within the next year and a half, Hammit said.
Additionally, EPB has also begun a program to offer 13 level-2 chargers in EPB's downtown public parking garage.
"The electricity is free, and the parking is very reasonable at roughly a dollar an hour," Hammitt said.
Thanks to CARTA, Chattanooga already has more public charging stations than most cities. The bus service operates 64 public charging stations, which it began after CARTA's early work on the downtown electric shuttle and later its three-year experiment with its electric car share program.
According to the online recharging service plugshare.com, Chattanooga has more than 175 public charging stations -- one of the highest numbers of any city in Tennessee.
Using penalties Volkswagen paid for its diesel emission scandal a decade ago, the state of Tennessee and the Tennessee Valley Authority also are developing a network of fast recharging stations to offer a level-3 rapid recharger every 50 miles along major highways and interstates in Tennessee.
The program, billed as the "Fast 50," includes about a dozen local utilities, including EPB, which are sharing $5.2 million in grants that the state of Tennessee is giving to add 32 fast-charging units at 13 sites across the state.
Across TVA's entire seven-state region, at least 50 sites will get the fast level-3 chargers. Already, such fast chargers are in place along highways in Fort Payne and Cullman in Alabama, in Martin, Tennessee, and in Beaver Dam, Kentucky, according to Drew Frye, manager of EV programs at TVA.
Frye said in an interview that TVA helps fund installation costs and offers a rate structure to make the recharging stations possible across the utility's entire footprint.
PROMOTING EVS
EPB, Chattanooga's municipal electricity provider, and the Tennessee Valley Authority, the wholesale power producer for parts of seven Southeastern states, are seeking to promote electric vehicles as a way to improve the environment while boosting and stabilizing their power sales. Because most electric vehicles will be recharged during overnight hours when electricity demand is usually lower, electric vehicles can help level power profiles and, in emergency conditions, may even be used to offset or even provide power back to the grid.
TVA President Jeff Lyash predicts that as EVs replace gas-powered cars, electricity demand in the Tennessee Valley could nearly double by 2050 even as the electric grid moves to net zero carbon emissions and becomes more resilient.
The appeal of electric vehicles has created a buzz about battery cars, trucks and buses for decades in Chattanooga. To help propel such battery powered vehicles, TVA created an electric vehicle test track near its Chickamauga Dam in the 1970s and conducted research projects on the track along with other energy research agencies and utility coalitions. The track was later taken over by the University of Tennessee at Chattanooga for academic training and research.
Chattanooga's transit system, CARTA, also was an early proponent of electric vehicles and began using battery-powered buses to provide clean shuttle service around downtown in 1992. The buses were built locally by Advanced Vehicles Systems, which Joe Ferguson helped launch in 1991 to build and market electric buses for such service.
Ferguson said Santa Barbara, California, had developed electric buses, and Chattanooga decided to follow suit to be able to offer tourists and workers in the downtown area an easy and clean transportation link around the central city.
Although Advanced Vehicles Systems eventually went out of business, Ferguson said some of its battery-powered buses are still running the downtown shuttle routes 30 years after they first went into service.
"There was a lot of trial and error in building a new venture like this, but I think the downtown shuttles have proved to be popular for both workers and visitors and have helped create a clean and fun downtown," Ferguson said in a telephone interview.
To help coordinate and promote the burgeoning electric vehicle industry a generation ago, the nonprofit organization known as the Advanced Transportation Technology Institute was headquartered for years in Chattanooga to promote research and development of next-generation electric and hybrid vehicles and systems.
As the major automakers have embraced and promoted their own electric vehicle production, Chattanooga's early research and promotion programs into battery cars and trucks were phased out.
While manufacturers are switching to EVs, some states are requiring a complete move away from gasoline over time. California recently banned the sale of new gas-powered cars after 2035, and last week, New York Gov. Kathy Hochul directed New York's Department of Environmental Conservation to draft similar rules for New York,
SOUTHERN STRATEGY
A new study released last month suggests that Southern states are not being as active in promoting and adopting the use of electric vehicles even though the South is emerging as a major production site in the U.S. for EV cars and their batteries.
Dory Larsen, the electric transportation program manager for the Southern Alliance for Clean Energy, said in a blog post, Tennessee and Georgia are benefiting by the growth of EVs with more than $20 billion of new and planned investments in battery and auto assembly plants for EVs by Volkswagen, General Motors, Ford, Nissan, Rivian and Hyundai.
Once Ford's new $5.6 billion Oval City near Memphis begins EV production, Tennessee will be one of the top states for the assembly of electric vehicles.
But for all of Tennessee's EV production and TVA's early research work and its current support for rechargers, the federal utility and state governments in the Tennessee Valley are not offering as rich of incentives to buy electric vehicles as exist in some states.
"With market momentum accelerating, the Southeast will see continued and increasing investments and job growth," Larsen said about the growing production of electric vehicles and batteries in the South "Although regional indicator trends all point in positive directions, the region still lags behind national averages for EV sales, charger deployment, utility investment and public funding, with regulators, legislators, and governors reluctant to pass market-driving policies and reforms."
In the second quarter of 2022, EV sales comprised 7% of all light-duty vehicle purchases nationwide, compared to just less than 4% in Tennessee, according to Atlas Public Policy data.
The share of vehicle sales that were electric still doubled from a year ago in Tennessee, and Larsen said that share is expected to continue to rise over time.
Contact Dave Flessner at dflessner@timefreepress.com or at 423-757-6340. Follow him on Twitter at @Dflessner1