Emmy-winning actor and comedian Leslie Jordan, a Tennessee native whose folksy videos on social media gave comfort to millions of fans during the pandemic, died Monday in a car crash in Los Angeles. He was 67.
Jordan grew up in the Woodmore area of Chattanooga and became known to the world for his roles in such television series as "Murphy Brown," "Reba," "Boston Legal," "American Horror Story" and "Hearts Afire." He won an Emmy in 2006 for his work on "Will & Grace."
During the COVID-19 pandemic, he became an online sensation thanks to his daily 60-second updates on his Instagram account. Many of those were done from his temporary home in Chattanooga while he was visiting his mother and twin sisters.
The attention continued to grow as he released a gospel album last year called "Company's Comin'" featuring Dolly Parton, Chris Stapleton, Brandi Carlile, Eddie Vedder and Tanya Tucker. He also published a book last year called "How Y'all Doing?: Misadventures and Mischief from a Life Well Lived."
This past summer, he was the grand marshal for the Riverbend Festival in Chattanooga. Festival director Mickey McCamish said by phone Monday that he stood in line for two hours for the chance to invite Jordan to do the gig.
"He immediately said, 'Yes,'" McCamish said. "He loved Riverbend and loved Chattanooga, and he was so excited about doing it again next year. This is so devastating and sad."
(READ MORE: Chattanooga's Leslie Jordan shares his favorite hometown memories and hangouts)
Jordan died in a single-car crash in Hollywood, according to reports by celebrity website TMZ and the Los Angeles Times, citing unidentified law enforcement sources.
Jordan told the Chattanooga Times Free Press prior to his Riverbend engagement he was looking forward to spending the better part of the coming year with his mother, Peggy, and twin sisters, Jana and Janet. Janet died in April, and his mother died in May of this year.
Jordan had remained good friends with several people from his childhood days growing up in Brainerd, including Nina Jones and several members of the Zachary family.
"I just know we were very lucky to count him as a family friend. His light always shined bright," Kathy Zachary said via Facebook on Monday evening.
She added that her sister, Elizabeth Zachary Longstreth said, "Me, Leslie and Nina have been holding each other close for the last 55 years … he's godfather to my kids; he dedicated his first play to my little Longstreths."
Beth Pelham wrote on her Facebook page on Monday, "I've known Leslie since I was a child, as he and my sister, Margaret, were close friends. Our hearts are broken. He was one of the happiest, sweetest human beings I've ever known. You can be sure of one thing, he is most definitely singing his heart out the loudest of all with a choir of angels! Fly high and sing it out loud, Leslie … You are so loved and so very, very missed."
Longtime friend Becki Jordan said via text that she has many memories of her friend, "but I think the most fitting is his closing for his social media posts — 'Love. Light. Leslie.' I think that describes him perfectly."
Fellow celebrities also remembered Jordan fondly on social media.
George Takei of "Star Trek" said, "We are heartbroken at your loss and will miss your inimitable mirth and spirit."
Lynda Carter of "Wonder Woman" posted on Twitter, "Leslie Jordan put a smile on the faces of so many, especially with his pandemic videos. What a feat to keep us all laughing and connected in such difficult times. It feels so cruel that this could happen to such a beautiful soul."
Sean Hayes, star of "Will & Grace," also posted a remembrance.
"My heart is broken," Hayes wrote. "Leslie Jordan was one of the funniest people I ever had the pleasure of working with. Everyone who ever met him, loved him. There will never be anyone like him. A unique talent with an enormous, caring heart."
The University of Tennessee at Chattanooga remembered Jordan on Twitter as a theater alumni of the school and thanked him for recording a video to encourage students during the pandemic, and Chattanooga Mayor Tim Kelly called Jordan a Chattanooga legend and national treasure and commended him for "a lasting legacy of love an acceptance."
Contact Barry Courter at bcourter@timesfreepress.com or 423-757-6354. Follow him on Twitter @BarryJC.
Photo Gallery
Leslie Jordan in Chattanooga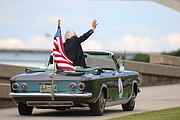 Comedian Leslie Jordan, raised in Chattanooga, has died.
BACKGROUND
Leslie Jordan signing copies of his new book in North Chattanooga
Hunker down with Leslie Jordan's new book as he fills in the rest of the stories behind his hilarious Instagrams
Leslie Jordan leads 'Country' cast in PBS music series Friday night
Comedian, Chattanooga native Leslie Jordan kicks off three days of music at Riverbend
Leslie Jordan's new memoir makes the New York Times best-seller list
Leslie Jordan will be grand marshal of Chattanooga's 2022 Riverbend Festival
Chattanooga native Leslie Jordan marks an item off his bucket list with release of gospel album
Leslie Jordan was a Chattanooga legend and national treasure who brought joy and hope to millions, leaving behind a lasting legacy of love and acceptance. My heart goes out to his family, loved ones, and many dedicated fans. Ginny and I mourn his tragic passing with you all. pic.twitter.com/03UuuXm1WO

— Tim Kelly (@MayorTimKelly) October 24, 2022
We are saddened to hear of the passing of Leslie Jordan, member of our UTC theater alumni family. Jordan took time in 2020 to share a thoughtful video message of encouragement to our students on getting through the pandemic. 💙💛 pic.twitter.com/NNSe1pGBqv

— The University of Tennessee at Chattanooga (@UTChattanooga) October 24, 2022
Leslie Jordan put a smile on the faces of so many, especially with his pandemic videos. What a feat to keep us all laughing and connected in such difficult times... It feels so cruel that this could happen to such a beautiful soul. https://t.co/JKj2t8Km7A

— Lynda Carter (@RealLyndaCarter) October 24, 2022
I am stunned at the death of Leslie Jordan, who delighted us with his many roles on television and film. The cause of death was a car crash after he suffered a medical emergency. Leslie, we are heartbroken at your loss and will miss your mirth and your inimitable spirit.

— George Takei (@GeorgeTakei) October 24, 2022
My heart is broken. Leslie Jordan was one of the funniest people I ever had the pleasure of working with. Everyone who ever met him, loved him. There will never be anyone like him. A unique talent with an enormous, caring heart. You will be missed, my dear friend. 😔❤️ pic.twitter.com/RNKSamoES0

— Sean Hayes (@SeanHayes) October 24, 2022
October 24, 2022