Businesses that struggled with getting supplies delivered during the previous two years are coming out of the pandemic still scrambling to find enough workers even as central bankers hit the brakes on economic growth to slow inflation and cool demand, a top Federal Reserve Bank official said Tuesday.
In his annual economic forecast to the Chattanooga Area Chamber of Commerce, Atlanta Fed Research Director David Altig said the labor shortage may linger in many fields as baby boomers retire and many workers rethink their work careers.
"Before the pandemic, we were already in a tight labor market situation where demand was outstripping supply for several years -- and then it just exploded during the pandemic and is not showing any sign of improvement," Altig told several hundred Chamber of Commerce members gathered at the Walker Theatre. "The wage pressure associated with that excess demand for labor is one of the impediments to getting the inflation rate back to where the federal Open Market Committee wants to go, which is toward a 2% inflation rate objective."
Unemployment in the U.S. fell last month to a 53-year low of 3.4% after employers added 517,000 more jobs during January. Despite higher interest rates from the Federal Reserve's efforts to curb economic growth and rising prices, Altig said the economy is continuing to grow, albeit at a much slower pace than before the pandemic.
The tighter labor market is helping to boost worker wages, which rose an average of 5.1% during 2022, up from 4.9% in the previous year, according to the U.S. Bureau of Labor Statistics.
"A tight labor market, if anything, got tighter in January," Altig said.
Photo Gallery
Help wanted in the Chattanooga area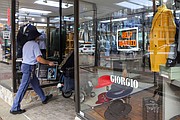 The jobless rate in recent months in Chattanooga has remained even lower than the national average as the share of adults in the labor force either working or looking for work has yet to return to pre-pandemic levels.
Career centers in Tennessee listed 361,759 open jobs Tuesday, which is nearly four times as many job openings as the 96,600 Tennesseans who were counted in December as unemployed and still looking for work.
Increased wages and hiring normally would encourage more people to go back to work, but the aging population is limiting the number of workers eager to take on new jobs, Altig said.
In the last employment report from the Tennessee Department of Labor and Workforce Development, the labor force participation rate among all adults in December was 58.5%, down from the 66.8% peak reached in 1995, according to the Bureau of Labor Statistics.
Altig said a major reason for the drop in labor force participation is the aging workforce. Every day, more than 10,000 Americans turn 65 years old, and many of those seniors are retiring rather than staying in the workforce.
"The graying of the U.S. labor force will continue -- as will slow labor force growth," Altig said.
The Fed economist said 80% of the growth in workers has come from people moving into the U.S. from other countries.
"Immigration has done its part to close the labor gap," Altig said.
The tight labor market is pushing up wages and keeping inflation relatively high, especially in service industries where labor comprises most of the costs of operations, Altig said.
To meet the Fed objective of a 2% inflation rate, the central bank has repeatedly raised its discount rate during the past year and is expected to make further interest rate increases in March.
Chattanooga bankers, who met with Altig following his presentation Tuesday, said business demand has remained strong so far even with higher interest rates. But residential lending, including most refinancing activity, has slowed dramatically, and North Georgia's carpet industry is beginning to limit some production in response to the housing market slowdown.
"Overall, we're still seeing relatively strong loan demand," JV Vaughn, market president for Truist Bank in Chattanooga, said in an interview with the Chattanooga Times Free Press.
Jay Dale, market president for Chattanooga's largest bank, First Horizon, said the biggest challenge for most businesses remains how to find and keep qualified workers.
"Labor is a big challenge, but that's kind of a good news problem because it indicates there is a lot of demand and economic activity in Chattanooga," Dale said in an interview.
Michael Mathis, president of Pinnacle Bank in Chattanooga, said in an interview that demand for commercial and industrial loans remains strong despite the slowdown in residential lending.
"Some of that is work that took a while to get moving during the pandemic, but I think there is still a lot of demand from the companies we work with in Chattanooga," Mathis said.
Meanwhile, the economy of Chattanooga and Tennessee is being buoyed by increased investment and production of electric vehicles and their associated batteries. More than $10 billion of new investments in electric vehicles and batteries are underway across Tennessee, including projects by Volkswagen and Novonix in Chattanooga and Piedmont Lithium in Etowah.
"Our pipeline is not slowing down" for prospective companies interested in building or relocating in the Chattanooga area, said Charles Wood, the interim president of the Chattanooga Area Chamber of Commerce.
Even if the economy sours, Wood said, Chattanooga has a history of finding business opportunities during tough times.
"Some of Chattanooga's cornerstone institutions like Coca-Cola bottling, the Chattanooga Times Free Press, Chattem, Erlanger hospital, Miller & Martin, Unum and even the Chattanooga Chamber were founded during times of economic downturns," Wood told Chamber members Tuesday. "We don't know what challenges lie ahead, but we do know that when challenges arise, opportunities do also."
Contact Dave Flessner at dflessner@timesfreepress.com or 423-757-6340.