Two new exhibits at the Hunter Museum of American Art showcase two Black artists whose work intersected with times of change — internally and externally.
Clues to those changes can be found in the title of each exhibit: "Beauford Delaney's Metamorphosis Into Freedom" and "Really Free: The Radical Art of Nellie Mae Rowe." The shows will be on view through May 1, with special programming throughout the run highlighting themes evoked by the artwork.
(READ MORE: As it celebrates 70 years, Hunter Museum takes art in new directions)
Both artists grew up during segregation: Delaney (1901-1979) in Knoxville, Rowe (1900-1982) in the Atlanta area. Though their life experiences, career paths and artistic styles differed, both used visual art to express their visions for change in the world.
"Metamorphosis Into Freedom" examines the artistic evolution of Delaney, a modernist painter known for his work during the Harlem Renaissance in New York in the 1930s-40s, as well as later works in abstract expressionism after he moved to Paris in the 1950s.
Photo Gallery
Hunter Museum exhibits showcase two Black artists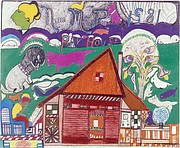 _________
IF YOU GO
-- What: "Beauford Delaney's Metamorphosis Into Freedom" and "Really Free: The Radical Art of Nellie Mae Rowe"
-- When: Through May 1 (open 10 a.m.-5 p.m. Monday, Wednesday, Friday, Saturday; 10 a.m.-8 p.m. Thursday; noon-5 p.m. Sunday; closed Tuesday)
-- Where: Hunter Museum of American Art, 10 Bluff View
-- Admission: $20 nonmember adults
-- Phone: 423-267-0968
-- Online: huntermuseum.org
_________
Delaney's influences and output shifted during his moves, and the exhibition follows the progression of his career and artistic style. It also explores his deep friendship with writer James Baldwin and how their ongoing intellectual exchange shaped each other's work and worldview.
In a phone interview, Stephen Wicks, who curated the Delaney show from a collection he manages at the Knoxville Museum of Art, described Delaney as "a classically trained artist who could paint and draw like an Old Master."
"As he began to investigate the world of art, he realized that as a deeply spiritual person, there was so much more to his art dreams than creating paintings and drawings that looked like photographs," Wicks said. "He wanted to capture the deeper light and energy he sensed in the world around him."
When his subjects sat for portraits, rather than depict them the way his eyes saw them, Delaney often "would depict them the way he thought they looked at a deeper level," Wicks said. "As he continued his (art) journey, his paintings looked less and less like optical reality and more and more like spiritual reality."
Wicks said the show's title is taken from Baldwin's words about Delaney, who was plagued by "emotional disturbances" and negative inner voices. To help him through a rough patch while Delaney was living in France, Baldwin moved Delaney from his Paris studio to a quiet, suburban neighborhood. A large picture window in this new setting would be a significant reset for the artist.
"He began painting what he saw -- the garden during storms, the first light of dawn, a brilliant sunset -- but it became more abstract, more filled with light and movement," Wicks said.
Baldwin described this change as Delaney's "metamorphosis into freedom," which art historians consider his "leap into lyrical abstraction," Wicks said.
The exhibition includes 47 works plus sketchbooks and ephemera, as well as works by his younger brother Joseph, also an artist.
"While Beauford was going on this adventure into abstraction and penetrating reality, Joseph was all about capturing life as he saw it, but capturing it in a way that didn't feel stiff and formal -- more loose and kind of sketchy," Wicks said. "It's a fascinating study in contrasts."
"Really Free" chronicles Rowe's life and work through her imaginative creations on paper and sculptures made from found and experimental materials. There's also an artful examination of her "Playhouse," the striking environment she created in her home and yard on a busy thoroughfare just outside of Atlanta.
Though best known for her works on paper, Rowe, a self-taught artist, worked across mediums, creating drawings, collages, altered photographs, hand-sewn dolls, home installations and sculptural environments during her lifetime. Sixty-one pieces from a collection at Atlanta's High Museum of Art are included in the exhibit.
Though a lifelong artist, family and work obligations often sidelined Rowe's talents. She returned to drawing after she was made a widow for the second time in 1948, but she credited her real return to artmaking to about 1968.
In a statement, High curator Katherine Jentleson described it as "a bellwether year for the world and for Rowe personally, as it was then that she ended more than 30 years of labor as a domestic worker in the homes of white families who lived near her in Vinings, Georgia."
"After decades of caring for the lives and homes of others, she suddenly found herself 'really free' and responded to that freedom by returning to a love of drawing and dollmaking that she had first relished as a child. Living alone for the first time in her life, she elaborated her home and yard with her creations and installations from recycled material and called it her Playhouse."
According to press material, "Really Free" is the first to consider Rowe's practice as a radical act of self-expression and liberation in the post-civil-rights-era South. The vivid exhibition explores her thematic depictions of women, her childhood, images of her garden and her experimentation with materials.
READ MORE: Remember when, Chattanooga? Hunter Museum entered a new era in 1975)
Cara McGowan, director of marketing and communication for the Hunter Museum, said the chance to showcase the works together was a stroke of luck.
"We work on our exhibition calendar years in advance and were pleased when two artists from our region could be shown simultaneously," she said. "Although it was serendipitous that both exhibitions were available at the same time, we felt that both artists share a commonality of spirit, and it's wonderful to be able to highlight them both in proximity to each other."
McGowan said she's especially excited about upcoming gallery talks by Wicks and Jentleson, as well as a two-part program, A Sense of Place: Memories of Chattanooga, in which guest panelists will discuss how municipal changes have affected the city's African American community.
Contact Lisa Denton at ldenton@timesfreepress.com or 423-757-6281.
SPECIAL PROGRAMMING
The Hunter Museum will host several events that explore the issues central to the art featured in the special exhibitions. Visit huntermuseum.org for more.
-- Thursday, Feb. 16: A Sense of Place: Memories of Chattanooga, 6-7:30 p.m. Inspired by the artwork on view in "Really Free: The Radical Art of Nellie Mae Rowe," this two-part series explores the municipal changes that have affected Chattanooga's African American community. Educators and faith leaders David and Carol Meredith and educator and activist Charlie Newton, a lifelong resident of the Westside community, will share memories, followed by performances by local creatives. Free.
-- Thursday, Feb. 23: Vision + Verse: Jazz Age Nights, 6-7 p.m. Creatives Kimmie J Soul, Ryan Deshawn Roberts, Erika Roberts and Steely Bruno reinterpret the choreography of Cab Calloway, music of Ella Fitzgerald and poetry of James Baldwin in a celebration of jazz-age Harlem and Paris. The evening will culminate in a conversation about the role of community in the work of Beauford Delaney and James Baldwin. Free.
-- Thursday, March 2: Art + Issues: Representing and Healing Communities, 6-7 p.m. Responding to pieces in "Really Free: The Radical Art of Nellie Mae Rowe," community leader Marie Mott will speak about current issues facing Black and Latin American Chattanoogans and lead a conversation on ways to heal and work together to support each other. Free.
-- Thursday, March 9: Art+ Issues: Art Health & Social Justice with CHI Memorial, 6-7:30 p.m. Inspired by themes in "Beauford Delaney's Metamorphosis Into Freedom," this partnership program will focus on teen mental health, identity and reproductive health. To create a performance of dance, music and poetry, local Black and Latinx creatives will work with youth in schools to offer them a space for creation and truth-sharing. Information from local agencies offering support for youth in these areas will be available. Free.
-- Sunday, March 12: Family Fun Day, 2-4 p.m. Enjoy art activities and performances inspired by the Hunter's special exhibitions, "Beauford Delaney's Metamorphosis Into Freedom" and "Really Free: The Radical Art of Nellie Mae Rowe." Regular admission applies ($20 nonmember adults).
-- Thursday, March 16: Art Wise: Curator Stephen Wicks, 6-7 p.m. Learn about "Beauford Delaney's Metamorphosis Into Freedom" from exhibit organizer Wicks, the Barbara A. and Bernard E. Bernstein curator of the Knoxville Museum of Art. Wicks will give an in-gallery tour of the exhibit and offer insights into the artist and his works. Free.
-- Thursday, March 23: A Sense of Place: Memories of Chattanooga, 6-7:30 p.m. Inspired by the work of Nellie Mae Rowe, community leaders Edna Varner and BettyeLynn Smith will expand on the conversation about municipal changes that have effected Chattanooga's African American community by sharing their memories and thoughts. Free.
-- Thursday, March 30: Vision + Verse: Delaney and Baldwin, 6-7 p.m. In partnership with the James Baldwin Festival of Ideas and the Chattanooga Festival of Black Art and Ideas, the poets of Rhyme N Chatt will perform a poetic exploration of Baldwin and Delaney's relationship as portrayed in "Beauford Delaney's Metamorphosis Into Freedom." Free.
-- Thursday, April 13: Create & Sip: Doll Making, 6-7:30 p.m. Make your own creation inspired by the found object art and dolls of Nellie Mae Rowe while also enjoying a glass of wine. Led by a Hunter educator, the program offers an opportunity to explore the exhibit followed by a how-to on doll art. Open to anyone 21 and over. $25 per person ($20 per member). Register: huntermuseum.org
-- Sunday, April 23: Art Wise: Curator Katherine Jentleson, 1:30-2:30 p.m. Hear from the curator who organized "Really Free: The Radical Art of Nellie Mae Rowe. Jentleson, the Merrie and Dan Boone Curator of Folk and Self-Taught Art at the High Museum of Art in Atlanta, will give an in-gallery tour of the exhibit and offer insights into Rowe and her work.
BLACK HISTORY MONTH EVENTS
Although the timing of the Hunter dual exhibition is coincidental, it should be considered a must-see for Black History Month. Here are two series with BHM themes starting in February. Look for more events in coming weeks.
Bessie Smith Cultural Center, 200 E. M.L. King Blvd. All programs start at 6 p.m. and are free. Livestream: bessiesmithcc.org/bhm
-- Feb. 2: The Power of Activism," with nationally known activist Willie "Mukasa Dada" Ricks and John Edwards, editor of the Chattanooga News Chronicle, on the power of activism and the role Ricks played in the civil-rights movement.
-- Feb. 9: Documentary screening, "Shared Legacies," the story of the coalition and friendship between the Jewish and African American communities during the civil-rights movement. Co-sponsored by the Jewish Federation of Greater Chattanooga.
-- Feb. 16: "Disparities in Health and Health Care Among African Americans," panel discussion with the Mountain City Medical Society.
-- Feb. 23: "Chattanooga Black History," a discussion with Dr. Clark White and guest.
The Chattery, 1800 Rossville Ave. Registration required. thechattery.org
-- Feb. 2: Crafty Hour: Card-Making Social, 6-8 p.m. Make a Valentine card for a friend, loved one or to give to a resident of Sharon's Senior Services. $10 includes supplies, snacks and wine.
-- Feb. 9: Lecture, "The History of Hip-Hop," a conversation with Chandra Ward, assistant professor of sociology at the University of Tennessee at Chattanooga, 6-7:30 p.m. Free.
-- Feb. 16: Movie Night (title to be determined), 6-8:30 p.m. $10. Light snacks will be available; BYOB.
-- Feb. 23: The Finale: Live DJ+Game Night, 6-8 p.m. Free.