Note: This story was updated on March 3 to correct a detail about the purchase of the business in 1978.
One of Chattanooga's oldest continuously operated businesses, Koch's Bakery, will cease to operate in less than three weeks, but owner Barbara Davis isn't 100% convinced she is ready to stop "making the doughnuts" as she transitions to retirement.
"I can outwork any person in this bakery, even today," Davis, 84, said Thursday morning by phone, adding later, "I can just tell. It's time.
"I've loved every bit of my little bakery," she said. "We've had some bad times, but also a lot of good. I'm just so proud of my little bakery, and I have always been proud of it. I've tried very hard to make sure everything we did was good."
Davis and her husband, Lyle Davis, bought the place (Davis pronounces it "kux"), once owned by George and Irene Koch, in 1978. The original location was at 535 Broad St., "closer to Lookout Mountain and on the other side of the street," Davis said.
At the time, the husband and wife were looking to get out of their current occupations and were looking for a new opportunity. They heard of a bakery looking for a new owner, but neither had the first idea on how to make a doughnut, much less a cake, Davis said.
"I didn't know anything about running a business," Davis said.
She said she knew about the bakery and knew it to be a successful place.
"My husband said he didn't know anything about running a bakery and was not going to learn," Davis said. "I said, 'I'll do that. You handle the rest.' We made a good team because he kept up with everything, but he never did put on an apron."
Lyle died about a decade ago, and for the past 39 years and nine months, Barbara got up at 2 a.m. five days a week and showed up to make the doughnuts.
Photo Gallery
Koch's Bakery closing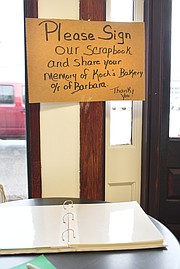 "I've thoroughly enjoyed it," she said.
While she said it was always her goal to make customers happy, it was her sister, Joyce Wallin, who became the face of the restaurant. Wallin also died about 10 years ago, but Davis said the two would regularly be out in public when someone would say "hello" and talk about the food at Koch's.
"'That was one of our regulars,' my sister would say. She learned everybody's names," Davis said. "I just never came out of the back."
Davis said she believes a bakery is a perfect place for "a workaholic like me" and said it didn't take her long to learn how to run a bakery.
"It didn't take long because I got all of the books I could find, and I attended classes and conventions," she said. "I would pick anybody's brain I could. I wanted to learn everything I could. I went to Chicago to learn how to do wedding cakes."
Davis said while her daughter "knows all about everything" related to running the business, she has started her own life in Nashville, so Davis will be closing the business for good March 18.
"It's a been a good life," she said. "It's not always about the money. I cared about my people."
Contact Barry Courter at bcourter@timesfreepress.com or 423-757-6354.