More than a half century after Chattanooga was labeled the dirtiest city in America for its industrial and vehicle emissions, Mayor Tim Kelly has rolled out a vision to clean up the air and water and become a carbon-neutral community by 2050.
Kelly is urging the City Council to update Chattanooga's original 2009 climate action plan with a new pledge to reduce energy use, electrify local buses and other transportation, and increase natural areas and parks.
The new environmental strategy sets a goal of making all city operations carbon neutral by 2040 and decarbonizing the entire community by 2050 to improve public health and spur the city's growing green economy and natural appeal.
Kelly said the proposed plan, which has been under development for the past year, should help the city qualify for an unprecedented amount of federal grants and other assistance offered through both the federal infrastructure law adopted in 2021 and the Inflation Reduction Act approved last year.
"Chattanooga's brand is really as a green city, and that extends to our quality of life and our economy," Kelly told the Chattanooga City Council on Tuesday. "Sustainability is really in Chattanooga's DNA, so protecting and preserving what we have is critical. We as Chattanoogans have an opportunity to lead, and this helps us to do that."
(READ MORE: Climate change and Christianity: Some Chattanooga area believers find small acts of stewardship are a start)
Kelly said Chattanooga also has an opportunity to capture a growing share of the green economy and tap into more federal grants for new businesses while improving Chattanooga's natural appeal and public health with more railways and parks.
Document
"The global economy is shifting from oil fields in Texas to battery manufacturers in Chattanooga," Joda Thongnopnua, Kelly's chief of staff, told the City Council on Tuesday.
In the past couple of years, Volkswagen launched an $800 million expansion with 1,000 jobs making electric vehicles, Novonix has invested $160 million in a battery plant with 160 jobs and iFixit decided to locate a distribution center in Chattanooga with 200 jobs because of Chattanooga's green strategy, Kelly said.
The plan calls for Chattanooga to achieve zero waste by 2040 and communitywide carbon neutrality by 2050 through energy efficiency and renewable energy generation from solar farms and other carbon-free sources.
The draft plan goals also call for the city to work to create a community with a frictionless transit network and to eliminate any human-contributed contamination of the waterways. Kelly said he wants CARTA, which pioneered one of the first all-electric shuttle systems downtown in 1992, to electrify its entire bus fleet and to expand mass transit services.
Photo Gallery
Chattanooga's electric shuttle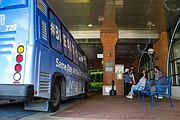 The plan also urges the city to become an anti-extinction community with an emphasis on native vegetation and to create systems that support equitable food production and distribution.
(READ MORE: Pilot program seeks to ease climate change in Chattanooga-area communities)
Erik Schmidt, director of sustainability for the city of Chattanooga, said the city can also replace its vehicle fleet with electric or compressed natural gas-powered cars and trucks over time.
With a growing population and more development, the climate action plan is designed to aid in helping the Scenic City enhance its natural appeal that draws millions of visitors each year to fuel Chattanooga's $1.5 billion-a-year tourism economy.
"Chattanooga is growing, and it's up to us to ensure we grow in a way that's good for the environment, good for our local economy and good for our quality of life," Ellis Smith, director of special projects for the city of Chattanooga, said in an interview. "We must plan for that growth in ways that preserve what makes Chattanooga unique, magnifies the economic vitality of the region and reduces disparities between communities."
Officials hope the new climate action plan helps Chattanooga tap into the record levels of federal spending allocated for sustainable growth and national competitiveness.
The Infrastructure Investment and Jobs Act provides $1.2 trillion for transportation, climate, energy, environment and other programs, to help spur a projected nationwide growth of 1.5 million jobs per year. The Inflation Reduction Act allocates $369 billion for energy security and climate change.
Chattanooga has already emerged as a leader in the green economy with its municipal energy reductions recently recognized by the U.S. Department of Energy and several major economic development announcements from the battery maker Novonix, the electric vehicle manufacturer Volkswagen and the pioneering Smart City and Quantum networks made possible by EPB's fiber optic system.
(READ MORE: UN chief calls for credible climate action, convenes summit)
Since adopting the Better Building challenge in 2016, Chattanooga has already cut its energy use in the city's 200 municipal buildings by 36% below the 2013 usage, or nearly double the initial goals for the program. The new climate action plan calls for additional energy efficiency measures to help make the city carbon-neutral by 2040.
A 61-page draft of the new Chattanooga climate action plan notes that the community "has come a long way from the days of billowing steel industry smoke stacks, headlights being needed during the day and pollution flowing directly into our streams and the Tennessee River.
"As Chattanooga has transformed in recent decades, cities from across the country have flocked here to learn from that change and our leadership," the plan says. "We are known for our world-class natural resources. With major international companies relocating and expanding here, we are a hub for the growing green economy. We are a laboratory for innovation, collaboration and building a brighter, better future."
The report notes, "There is still much work to be done."
Thongnopnua said the city plans to conduct a greenhouse gas inventory every two years to measure progress toward moving to a carbon-neutral community within the next three decades.
Contact Dave Flessner at dflessner@timesfreepress.com or 423-757-6340.