One signature remained in Nashville before the deal was sealed.
The realization alarmed Chattanooga Mayor Tim Kelly, who'd worked for months to secure incentives for a Chattanooga stadium development before Weston Wamp, a relentless opponent of the proposed deal, could be elected Hamilton County mayor.
The Hamilton County Commission had swiftly approved the plan in August 2022 just before Wamp's general election win, despite his pleas to slow the process.
Still, the state comptroller had to sign off on the 30-year tax financing proposal, and it was rumored Wamp planned to travel to the midstate and argue against final approval, which historically had seldom been denied.
So, five days after Wamp was elected, Kelly headed to Nashville with a few local lobbyists to ensure the state official was convinced the tax incentive was "in the best interest of the state."
The county mayor Wamp was set to succeed, Jim Coppinger, would have been firmly at Kelly's side.
When Kelly arrived, however, he found Wamp, who wouldn't be inaugurated for weeks, had beat him there, having gone to meet with several state administrators about his new role as well as his distaste for the stadium project.
Wamp was leaving the comptroller's office, having already made his case against the proposed incentives, which he learned wouldn't be refused approval under existing state law.
As the two men passed, they stopped to acknowledge one another and shook hands.
They said nothing of the conflict roiling boosters back home, while displaying Chattanooga's newly divided front to the state Capitol, as they went their separate ways.
***
There was no modern precedent for open disagreement between Chattanooga and Hamilton County leadership over economic development plans.
Local leaders have almost always sold Chattanooga as unspoiled by the division and derision that often foiled bold plans elsewhere. Consensus impressed state officials being lobbied by other municipalities and appealed to business interests.
"Chattanooga's civic and business communities have a high level of expectation that we will work together and carry on our tradition of collaboration," said Charles Wood, interim head of the Chattanooga Area Chamber of Commerce.
If united, Kelly and Wamp -- both dynamic and dedicated local sons -- might be a formidable duo, a fresh start when a new growth agenda is desperately needed, some argue. Division, on the other hand, could poison local government with gridlock and rancor, others warn.
Ongoing research by the Federal Reserve Bank of Chicago and Harvard University shows the area falling behind peer cities in growth and stunting the economic mobility of working-class families, while local workforce analysis continue flagging how few residents qualify for available jobs, realities that clash with Chattanooga's internationally known renaissance narrative.
"Our community has more great possibilities and opportunities in front of us than at any time I can remember," said former Chattanoga Mayor and U.S. Sen. Bob Corker. "Two highly talented mayors working together can help ensure we take full advantage of them."
Yet, a real estate development decades in the making put the city and county executives at odds before a partnership could be realized.
Wamp's resistance to publicly financing a stadium at first appeared a one-off to insiders who knew Wamp and the Chattanooga Lookouts' majority owner disagreed years earlier. In their view, Wamp was bent on revenge and seeking populist appeal to further his political ambitions.
Once he announced his intentions to broadly challenge the economic development status quo, Wamp's motivations looked different, though.
"I think there's going to be probably some growing pains," he told a Chattanooga Times Free Press editorial board not long after beginning his new job. "In a nutshell, I'm not going to be easily lobbied, and that's not how the good ol' boy system has worked for a long time around here."
Some fear economic blowback.
Wamp's disregard for deals forged before he came to power could threaten the county's hard-won triple-A bond rating, one county commissioner argued during a recent public meeting. Not long after stadium talk died down, Wamp was grappling with the County Commission over his right to fire the lead county attorney.
Others appreciate the end of business as usual.
"We need more people holding government accountable," said Helen Burns Sharp, the founder of Accountability for Taxpayer Money. "If we can create a political culture open to constructive questions and suggestions, it could lead to better incentive agreements and more trust in government."
Whatever the motivation, without the conflict created by Wamp's opposition, much less would be known about the extensive efforts toward publicly financing a new stadium on a long-empty brownfield along the city's western gateway. Also, the rising debate about what businesses should get and give in the name of economic development would not have been magnified.
***
About this story:
This story is based on five months of reporting, which included a review of what had already been published by or about Chattanooga Mayor Tim Kelly and Hamilton County Mayor Weston Wamp, as well as multiple on- and off-the-record conversations with both men, who agreed to participate in the story and openly discuss their relationship. The reporting was also informed by dozens of expert studies, an academic book on the city's history of self-promotion and on- and off-the-record conversations with city and county staff members, business leaders, community activists and former elected officials.
***
Studies in the '70s and '80s foretold economic disaster for the diminished Chattanooga both Tim Kelly, 55, and Weston Wamp, 35, were born into. Manufacturing jobs were disappearing, along with federal aid for economic development, and a new era was underway.
"We are moving ... to a program of trying to use public funds to leverage private capital," then-U.S. Sen. Jim Sasser, a Democrat, told tearful and frustrated Chattanooga representatives during a pivotal 1985 hearing held on one of the coldest Valentine's Days on record.
Economic development became the onus of states and cities, and in Chattanooga, a coalition of private and public leaders coalesced.
The local Chamber of Commerce became embedded in economic planning efforts for the first time, along with business leaders like Coca-Cola magnate Jack Lupton and Corker, then a successful, young developer. Dalton Roberts, the first Hamilton County executive, and then-Chattanooga Mayor Gene Roberts also played integral roles in the network beginning to govern Chattanooga's response to the escalating global competition for tourists, talent, capital and jobs.
By 1992, Chattanooga's economy was shifting under their direction. The Tennessee Aquarium opened, and River City, the nonprofit created to spearhead the redevelopment of the riverfront, bought the 16-acre site of Kirkman Technical High School, which had closed the year before, to expand downtown's new tourist district.
Meanwhile, Weston Wamp's father, Zach Wamp -- the McCallie School graduate who dropped out of college after struggling with drug addiction, committed his life to God and became a real estate broker -- narrowly lost his first run for Congress in 1992 before crashing into office three years later with a wave of freshmen Republicans.
"He looks like someone who doesn't waste a lot of time smiling -- a pugilist, a soldier, a man sent to Congress to stop the madness," a Washington Post writer noted of Wamp in 1995, a description that might later fit his son, Weston, who was 8 at the time.
The House floor became Weston Wamp's playground, then study, while regular radio attacks on his father thickened Wamp's skin. He came to admire holdouts and still tells the story of his father's late-night resolve while being hounded by Republican leadership to vote for Medicare expansion.
They banged on his door, but Zach Wamp, as the story goes, pulled the covers over his head.
Tom Coburn, a Republican congressman from Oklahoma later elected to the Senate and one of Zach Wamp's D.C. roommates, would especially influence Weston Wamp's future approach to politics. Coburn, a maverick known as "Dr. No," distrusted politicians and famously used bill-blocking measures to frustrate both parties.
After graduating from Chattanooga Christian School and then from the University of Tennessee in Knoxville with a degree in communications, Weston Wamp served as a top surrogate on his father's disappointing 2010 gubernatorial campaign in Tennessee, after which he returned home to be among the first hires of the Lamp Post Group. He was also waiting quietly until he turned 25 years old and became eligible to run for Congress.
Lamp Post, the city's first venture capital incubator, had been created by the three founders of the Chattanooga-based logistics company Access America, one of whom, Allan Davis, had been Wamp's summer camp counselor when he was younger. Wamp would be spokesman for the entrepreneurial launchpad, which began drawing national attention just as he announced plans to run for his father's old congressional seat in 2012.
Wamp talked about going to Washington with a "steel backbone" and having courage inspired by his faith in Jesus Christ. The national debt remained a worsening crisis, he firmly believed. When asked why he hadn't aimed lower and run for a local office to start, he said he considered political ladder climbing disingenuous, like many of the career politicians he sought to distance himself from.
"The way to ... convince people that you're serious about reform is to not surround yourself by politicians," Wamp told a reporter with Roll Call. "The truth is, it's very dangerous in politics to try to be all things to all people."
Like his father, he lost his first race, a brutal primary fight against local lawyer Chuck Fleischmann, who would go on to win the U.S. House seat.
At the same time, Gary Chazen, a local businessman who inherited a scrap metal business his father started in the 1950s, was working with partners to get the city's first tax increment financing district approved for the development of the Black Creek golfing community on Aetna Mountain, luring the eyes of fiscal watchdogs and triggering a lawsuit.
The TIF development incentive, quietly spreading across the country, dedicated taxes collected in a targeted zone away from overall city services for a set amount of time and into debt repayment for roads, sidewalks, landscaping, cleanup, parks and even stadiums that typically would be privately financed and executed.
Unlike traditional incentives, which forgave property taxes in exchange for private development, TIFs allowed cities to borrow against the increased property tax revenue expected from private development in order to make the development possible.
***
What is a TIF?
A TIF, or tax increment financing, is one of several tax incentives now typically used by local governments to spur economic development. Unlike more traditional tax breaks that forgive property taxes, TIFs capture future tax revenue increases in a set area to support private development of that area.
For example, say a property value increases from $40,000 to $400,000 because of improvement to the area. The property taxes collected by local governement go up, too, say from $800 to $8,000. Under a TIF, the increase in tax revenue, in this case $7,200, is set aside in a special account to pay debt services and other expenses on improving property.
Every time elected and appointed bodies approve a TIF, they are directing future tax gains away from general government services, such as fire and police, for decades. Locally, however, TIFs have not redirected school taxes, meaning that the education portion of the property tax gains realized in the TIF district are not taken from schools.
***
Chazen's group, Perimeter Properties, also wanted a TIF to aid development of the old Wheland Foundry site, won with a $1 bid and million-dollar cleanup commitment after the long-running manufacturer shuttered in 2003, as well as the old U.S. Pipe land, purchased after the neighboring manufacturer closed in 2006.
And shortly before the Black Creek tax district was being debated, elected officials helped secure state and federal funds for a southward extension of the downtown riverwalk through Perimeter Properties foundry sites, as well as a state law allowing TIFs for such brownfields.
***
By the time Wamp was running again against Fleischmann in a 2014 primary, two Atlanta businessmen hoping to purchase the Chattanooga Lookouts had launched their own lobbying efforts. One of them, East Ridge native John Woods, met with Zach Wamp before votes were cast in his son's dramatic, second Republican primary contest.
Frank Burke, the Lookouts longtime local owner, had been trying to sell the team for several years. In 2000, River City transferred ownership of the former Kirkman site to the city, which leased the land through a special board to Burke, who privately funded a $10.2 million stadium in exchange for a property tax exemption.
Yet, by 2014, that stadium was no longer up to par, according to Woods and Jason Freier, the owner of Hardball Capital, who wanted the Lookouts to have a new stadium. Freier, a Harvard and Yale law graduate, pitched mixed-use stadiums as a tremendous financial opportunity.
In Fort Wayne, Indiana, where Hardball Capital owned the Class A TinCaps, a mixed-use sports development finished in 2009 with public support, overseen by Jim Irwin (then a recent Emory University MBA) and spurred significant investment. In Columbia, South Carolina, city officials helped Freier build a new stadium in return for him bringing a minor league team.
In Savannah, Georgia, however, where Hardball Capital owned the Sand Gnats, city officials were pushing back on Freier, who was growing frustrated.
As for Wamp, the Lookouts certainly wasn't the path he would have chosen, but after narrowly losing the primary battle, the thought of promoting the local team, along with his hometown, appealed to him. He loved baseball and had interned with two professional sports teams in college.
So he pitched himself as the face of the franchise in Chattanooga and, with Freier, met with then-City Mayor Andy Berke and then-County Mayor Coppinger to advocate for public stadium support, private emails anonymously released years later show.
"Jason's expertise at 10,000 feet will serve the bottom line well and help create efficiencies ... but equally needed is a local vision for the role the team plays in the community," Wamp wrote Woods that fall. "I think the team can make a lot of money even in that aluminum stadium it currently sits. A new stadium will be the goal, but only a lack of creativity would prevent the team from thriving where it is."
Document
While Woods, who had known Zach Wamp for years, might have more warmly considered partnering with Weston Wamp during the last months of 2014, it is not clear Freier ever really liked the idea.
Before the sale was finalized Freier told Zach Wamp, who'd promised a $50,000 investment, not to participate "with the goal that the team be a large source of income for Weston," who was asking for minimum annual pay of around $36,000 a year with the chance to earn more through commission.
Still, as Lamp Post Group considered whether to invest in the Lookouts, Freier let the younger Wamp dangle.
"We would be excited to have him as part of the group helping to move the team forward," Freier wrote both Wamps.
Tensions mounted when news leaked that Freier's group had purchased the Lookouts.
"Not great for local strategic partner morale that there wasn't any mention of local partnerships," Weston Wamp wrote Freier and Woods. "More importantly it just seemed like a clumsy beginning to new ownership and rebranding if our goal is for the community to feel like the team is more local than ever and to begin building goodwill for a stadium deal."
"I'd disagree that anything was clumsy, I think that the press actually came out pretty well," Freier wrote back.
A month later the breaking point came.
Freier didn't want to make Wamp -- whom he called clueless and without meaningful experience in later revealed emails -- vice president of marketing or pay him more than $25,000 a year. Yet, Lamp Post partners, with Wamp, were investing $100,000, thinking he would have a local role.
"I'm sure you will understand my reticence to be thought of as nothing more than a corporate salesman," Wamp wrote Woods in January 2015, after a staff meeting that left both Wamp and Freier unsettled.
Meanwhile, Freier met with the Lamp Post partners to discuss their spokesman. The content of this conversation would later be disputed.
"On the heels of your meeting at Lamp Post, Allan, Barry and I have spent some time reconsidering whether this is a good fit for me. Not sure that it is," Weston Wamp wrote, ending the back and forth.
***
A few years later the groundwork for a new Lookouts stadium was nearly complete.
Freier, in need of downtown land, connected with Chazen, desperate to get the Perimeter Properties brownfields developed, and together they began pushing the project, with the backing of Mayors Berke and Coppinger, who'd both been impressed by a tour of the stadium development spearheaded by Freier in Fort Wayne.
And, in 2017, the nonprofit Chattanooga Design Studio began a planning study of the South Broad District, which involved more than 200 community members and soon sparked wide debate. Perimeter Properties owned a fourth of the acreage studied.
The Beacon Center, a Nashville-based conservative think tank, warned the study would be used to sell the general public on funding a Southside stadium and called for a legislative referendum to determine the true level of local support.
"Time after time, stadiums have proven to be big losers for taxpayers, but politicians keep handing out taxpayer money to these corporations like candy," Mark Cunningham, the Beacon Center executive director, wrote before the study concluded.
When the study started, Woods wrote Barry Large, one of Lamp Post's founders, asking about Wamp, who shed his minority ownership of the Lookouts when he moved on from Lamp Post earlier that summer.
Since parting ways with Freier, Wamp had been named head of development at Lamp Post, where he played a key role in fundraising for a major transportation/logistics sector initiative, while also launching a weekly radio show on the intersection of sports and politics with Brewer Media.
"I think Weston's first love is politics, and I'd imagine he will be pursuing that path in some form or fashion," Large wrote back to Woods. "We remain good friends, and both sides left on very good terms."
Soon after the Beacon Center flagged the Southside study, Wamp began expressing animus for publicly funded sports stadiums on his ESPN radio show, and that winter two local Republican state lawmakers, Rep. Gerald McCormick and Sen. Todd Gardenhire, a close friend of the Wamps, introduced legislation that would have required Tennessee cities and counties to hold non-binding public referendum votes before officials could use a portion of property tax and sales tax proceeds toward retiring debt on sports facilities with a professional sports franchise as a tenant.
When the South Broad District Study did eventually conclude that a new minor league stadium would catalyze the area's redevelopment, Wamp followed with a blistering commentary accusing Freier -- who by then had pulled his team from Savannah after being denied public funding for a stadium -- of being a swindling profiteer.
Wamp regretted his involvement with Freier, he explained. His sense of local priorities had simply shifted.
"Despite our city's winning streak, we know our community has shortfalls. Violent crime plagues our inner city, one in four children is food insecure, and educational outcomes are too often determined by race, socioeconomics and absentee fathers. Given that, it's hard to imagine the best use of our taxpayer dollars is the construction of a stadium," he wrote in 2018.
The same day, Freier sent an email to Lamp Post's partners titled "Weston Wamp."
"We have kept quiet and taken the high road as he has bad-mouthed us around town and tried to undermine a project he knows nothing about," Freier wrote. "I wanted to check with you before we 'go nuclear' and release the truth about Weston and his history with us."
Freier went on in the 2018 email to accuse Wamp of making a sexist and a racist comment during the January 2015 staff meeting that upset them both and claimed Wamp's performance that day was the reason he didn't want him working for the Lookouts.
"I came in to see Barry and Allan the following week and explained the situation. Barry and Allan were completely understanding (and, quite frankly, didn't seem shocked at Weston's behavior)," wrote Freier, without detailing what was said.
Years later, when the 2018 email was made public, Barry Large and Allan Davis would issue a statement that Freier's memory of the meeting did not match their own. They had known Wamp a long time, and "never heard him make racist or sexist remarks."
***
About this story
Jason Freier, the owner of Hardball Capital, did not speak to the reporter for this story. Multiple attempts have been made to secure additional emails and speak to Lookouts staff in order to find out what "the racist and sexist comments" Freier accused Wamp of making might have been, but no additional information has been provided.
***
For a while, movement on the stadium appeared to halt.
Wamp became a political strategist for Issue One -- a cross-partisan good governance group, co-founded by his father, which eventually helped him create a podcast called Swamp Stories, focused on exposing and reforming political corruption, and started the Millennial Debt Foundation to "lead a generational conversation about fiscal stewardship."
Unlike many Republicans, Wamp would aggressively fight claims of election fraud in 2020, showcasing, again, a strong bent toward independence.
Wamp also found himself appointed to the Tennessee Board of Regents, which governs the state's technical and community colleges, after he and his father backed dark horse Bill Lee in his first bid for governor.
Wamp's father came from a college-educated family of architects, but his mother, Kim Wamp, came from a long line of tradesmen. In fact, Wamp had been the first on his mother's side of the family to earn a four-year degree, and his new role as regent cemented a belief in alternative pathways for high school graduates.
"A lot of kids go to college and get a degree that is worthless. Student debt should be avoided. We run the country's only free, two-year college system," he said on a podcast years later. "I was uninspired by my experience at UT."
Behind the scenes, however, the stadium project remained viable.
When Coppinger, then the county mayor, submitted Hamilton County's prioritized list of distressed census tracts to the state for selection as Opportunity Zones -- a federally created economic development tool that allowed investors to avoid capital gains taxes when they invest their capital gains in a designated zone -- the area including Perimeter Properties sites was ranked fifth out of 14 local census tracts submitted. Only seven were chosen.
The incentive could have persuaded someone to invest in East Chattanooga, where so many residents were desperate for a grocery store. Instead, it would be another incentive for Southside gentrification long underway, complained Black neighborhood leaders.
A chorus of voices were challenging economic development plans, wanting to pump the brakes, not the gas.
Still, it was no time to slow efforts, argued Tim Kelly, a prominent businessman who began speaking publicly about Chattanooga's troubling economic trajectory not long after Wamp's editorial warned against one of the bigger projects underway.
Kelly, like Wamp, had spent nearly his entire life in Chattanooga.
His mother's father, Jim Ayers, who died the year Kelly was born, left the Northeast Alabama farm he grew up on to attend Birmingham-Southern College and afterward took a job with General Motors, which led him to Chattanooga, where he took over a struggling Cadillac-Oldsmobile dealership during the Great Depression.
Ayers' only living child, Betty Sue, graduated from Girls Preparatory School and Vanderbilt University before starting her career as a systems engineer at IBM, where she met Kelly's father, Pat Kelly, a salesman, and returned with him to Chattanooga, leaving her professional life behind.
Betty Sue Ayers, who died in 2016, supported the Junior League, Girls Club and the Cotton Ball, was on the advisory board of the Human Services Department, performed in community theater productions, ran countless tennis tournaments, coached the University of Tennessee at Chattanooga's women's tennis team to three Division II NCAA championships and created dresses for special occasions.
"She was a strong woman and a great leader," Kelly said in a 2018 interview at his then-Subaru dealership office.
Pat Kelly, who also grew up in Chattanooga, attended Central High and Georgia Tech and served in the U.S. Army, becoming an expert marksman, before working at IBM in South Carolina and meeting Ayers.
"It was not an option for women to run businesses, so my grandfather recruited my dad to run the dealership," Tim Kelly said in 2018. "Being a Cadillac dealer ... that was a big deal in the '60s ... My dad got thrown into it and was a mechanical engineer by training. He had a tiger by the tail. There is no modern equivalent. It would be like being a Lexus dealer in the early '90s."
An auto icon by the time he died in 2014, Pat Kelly sat on the boards of the Chattanooga Housing Authority and the Downtown Chattanooga YMCA, in addition to the trade organizations he helped lead.
At home, Tim Kelly remembers his parents, who divorced when he was 12, as both irreverent -- "both of my parents cussed like sailors" -- and exacting -- "there was nowhere to hide. It was withering."
"Our family culture was: Being right," he said in the same 2018 interview. "No one expected respect. You had to earn the respect ... I was raised to believe that being smart was everything and that everything was like a math problem."
Kelly attended Baylor School, where he learned the drums and a little soccer, avoiding the spotlight, before attending college in Manhattan in the mid-'80s. He had hoped to go to the University of Georgia but instead went to Columbia University, feeling pressure to accept a prestigious John Jay scholarship to the school. His sister had gone to Harvard University.
"I was pretty worried about the cultural differences. I actually had fellow students ask if we wore shoes in Tennessee, which didn't help my insecurity at all," he said in an interview with Columbia College Today in 2021.
The time in New York changed him.
While attending Columbia, he played drums in bands performing the New York club scene, studied the Bible as literature for the first time, found his beliefs impacted by Buddhist texts, learned the frameworks of Plato and Aristotle he later cited routinely and cut his teeth as a student journalist.
"I distinctly remember feeling very subversive reading Marx and Engels -- how liberating it was to truly understand them in historical context, outside the polemical stuff I'd grown up with as a kid in the shadow of the Soviet menace," he said in the Columbia article.
Still, after graduating with a degree in German comparative literature, Kelly decided to forego a journalism career to help run the family business, where he spent the next 30 years learning from the ground up, working in sales, parts, service and eventually management.
He convinced his father to add the Subaru dealership -- which broke sales records as he helped guide Kelly Cars through GM's bankruptcy in 2009 -- and went on to form Southern Honda Powersports, the largest dealership of its kind in the U.S. specializing in motorcycles and ATVs, after buying Jamup Cycle Service and Griffith Honda.
In 2009, a group of local men approached him about launching the city's first independent adult soccer team and asked Kelly to negotiate the first deal for the Chattanooga Football Club to play at Finley Stadium, run by then-Lookouts owner Frank Burke.
Several years later, he completed an MBA at Emory University and became immersed in local entrepreneurial efforts: creating two apps, buying into a troubled local brewery and teaching at UTC as an adjunct professor.
He also got drawn, more and more, into community work, following after his mother, especially.
"If you had a position of influence and you had the spare time, it was almost just written that you gave back, volunteered in some capacity," Tim Kelly told Brown Political Review.
For seven years, Kelly sat on the nonprofit River City Co. board and the Community Foundation of Greater Chattanooga, where he became board chairman of the philanthropic heavyweight. Toward the end of those tenures Kelly was asked to serve as a Chattanooga Area Chamber of Commerce board member and Benwood Foundation trustee and given political appointments to the city sign ordinance review board and Finley Stadium Corp.
Entering this nexus of relationships put him in the center of the most important discussions being had by the city's network of public and private leaders on how to tackle economic and community development.
By 2019, when Kelly started seriously considering a run for city mayor, a growing number of those leaders worried the city's future looked far dimmer than most realized, in spite of the widely touted job and population growth of recent years.
During the mayoral campaign, Kelly didn't speak openly about the stadium, though Freier and Chazen were eager for Kelly to sign onto the project during the race. He had long known about efforts to see it underway and thought it might undermine his soccer team, which was being threatened by the Chattanooga Red Wolves, a franchise team that played in USL League One with an out-of-town owner who would later pursue his own incentives for another stadium development in East Ridge.
"Localism versus corporatism," Kelly told a Times Free Press columnist in 2019, sounding much like Wamp in 2018. "For Chattanoogans by Chattanoogans versus a top-down, canned franchise owned and run by out-of-town people who don't give a damn about this place other than a community to extract money from."
Still, Kelly did talk about using tax incentives with precision, particularly when a desirable business wouldn't otherwise relocate. Community benefit agreements, which were being used by community nonprofits to hold businesses legally accountable and trending in places strained by rapid development, should also shape development, Kelly believed.
Most importantly, however, the essential work of developing Chattanooga's economy, which he saw as the mayor's top priority, couldn't be tainted by personal or political party objectives.
"I don't have any further political ambitions. I don't care about being governor. I don't care about anything but putting Chattanooga back on the right track," Kelly said, announcing no political affiliation in the nonpartisan mayoral race.
***
After being elected city mayor in 2021, Kelly, along with his staff, became fully convinced efforts toward the stadium development were worthwhile.
But not immediately.
"This comes down to a math problem," Kelly told staff preparing to evaluate the expected official ask.
Twice, Kelly walked away from the negotiations, he said, wanting Freier -- who initially wanted all of the parking revenue from the project and for the Lookouts' rent not to be adjusted for inflation -- to feel as uncomfortable as possible about proceeding.
He also told Freier to participate in a community benefit agreement with a local nonprofit. Though government entities cannot legally enter these agreements, there were brakes Kelly could pump if Freier refused.
Woods, the East Ridge native and Lookouts investor who first connected Freier with the Wamps, was out of the picture, having been charged by federal regulators with running a massive Ponzi scheme, charges Woods denied and Freier said had nothing to do with the Lookouts.
Eventually, however, consensus with Freier was reached, and Kelly said a compelling elevator pitch crystalized in his mind: "Up to a billion in investment and we get to keep the Lookouts!" Chattanooga would lose the Lookouts if the city did not help the team build a new stadium, Kelly believed. The current stadium no longer met Major League Baseball requirements.
Losing a significant, local sports team could signify decline, making investors less inclined to favor the city at a critical time. The desolate foundry site already smudged Chattanooga's reputation.
Charles Wood, who had headed economic development for the chamber since 2012 and worked closely with previous mayors to recruit companies to Chattanooga, remained convinced that a publicly-backed stadium development was good. Jermaine Freeman, whose economic development work for former Mayor Berke included furthering the stadium development plan, also remained an advocate in the Kelly administration, in which he was named head of the new Department of Economic Development.
Before leaving office, Berke and Coppinger helped secure $35 million in state funding for an Interstate 24 exit ramp between Perimeter Properties' foundry site and the Tennessee River. So when Coppinger decided not to seek re-election, after a decade as county mayor, and Weston Wamp announced his intention to seek the seat, the push toward stadium approval intensified.
At the beginning of 2022, Kelly wrote a letter to Lee asking for $20.8 million in state funds for a multiuse stadium.
"For decades now, the former U.S. Pipe and Wheland Foundry sites have been an eyesore and an economic wasteland right at the gateway to our community," Kelly said in a statement, when the letter was publicized. "It's like having a great smile, but missing your front teeth."
Wamp, busy running against Hamilton County Commission Chairwoman Sabrena Smedley and Chattanooga businessman Matt Hullander, the son of Hamilton County Trustee Bill Hullander, in one of the closest countywide primary elections in history, quickly shifted to campaign against the ask.
This time, however, his critique of the stadium deal folded into a larger, historical narrative.
The current Lookouts stadium was built more than 20 years ago, where Kirkman's football team once played, because leaders decided to expand the now struggling tourist district around the Tennessee Aquarium when the nation's public education system began emphasizing four-year degrees.
Now there were plans to tear that stadium down and publicly fund a new stadium, but no effort had been made toward replacing the lost downtown, vocational high school, despite rising demand for high school-level career and technical training, a need he'd become keenly aware of while serving on the Tennessee Board of Regents.
In the absence of a dedicated high school, county schools introduced vocational programs with partnering businesses called future-ready institutes with mixed success. The chamber, along with Kelly and many other leaders, also backed a failed proposal to increase property taxes for schools. Still, efforts to increase the number of locals credentialed to work in the current job market floundered.
"It is just a failure of leadership, the story of the closure of Kirkman High School ... It went away in the name of development, and I think it's a great lesson for our community to learn," Wamp told host C-Grimey on The People's Podcast in April. "Let's be real careful, in the name of economic development, or pacifying this investor or this rich person who wants a free ride on the government dollar ... because you got a story down here from the riverfront of a disaster."
The message hit a nerve, as Kelly knew it would. His own campaign research showed massive, communitywide support for the shuttered school.
***
While Wamp fended off a primary opponent's challenge to the election results, Kelly worked to finalize the stadium deal before a new county mayor could be sworn in. The majority of county voters were registered Republicans, meaning Wamp was likely to beat his Democratic rival, Matt Adams, who supported the stadium.
As the rush to the general election began, the Chattanooga Chamber of Commerce funded a study by CSL International, which said a new stadium would bolster the local economy, and Jim Irwin -- the expert brownfield developer who worked with Freier in Fort Wayne and considered a huge get by many -- was hired as master developer on the project.
During the Berke administration, the city exempted itself from TIF procedures, such as preparing an application with plans and budgets and having a review committee, which expedited a typically onerous process.
***
Why do TIFs matter?
TIFs date back to the 1950s, and are legal in every state except Arizona. Only six states have approved more than 1,000 total TIFs, and some states, like New York and North Carolina, have little TIF activity. Tennessee has approved 60 TIFs, according to the state comptroller's directory. Yet, the incentive is a relatively new phenonenom in Chattanooga.
The first TIF approved for the Black Creek residential development was in 2012, and four have been approved by the city since then, including the one to support the stadium project.
More TIF districts will mean directing a growing share of future tax revenue away from government services and toward efforts supporting private development, for decades.
Kelly says we should expect to see many more TIF proposals. To him, TIFs are an excellent tool to stimulate development and job creation that cannot be delayed, and there are many local and national leaders who agree with him.
Still, TIFs are not without risk. If tax revenue doesn't increase as expected, the city may have to cut local services to pay for the project debt.
"There is as much of a chance for a TIF project to fail as there is a chance for it to succeed," according to a paper by the University of Tennessee Municipal Technical Advisory Service on the use of TIFs. The paper was originally published in 2012 and reviewed in 2021.
Opponents argue TIFs can become a tool for political payback, and that TIF interests such as developers, consultants, lawyers and investment bankers, have come to constitute a special interest lobby in some cities.
***
Meanwhile, beyond Chattanooga, Kelly was selling the city.
"I talk to my partners at the Chamber of Commerce here on a daily basis," Kelly said during a May briefing for foreign media at the U.S. State Department in New York. "Southern hospitality is not a myth ... when we get a prospect, we treat them like gold, and we do our best to convince them that Chattanooga's the place for them."
Weeks later, Kelly and Coppinger announced their plan to seek approval from the City Council and County Commission to form a sports authority and create a TIF district to provide the revenue to service the majority of the cost to build the stadium.
More than 60% of the stadium costs would be paid by property tax revenue generated by expected new development and captured through the TIF district, which grew from 256 to 470 acres. Remaining costs would be covered by the Lookouts lease, state and local sales tax generated in the stadium, parking revenues from events and $1.5 million apiece from the city and the county.
"Jason (Freier) and 10 other people have tried to get me to have you be quiet on this issue," a local Lookouts owner texted Wamp at the beginning of July. "He believes you are torpedoing this thing in the 9th inning."
Instead of being quieter, Wamp wrote a letter to public officials voting on the project saying revenue estimates were overblown, risks were understated and community benefits at the site were likely to happen with or without public support.
He drew a sharp contrast, as well, between Chattanooga's potential $79.5 million new stadium and downtown Knoxville's estimated $80.1 million stadium in process.
Knoxville officials secured state funding Chattanooga couldn't, and Tennessee Smokies owner Randy Boyd committed $13 million, to construction and overage costs, at least $142 million in private investment near Knoxville's new stadium and a $1 million annual lease. Freier, on the other hand, was agreeing to a $1 million annual lease that would escalate over time.
Both sides continued claiming they had community consensus and common sense behind them.
Kelly and Coppinger pointed to the South Broad Planning Study, which had engaged community members and named the stadium development a priority years earlier, and multiple other supporting expert studies.
Wamp pointed to other studies and experts that argued against publicly funded stadiums, and in mid-July released a poll suggesting a majority of Hamilton County voters opposed using taxpayer money to fund a new Lookouts Stadium.
The chamber, in response, created an advertisement supporting the stadium plan, signed by more than 150 business and community leaders. Future tax revenues created by the stadium would support the stadium, supporters noted, not existing tax revenue.
"I was in business for years, and let me tell you, deals like this don't come around every day -- the time to move is now," Kelly said, in a statement thanking business leaders for their support.
Then, just before the general election, an unnamed person walked into the Times Free Press lobby and dropped off an envelope full of printed emails, including the one Freier wrote in 2018, accusing Wamp of making an unspecified racist and sexist comment in 2015. County commissioners, who'd asked publicly to see the emails Freier alluded to in the media, also received copies.
The revelation of Wamp's strong, one-time desire to join Lookouts leadership and aid a stadium move gratified stadium supporters who interpreted the emails as proof that Wamp would have been among the project's backers if he hadn't been rejected by Freier, who denied he released the private correspondence.
Yet, the release further emboldened Wamp, who accused Freier of extortion, denied making racist and sexist comments in 2015 and defended his changed stance -- made public long before he decided to run for county mayor -- as the product of education, not a vendetta.
Days later, Wamp won the general election, but not before the County Commission voted to authorize a new sports authority to build a stadium for the Lookouts and draw a 470-acre special tax district around Perimeter Properties' land.
***
Wamp's emergence as a disrupting county mayor confused the efforts of community activists, along with those of local boosters.
Kelly had been favored in his 2021 campaign by community organizers over his runoff opponent, former River City head Kim White, who was seen as more pro-business.
In the months leading up to the announcement of the stadium deal, the Kelly administration had been in talks with community nonprofits and neighborhood leaders about ways to ensure equitable growth and avoid further gentrification.
Many in that coalition, Chattanoogans in Action for Love, Equality and Benevolence, were shocked when he announced his plan to push the stadium development through and voiced frustration with the timetable.
Still, many of the typical antagonists became reluctant supporters, seeing an opportunity to secure the city's first community benefits agreement with Freier, thanks to Kelly's insistence and increased local foundation funding.
"They are -- rightly! -- a bit skeptical of the situation, the proposed partners, and the possible benefits," said organizer Geoffrey Meldahl, in an email updating coalition members on recruitment efforts. "Like many Chattanoogans they've seen a lot of broken promises and a lot of token 'community outreach' that ended up being just a charade to divert or preempt criticism.
"We have to be forthright about the constraints on the process and constricted timeline -- that this is not the way this process should work, but that, if it works, it will set a valuable precedent on which we can build much greater CBAs in the near future."
***
What is a CBA?
Community benefits agreements are legally enforceable contracts between developers and community coalitions that allow affected communities to address concerns related to development. Such contracts are trending across the nation as communities question the socioeconomic impact of development, especially in light of growing public subsidies and an acute affordable housing crisis nationwide. In some places, elected officials have refused to approve projects in which developers wouldn't negotiate a deal.
***
They were equally shocked by Wamp's spectacular and unending challenge to the project.
Wamp, who had long prepared to enter public service as a legislator, with the combative stance appropriate to a representative, did not seek to model the seasoned executive he followed.
Coppinger, who worked his way from cadet to chief in the Chattanooga Fire Department before being elected to the County Commission, was a practiced and proud collaborator with deep roots in local government. The Hamilton County mayor, as he saw it, worked as a branch agent for the state and should follow the lead of state officials, as well as the mayors of cities driving the area's economic growth.
"Always the bridesmaid and never the bride," Coppinger often said.
Wamp rejected this framework.
"I am the bride," he said, in an interview, when asked if he saw the role of county mayor in the same light.
He was voted into office to lead, as he sees it, not make friends. In fact, such friendliness arouses great suspicion in him.
"You have to have an edge to cut through the bull," he said.
He also sees himself as charged with improving the area's public school system, which falls outside the city's domain but could arguably lure more companies to Chattanooga than tax breaks, in partnership with the County Commission and school board.
Kelly, who's backed proposed tax increases for public schools Wamp has opposed, said he's excited Wamp shares his strong desire to support public education. Since coming into office, Kelly has contributed more to education than any mayor since the county absorbed the city school system in 1997.
Still, the mayors maintain different attitudes about economic development.
By many accounts, Tennessee is one of the best places in the world to do business, and, at this point, local leaders can afford to be more choosy, Wamp argues.
"Economic development on autopilot gives away money without conditions, and in Tennessee, we should drive a harder bargain," he said, sitting comfortably in the county mayor's office this January.
Kelly doesn't think it's smart to proceed so confidently.
"Having people move here and inflate housing prices is not economic growth. If you have that and don't have new investment and new jobs, then you get this situation we are in now," Kelly said over the phone while preparing to celebrate New Year's Eve. "You cannot say this is a red hot market."
A U.S. Census data analysis released this week shows Chattanooga's population growth, just 2.2 percent between 2017 and 2021, lagging behind similar cities, such as Huntsville, Alabama, which grew by 9.2 percent in the same time frame, and Knoxville, which grew by 5.4 percent.
For now, though, a nervous alliance between the two men is being created around the next, expected TIF proposal, intended to support another long planned downtown development and encompass a significant pocket of deteriorated public housing.
The Bend project on the city's west side, like the stadium, had been prioritized to receive designation as a federal opportunity zone and inclusion in the Southside riverwalk extension. The area around it also went through a planning process overseen by the nonprofit Chattanooga Design Studio.
Hiren Desai and Jimmy White, the Bend developers, bought up dozens of homes and properties in the low-income neighborhood next to the proposed new Southside stadium, which continues to face delays.
Since its formation, the sports authority created to move the project forward has had two resignations, yet to be replaced, and concern about inflation driving up the cost of the stadium surfaced last week when Knoxville officials reported their publicly funded stadium project will cost $14 million more than expected.
The nonprofit discussing a community benefits agreement with Freier has yet to announce terms.
"The South Broad CBA Coalition's negotiating team met with the Chattanooga Lookouts and New City Properties to discuss an expansive list of commitments aimed at ensuring working-class Chattanoogans are positively impacted by this massive development," said Michael Gilliland, an organizer with CALEB. "Negotiations are ongoing, but we're encouraged by the initial reception and willingness to partner with the community."
However, taxes from more than $350 million in announced development around the planned local stadium is already expected to go toward bond repayment.
Before Wamp got involved, Kelly was driving a hard bargain on The Bend TIF, wanting a lot from developers who had far more "skin in the game" than Freier, he thought.
Details remain a closely guarded secret, but after "scrutinizing it and perfecting it," Wamp said he is behind the Bend TIF created by the Kelly administration with the developers.
"This was an intensely negotiated deal," Wamp said. "We are going to show what it looks like to put the community first."
The mayors remain fundamentally opposed about the stadium project -- the fight over which is still fresh, keeping both on guard against the other -- but the two men say they are not afraid of finding agreement to build on.
They are also unafraid of disagreement, though Kelly believes stalemate could come at a cost.
"He's revolution, and I'm evolution," Kelly mused.
"Iron sharpens iron," said Wamp, quoting Proverbs.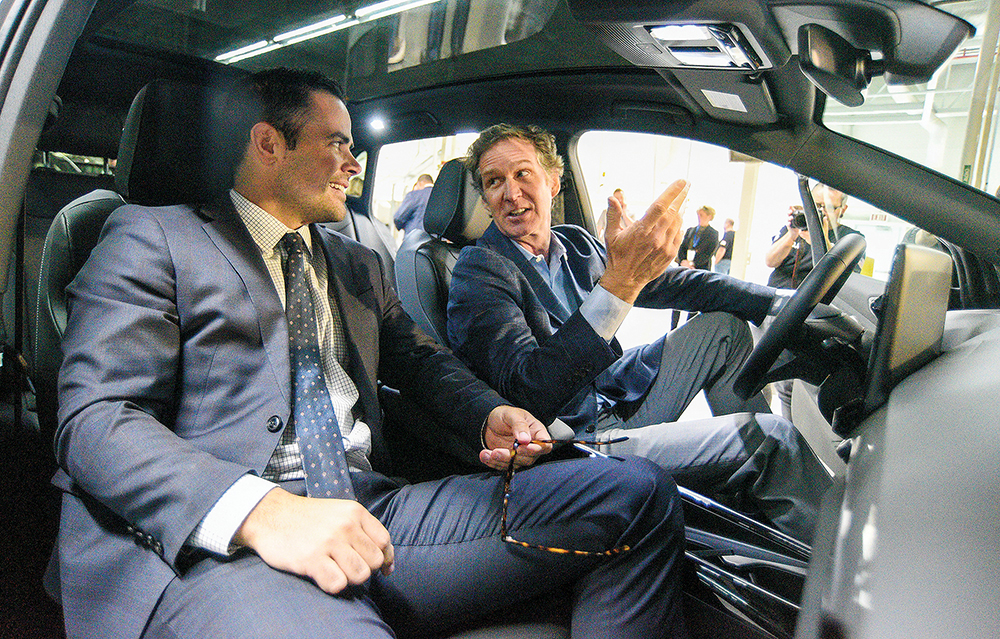 Staff photo by Matt Hamilton / Chattanooga Mayor Tim Kelly, right, and Hamilton County Mayor Weston Wamp sit in the front seat of the Volkswagen ID.4 electric SUV at the Chattanooga Volkswagen Assembly Plant on Friday, October 14, 2022.
Contact Joan McClane at jmcclane@timesfreepress.com or 423-757-6601.