At the groundbreaking for the Cloud Springs I-75 Park in Catoosa County this week, local officials and investors discussed the economic impact the park could bring to the county — and how the community could benefit.
"This development will be geared towards attracting advanced manufacturing, research and development and other technology-related businesses," Amy Jackson, Catoosa County Chamber of Commerce president and CEO, said at the event Tuesday. "And is expected to exceed 700 jobs, with over $100 million in capital investments."
Jackson said the park can accommodate more than 1.1 million square feet of industrial space. Tenby Partners, a regional developer and construction company, and Chattanooga-based White Oak Enterprises partnered on the development project.
What's planned to be the Cloud Springs I-75 Park is made up of two properties on the north side of Cloud Springs Road between Interstate 75 and Highway 41, just south of the Tennessee state line.
Photo Gallery
Catoosa County tech park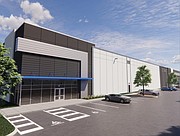 The first new buildings at the industrial park could be erected as soon as the first quarter of 2024, Jeff Londis, president of White Oak Enterprises, told the Chattanooga Times Free Press in a previous interview. The site has already been cleared and leveled and previously provided fill dirt to other developments.
Tax abatements were given to this project, according to the chamber, and the property was re-zoned to heavy industrial to accommodate new businesses.
(READ MORE: Catoosa County, Georgia, industrial park planned off I-75)
Eighty percent of the county's workforce drives out of the county to work, Larry Black, chairman of the Catoosa County Board of Commissioners, said at the groundbreaking event. He said facilities like the tech park allow the county's workforce and students who graduate from the county's College and Career Academy to stay near home.
The Cloud Springs I-75 Park is one of the largest investments ever in Catoosa County, according to Rick Partain, chairman of the Catoosa County Economic Development Authority board, who spoke at the groundbreaking. The technology park will serve as a pillar in Catoosa County that will attract even more investments, he said.
Also speaking at the event, former state Sen. Jeff Mullis said the tech park and Catoosa County in general are in a good location to reach several population centers and transportation hubs.
"From this site, 100 miles in every direction we have 8.3 million people," Mullis said.
The location is near Volkswagen's factory in east Chattanooga, downtown Chattanooga and the inland port in Murray County, he said.
"This is the best site anyone could hope for to be successful," he said.
(READ MORE: Catoosa County Republican Party convention attendees debate school choice)
At the Enterprise South Industrial Park in Chattanooga, the development group attracted a Volkswagen supplier and a container company. Tenby Properties says it has already developed more than $1 billion of industrial properties throughout the Midwest and Southeast.
Londis said the developers have been looking for industrial sites in the Chattanooga region for the past five years. It's difficult, he said, to find a site in the region large enough to accommodate buildings where this type of manufacturing is done, and he said he was "thrilled" to develop the site.
(READ MORE: Catoosa County leadership group asks for help comforting those who need it most)
"This is a really exciting project for us, and I can't wait to see it come out of the ground," Charles Wood, interim president and CEO of the Chattanooga Area Chamber of Commerce, said at the groundbreaking. "I know we have a significant amount of economic opportunity in the region. We see that continuing, and projects like this allow us to close deals, and that really means jobs and investments."
Contact Andrew Wilkins at awilkins@timesfreepress.com or 423-757-6659.