The Times Free Press has accomplished something most of the Southeastern Conference, including Alabama's acclaimed defense, could not last fall: corralling Jalin Hyatt.
The University of Tennessee's record-setting receiver will be the featured speaker at this year's Best of Preps banquet, which is set for June 20 at the Chattanooga Convention Center.
"We are thrilled to welcome former Tennessee wide receiver Jalin Hyatt as he prepares to take the next step in his already remarkable career," said Kate Tew, marketing and events manager for the Times Free Press. "Fresh off the heels of his electric season with the Vols and an impressive showing at the NFL combine, Jalin is sure to bring an exciting message of hard work and perseverance to our region's student-athletes."
Tickets for the event go on sale May 1 at bestofprepschatt.com. More information will be announced in the Times Free Press prior to tickets going on sale.
Hyatt produced the most explosive receiving season in UT history last fall, setting school records for receiving yards (1,267) and touchdown catches (15) — which also led the nation — in becoming the program's first Biletnikoff Award winner, which goes to college football's most outstanding receiver.
That output also helped him become the Volunteers' first unanimous All-American since Eric Berry in 2009 and first receiver to accomplish the feat in program history.
"I think when I speak to the high school athletes there, one of the things I will talk about is how any adversity can be used to help make you better," Hyatt said this past week. "I've learned that in my time transitioning from a high school athlete to college. It's how you handle adversity and work to overcome it."
Hyatt was a prep star at Dutch Fork in Irmo, South Carolina, where he helped lead the Silver Foxes to back-to-back undefeated seasons as part of four consecutive Class 5A state titles from 20016-19. He had three touchdown catches in the 2019 title game, including the winner in overtime, and was a finalist for the state's Mr. Football award after finishing his senior season with 1,361 receiving yards and 26 touchdowns.
Despite those impressive numbers, as well as being rated as a four-star prospect and the nation's No. 33 receiver in the 247Sports composite rankings, Hyatt was not offered a scholarship by either of the Power Five schools in his home state — Clemson of the Atlantic Coast Conference and South Carolina of the SEC — after his senior season.
"That definitely put a chip on my shoulder," Hyatt said. "You want your in-state universities to offer, so I felt disrespected. But UT was a good place for me. I wanted to play in the SEC, and I really love the fan base and how they were always behind us, so I was blessed."
Photo Gallery
Vols star receiver Jalin Hyatt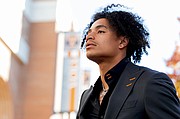 SUMMER SCHOOL
Hyatt had less than 300 receiving yards each of his first two seasons with the Vols. But rather than transfer after his modest output as an underclassman, Hyatt chose to remain in Knoxville last summer, catching more than 200 passes per day during both June and July and working out to add weight.
It all paid off with a breakout year for not only Hyatt but the team in Josh Heupel's second season as coach. In helping Tennessee to its first 11-win season since 2001, the 6-foot, 176-pound speedster led the nation in receptions of 40-plus yards (11), 50-plus yards (seven) and 60-plus yards (five), averaging 18.9 yards per catch and 105.6 yards per game.
Of his 108 career catches, 52 went for 10-plus yards and 21 were for 30-plus.
Hyatt put up the greatest single-game receiving performance in Vols history in an epic 52-49 win over Alabama last October, catching six passes for 207 yards and a program-record five touchdowns to help snap a 15-year losing streak in the series with the Crimson Tide. He broke the mark for single-game touchdown catches by two, and among them were a 78-yard catch-and-run in the fourth quarter as well as scores from 60, 36, 13 and 11 yards.
"It was good to bring back the rivalry," Hyatt said. "Everything in that game went the way we wanted. Based off their tendencies and the matchups we saw on film, we knew their secondary was the weakest part of their defense, so we just had to find the best matchups and make plays.
"Players have to make plays in crunch time, and we really came out and showed what we could do as a whole. We had talked in practice about how long it would take fans to get on the field if we won. I thought it would've taken longer, but after we made the field goal to win, it seemed liked the field was full of fans before we could even start to get off the field.
"Everywhere you looked, there was no empty green grass, it was just people in orange everywhere. Seeing the fans taking the goal posts down, that was the craziest thing I've experienced in my life. It took 30 minutes just to get to the locker room through all the people."
NEXT LEVEL
Hyatt declared for the NFL draft after the Vols' regular-season finale and was timed at 4.40 seconds in the 40-yard dash at the scouting combine two weeks ago in Indianapolis.
NFL Network draft analyst Daniel Jeremiah projects Hyatt as the 25th overall selection and going to the New York Giants.
"Obviously the vertical stuff is what he does best, but I've seen him flash the ability to get in and out of breaks," Jeremiah said. "He is going to take the top off of defenses. You'll be able to put him in the slot and run deep overs and run verticals.
"In the immediate term, though, you have an elite field-stretcher."
Draft analyst Mel Kiper Jr. also has Hyatt rated as a first-round prospect, listing him as the No. 2 receiver and 13th prospect overall in this year's draft class.
"At the combine, I felt like I did what I had to do," Hyatt said. "It was not the best I could do, but at the same time it was still good. It was different than regular offseason training because there are different details to work on. You're training for one day, not a season, so it's definitely different.
"But it was a good process, something I learned from, and it will make me better for pro day at Tennessee (March 30). I just need to be consistent and be ready to go and keep proving what I can do. I'm blessed for the opportunity and proud of myself for believing in myself that I can achieve what I have already."
Contact Stephen Hargis at shargis@timesfreepress.com or 423-757-6293.