An argument between two people turned deadly on Thursday night in downtown Chattanooga, according to the Chattanooga Police Department.
Police said Christopher Wright, 38, died at the scene. Wright was a 2003 graduate of Baylor School and had been involved in planning his 20-year class reunion this weekend, Baylor spokesperson Barbara Kennedy said by phone.
The shooting happened in the 1000 block of Market Street on Thursday night shortly before midnight, police said.
The department said Friday evening that Darryl Roberts, 57, had been arrested on Tunnel Road in Brainerd, charged with first degree murder and held at the Hamilton County Jail.
"From the preliminary investigation, investigators believe this to be an isolated incident wherein the victim and suspect were in a verbal argument when the suspect pulled out a gun and shot the victim," the release said.
(READ MORE: Federal lawsuit claims BlueCross violated employees' rights to religious freedom)
"Officers responded to a shots fired call that was upgraded to a person shot," the release said. "When officers arrived, they found the 38-year-old victim with a life-threatening gunshot wound."
Mayor Tim Kelly issued a statement Friday, calling the killing a terrible, unjust loss.
"While we are still collecting all of the facts about this heartbreaking tragedy, there are some things we do know: this was not gang violence, or a mugging, or a robbery. It was an isolated, senseless, and brazen act of gun violence after what appears to be a verbal exchange," the statement said.
"Some suggest that this is the result of a police department that isn't doing its job. Nothing could be further from the truth," Kelly said. "The effectiveness of CPD's presence and engagement throughout the community and its focused deterrence strategies are well documented. The sad reality is that sometimes proactive policing only goes so far, particularly when you're dealing with the kind of person who would commit a murderous act of apparent rage in front of witnesses on the steps of his own apartment building under the blue light of a well-known public safety camera."
Hamilton County Mayor Weston Wamp warned on social media of a "dangerous criminal element in Chattanooga" and urged people to avoid being alone downtown at night.
"I am heartbroken and angered by the cold blooded murder of a beloved father, son, husband, and leader in our community last night," Wamp posted. "Tragically, gun violence is once again wreaking havoc across Chattanooga."
In a 2018 video produced by Baylor School, Wright said he grew up going to Baylor football games and wearing the school's jersey. His father and brother also attended Baylor, Wright said in the video, adding that some of his best memories and friendships were made on the school's football field.
"I've always thought logically," Wright said in the video. "But at Baylor, I began to think constructively, and critically, how to think like other people do, with different viewpoints."
(READ MORE: Teen arrested at East Ridge High sues county, sheriff for $6.5 million)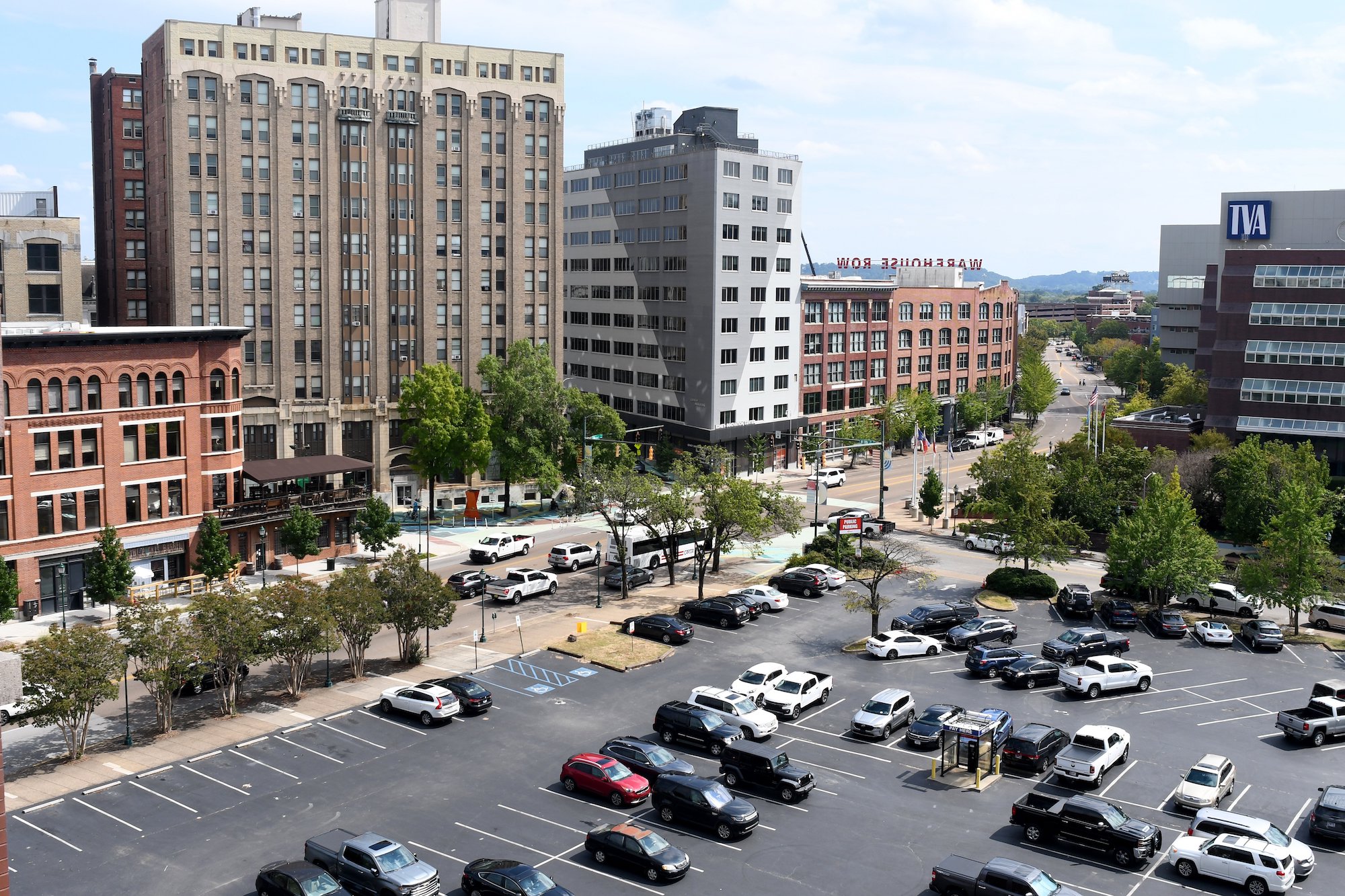 Staff Photo by Robin Rudd / A shooting took place Thursday night on the 1000 block of Market Street, near where a 20-story office building is planned in downtown Chattanooga, on what's long known as the Civic Forum Block. The location was photographed on Sept. 13.

A Chattanooga native, Wright returned to the area in 2015 after working in Birmingham, Alabama, the Chattanooga Times Free Press previously reported.
"The Baylor School community is heartbroken to learn of the sudden death of Christopher Wright '03, who would have celebrated his 20th class reunion this weekend with his fellow classmates," Chris Angel, Baylor's head of school, said in an emailed statement. "Our thoughts and prayers are with Chris and his family for their devastating loss."
Wright was a partner at Alderman Enterprises, a Chattanooga-based private equity firm, according to previous reports. The firm focuses on buying and investing in "old economy" businesses in the area, its founders said.
"While most equity firms are less interested in these type of businesses, we see real long-term value and stability from these type of companies and being here in Chattanooga we are able to work to help them adapt and grow," Wright told the newspaper in 2020.
Wright graduated from Yale in 2007, according to his LinkedIn page. He played football for the Bulldogs from 2003 to 2006, according to the school's website, as a defensive back and defensive end.
He also earned a graduate business degree from the University of Chicago, according to LinkedIn.
Chattanooga police are asking for anyone with information on this incident to call the Homicide Tip Line at 423-543-5100.
Contact Ellen Gerst at egerst@timesfreepress.com or 423-757-6319.
Contact La Shawn Pagán at lpagan@timesfreepress.com or 423-757-6476.