Photo Gallery
Haunted House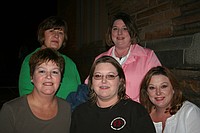 The annual EMOBA Haunted House is busy scaring people for 2 weeks out of the year...
DES MOINES, Iowa (AP) - Gov. Terry Branstad asked the Iowa National Guard on Monday to review security at its facilities after last week's shooting in Chattanooga, Tennessee.
Iowa National Guard Maj. Gen Timothy Orr is to assess the protection for those working at the Guard's military facilities and recruitment sites, but there is no deadline to report back to Branstad. The governor's spokesman, Jimmy Centers, said the governor would wait to hear from Orr before making any decisions.
The Republican governor also plans to ask the federal government to review the protections at all military facilities during this week's meeting in Washington of the Council of Governors, who advise federal officials on security matters.
Last