Photo Gallery
Springdale Graduations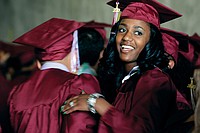 The shooter sat in the sun with his head in his hands as investigators walked in and out of the house beside him Tuesday afternoon.
At 1:09 p.m., Aaron Randal, 22, was handling a weapon when it discharged and he unintentionally shot and killed 19-year-old Carly Ellis inside the home at 1206 Lewis St.
The bullet went through a wall and hit Ellis in the neck, according to Chattanooga police. Investigators have not said what type of weapon was involved.
"One