Photo Gallery
Tinsel and Tutus @ Reynolds Performance Hall — 12/12/13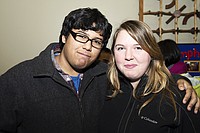 12/12 — The Conway Symphony Orchestra entertained with Christmas music, including highlights from The Nutcracker performed by the Arkansas Festival Ballet.
Neighbors of Johnthony Walker, the bus driver in yesterday's fatal crash, described him as a quiet kid who was never violent.
"He was just an ordinary guy," said Kevin Lewis, who has lived next to Walker's mom, Gwenevere Cook for several years.
Cook was not at her house Tuesday afternoon.
Walker lived with his mom for years and would ride a skateboard to and from a job at Amazon, Lewis said.
Walker was arrested Monday night and faces five counts of vehicular homicide, reckless endangerment and reckless driving, according to his arrest affidavit. He remains in custody on $107,500 bond, and is scheduled to appear in court on Nov. 29.
The route Walker was driving Monday was his regular route, according to officials.
The fact that Walker, 24, was driving the bus did concern Lewis, who said a young driver does not have much experience behind the wheel.
"They need to do a better job of hiring bus drivers," Lewis said.
Walker is the youngest of four siblings, according to James Mathis, another one of Walker's neighbors who said he's lived next to the family for several years.
"I can't say nothing but good things about him," Mathis said. "He was quiet to me and stayed to himself...gave me a lot of respect."
Walker graduated from Brainerd High School, according to school officials.
After the crash, Walker called his mother and tried to explain what happened before police took his phone away.
Cook said he called and said he'd been in a "drastic accident," according to CNN.
"When he talked to me, he was terrified," Cook told CNN.
She said Walker tried to get kids off the bus and that all the bodies were limp and blood was everywhere.
Walker asked for compassion for her son, according to CNN, saying he was respected and a father of a 3-year-old son.
"It is a horrible nightmare," she told CNN. "I feel bad for my son, and I am torn up for the [victims'] family members."
Police said Walker is being cooperative, and at this time he does not appear to be represented by a private attorney.
According to Walker's arrest affidavit, "[he was traveling at a high speed on Talley Road, which is a narrow winding road."
Walker lost control of the bus and swerved off of the roadway to the right, striking an elevated driveway and mailbox. He then swerved to the left and the bus began to overturn, hitting a telephone pole and a tree, the affidavit states.
More charges may be brought against Walker as the investigation continues, Chattanooga Police Chief Fred Fletcher said at a news conference last night. Walker has no prior convictions in Hamilton County.
No other vehicles were involved in the crash, and the Chattanooga Fire Department was involved in extricating victims who were trapped on the bus.
The Hamilton County Department of Education confirmed there were 37 Woodmore Elementary students on board the bus. Their grades ranged from kindergarten to fifth.
Of the students involved in the crash there were five confirmed fatalities, six critically injured, six admitted to hospitals but not critically injured and 20 treated at local hospitals and released, according to police.
Three of the students killed were in fourth grade, one was in first grade and another in kindergarten, according to Hamilton County Schools Interim Superintendent Kirk Kelly.
Hamilton County Schools contracts its busing services with Durham School Services, one of the nation's largest suppliers of school bus services. In Hamilton County, Durham operated about 240 of the district's 300-350 buses. The others are operated by independent contractors.
Walker worked for Durham.
The company contracted to run Hamilton County Schools busing services says it's devastated by yesterday's bus crash that claimed the lives of at least five Woodmore Elementary students.
"We are working with the Chattanooga Police Department and Hamilton County School District to investigate," David Duke, CEO of Durham School Services said in a written statement. "We also have additional team members arriving in Chattanooga today to provide support."
Durham is offering to provide counseling to students and families of Hamilton County, along with its employees.
The Illinois-based company declined to answer any questions about the crash or the driver's history.
Stay with timesfreepress.com for continuing coverage.
Photo Gallery
Fatal school bus crash