Photo Gallery
Tinsel and Tutus @ Reynolds Performance Hall — 12/12/13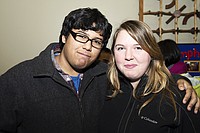 12/12 — The Conway Symphony Orchestra entertained with Christmas music, including highlights from The Nutcracker performed by the Arkansas Festival Ballet.
Monday wasn't the first day Johnthony Walker flew down Talley Road with a school bus full of Woodmore Elementary students, according to residents of the street.
"He does it all the time," said Alice Careathers, who lives on Talley Road near the site of the bus crash. "He comes through here flying."
Other neighbors also reported seeing the yellow school bus exceed the posted 30 m.p.h. limit as it drove down the road's winding curves.
The speed at which Walker was driving Monday is believed to have contributed to the crash, according to his arrest affidavit. At least five students died and another six remain in critical condition at Erlanger Hospital, according to officials.
The bus crashed on its side, bent nearly in half around a tree in Mary Smith's front yard.
Standing in her yard Tuesday afternoon, holding the day's mail in her hand, Smith recounted the crash.
"There was a loud bang," she said. "All I could see was dust."
One boy was lying by her mailbox and it looked like he had been thrown from the bus, she said.
Elise Braswell Martin, who lives across the street from the crash site, said she was one of the first adults on the scene after the crash.
The kids were crying for their parents, and everything was bloody, Martin said. She immediately began consoling the children who were able to escape the bus.
"Every time I close my eyes, I see that bus," she said.
Careathers said she's seen two crashes on Talley Road since living there and has begged the city to put in speed humps, but was told they can't be installed because its a "main street."
At least five students are confirmed dead in the crash and six remain in critical condition this morning. Twelve students have been hospitalized, six are in critical condition and six are stable.
Three of the students killed were in fourth grade, one was in first grade and another in kindergarten, according to Hamilton County Schools Interim Superintendent Kirk Kelly.
Walker, 24, has been arrested and charged with five counts of vehicular homicide, reckless endangerment and reckless driving, according to his arrest affidavit.