Photo Gallery
Tinsel and Tutus @ Reynolds Performance Hall — 12/12/13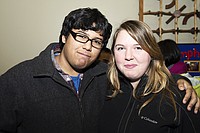 12/12 — The Conway Symphony Orchestra entertained with Christmas music, including highlights from The Nutcracker performed by the Arkansas Festival Ballet.
Donation event
The Hamilton County PTA Council is sponsoring an event Nov. 30 from 4 to 5 p.m. at the Hamilton County Department of Education central office off of Bonny Oaks Drive. The community is welcome to come drop-off donations for the families at Woodmore Elementary impacted by the crash.
The day after a tragic bus crash killed several Woodmore Elementary School students, the community rallied support for the victims and their families.
Hamilton County Schools remained open Tuesday, and a swell of counselors were on hand at Woodmore Elementary and the two schools it feeds into - Dalewood Middle School and Brainerd High School. Hot food was also delivered to the schools.
"Those that want to come to school, we are here to reach out and help," Hamilton County Schools Interim Superintendent Kirk Kelly said.
It's important that students and their families have access to their schools this week, said Tiffanie Robinson, school board member for District 4.
"For a number of our kids in this community, their school is their family," Robinson said.
Counselors will continue to be available today at the Eastdale Youth & Family Center for kids who need to speak to an adult about the tragedy, according to school officials.
"I cannot think of a better place for our students to be than at school and surrounded by people that love them" Robinson said. "And the schools are open to not just kids, but also for their families and anyone in the community that needs a place to grieve."
For those wanting to donate to the Woodmore Fund, visit www.hcde.org/woodmore.
Checks payable to "The Woodmore Fund" can be dropped off or mailed to the Community Foundation of Greater Chattanooga, 1270 Market St., Chattanooga, TN 37402 or the United Way of Greater Chattanooga, 630 Market St., Chattanooga, TN 37402.
You can also text "Woodmore" to 91999 or call 2-1-1 or 423-265-8000.
First Tennessee Bank has partnered with the Hunter Worley Foundation, which is also collecting donations at each bank branch across the state for the families of the children involved in the crash.
Donations will be matched dollar for dollar by First Tennessee, up to a maximum of $10,000, according to a news release.
The Hunter Worley Foundation will administer donations they receive to cover unpaid funeral expenses and provide immediate crisis assistance, ongoing living needs, education support, pastoral and psychological support and networking for the families, according to a news release.