To donate
Donations for the families affected by the bus crash:Monetary donations can be made to "The Woodmore Fund" payable to the Community Foundation of Greater Chattanooga with "Woodmore" in the memo line. Checks can be dropped off or mailed to 630 Market Street, Chattanooga, TN 37402. You can also text "Woodmore" to 91999 or call 2-1-1 (423-265-8000). Donations can be made online at http://connect.chattanooga.gov/woodmore-donation.Physical donations can be dropped off at New Monumental Baptist Church located at 901 Woodmore Lane.
Photo Gallery
Belew Christmas @ Wildwood Park for the Arts — 12/13/13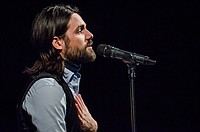 12/13 — Former The Voice contestant Cody Belew serenaded the audience with Christmas classics and tracks from his new album.
One week after the Woodmore Elementary School fatal bus crash that killed six students, a different school bus struck a pedestrian on Brainerd Road on Monday afternoon.
Along the 4900 block of Brainerd Road, Chattanooga Police said, 29-year-old bus driver Waqueta Foster merged into the left turn lane approaching Moore Road at about 3:30 p.m. As she did so, a man, who police did not identify, crossed between stopped vehicles, traveling southbound outside the crosswalk. The driver said she tried to swerve left, but the bus ended up hitting the man.
The pedestrian suffered minor injuries and was transported to a local hospital, police said. There were no children on board the bus at the time of the accident. The bus was en route to pick up students when it hit the pedestrian, said Hamilton County Schools Interim Superintendent Kirk Kelly.
Standing outside Woodmore Elementary School, Kelly said five Woodmore students remain in the hospital following last week's crash. Three of the students are still in critical condition, he said.
About 85 percent of Woodmore's students returned to school Monday, and staff at the school worked to make the day as normal and supportive for students as possible, Kelly said.
The school had 15 counselors, five therapy dogs and hundreds of teddy bears and hugs for students, said Woodmore Elementary School Principal Brenda Adamson-Cothran.
"Our hearts continue to be broken and we are deeply grieving," she said. "Our goal for today was to make sure we created and had a stable, safe and comforting school environment for our students."
"It was a good day for our kids," she continued.
Kelly asked people to continue supporting the families affected by the crash by donating to the Community Foundation and United Way of Greater Chattanooga's fund, and said physical donations can be dropped off at New Monumental Baptist Church.
Chattanooga Police warned there is a man allegedly attempting to collect money for those affected by the crash at Northgate mall.
Police said the suspect is a black man in his 20s or 30s and that over the weekend he was seen in front of TJ Maxx at Northgate mall. As police tried to approach him, he ran to a blue van and left the premises. TJ Maxx management and staff have been advised to call police when they seem him again.
Officers are working to determine the credibility of his intentions and actions.
The Better Business Bureau is warning donors to be on the lookout for questionable solicitors and scammers in the wake of the tragedy. Anyone who notices anything questionable regarding such solicitations for donations is asked to contact the Chattanooga Police Department immediately.
Due to a prediction of rain, the Chattanooga Tent Company donated a tent Monday to cover the memorial erected at the site of the crash on Talley Road. The tent is intended to protect the pictures, mementos, notes, stuffed animals and balloons placed at the memorial.
Contact staff writer Kendi A. Rainwater at 423-757-6592 or krainwater@timesfreepress.com. Follow on Twitter @kendi_and.
Photo Gallery
Tinsel and Tutus @ Reynolds Performance Hall — 12/12/13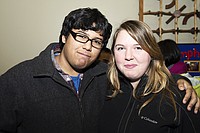 12/12 — The Conway Symphony Orchestra entertained with Christmas music, including highlights from The Nutcracker performed by the Arkansas Festival Ballet.