Photo Gallery
Woodmore Elementary School bus crash, a year later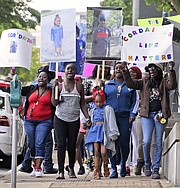 A year after the deadly Woodmore Elementary School bus crash, some community members feel the safety changes that were promised haven't been fulfilled - or at least not as robustly as they had wished.
On Nov. 21, 2016, 25-year-old Johnthony Walker crashed a bus carrying 37 children on Talley Road in Brainerd. The bus veered off the road and collided with a utility pole, overturning and crashing into a tree. The roof of the bus collapsed inward, nearly touching its floor. Six children died and dozens were injured.
Walker faces six counts of vehicular homicide, reckless driving and reckless endangerment. His trial is set to begin Feb. 27.
After the crash, the Hamilton County Department of Education and contracted bus operator Durham School Services both committed to making policy and safety changes, including hiring more bus monitors, adding more cameras, and implementing a feedback management system.
As part of the changes, independent contract drivers took over all four Woodmore bus routes.
Durham and the district say many of those promises have been delivered. But some residents say more needs to be done, especially when it comes to Durham.
***
In the days after the crash, parents came forward to say they had previously complained to school officials about Walker's driving. But a formal complaint system did not exist prior to the crash, leaving a disconnect between Hamilton County Schools and Illinois-based Durham.
Durham CEO David Duke told the Times Free Press in December that Hamilton County Schools did not share all the complaints filed against the driver with the company. Of more than 30 pages of complaints, Durham said it received only six complaints.
The company began implementing a feedback system in which administrators could log concerns and compliments about Durham drivers, said Durham spokeswoman Carina Noble. Then Durham began developing a new system, called Bus Report, that will have a way to track complaints when it rolls out within the next few weeks.
And because of a new state law, as of Jan. 1, all school buses will display the phone number for reporting complaints, she added.
But community and school board members said it's taken much too long for a public feedback system to be put in place.
"Some of the parents are doing it the old-fashioned way, by either filing a complaint with the principal or they send a letter," said Ezra Harris, Woodmore Neighborhood Association president.
"It's taken [Durham] way too long. They should have acted much faster, they should have been more urgent about this," school board member Tiffanie Robinson said. "This is serious. They had six reasons to put all of these things in place as quickly as possible."
School board member Karitsa Jones, whose district includes Woodmore, also said Durham hadn't moved as fast as she would have liked, though she acknowledged she didn't know what developing the system entailed.
"For me, being the board member that represents the district in which the accident occurred, I am hypersensitive to those needs," Jones said. "And if I'm made aware of some things that haven't been done, then that is a great alert for me."
Noble said the company needed time to find and develop a product that would fit its needs.
***
Before the Hamilton County and Chattanooga school districts merged in 1997, the city owned its bus fleet and hired drivers; the county signed contracts with independent bus owners. The merged system first contracted out transportation in 2002 as a way to cut costs.
The county inked a four-year contract with Durham in 2013 and a two-year extension earlier this year.
Over the past year, the company began implementing safety changes aboard its fleet.
Durham buses used to have three cameras that continuously recorded during the day's operations. Now each bus has two added cameras - one facing outward and one facing the driver and passengers. The new ones are triggered by a "g-force event" - a sharp turn, a hard break, a significant bump in the road - and record the moments before and after.
At the end of each day, any captured events are sent to a company called Lytx, a driver risk-management company. A team reviews the footage to determine if something is an issue and then sends those instances to Durham if it's something that might need additional coaching.
Noble said the company also hired 30 more bus monitors. Before the crash, there were 64 monitors who only rode on special education routes. Now there are 94, and some ride on regular routes that serve students with significant behavioral problems.
The contract drivers also have implemented new safety and monitoring measures, said David Eaves, transportation director for Hamilton County Schools. Those drivers also will carry the toll-free complaint number.
And this school year, all independent contract buses are equipped with a GPS tracking system that records location and speed.
But critics and some bus drivers say Durham's buses still aren't where they need to be.
Walt Westfield, of the Stand Up for School Bus Safety coalition, said some Durham drivers have voiced concerns about bus maintenance. He said those drivers want to remain anonymous for fear of retaliation.
The coalition was formed after the Woodmore crash as a community effort aimed at providing safe buses for Chattanooga's children.
Some of the safety concerns shared with the coalition include broken windshield wipers, drivers being ordered to operate a school bus when the check-engine light is on, and holding a drive shaft together with duct tape. That shaft is responsible for transferring power from the engine to the wheels.
Noble said she wasn't aware if those complaints had been filed with Durham, but that employees have multiple channels to share concerns, such as talking to supervisors or an anonymous employee hotline.
She added that before drivers can take buses out of the lot, they have to go through a "pre-trip inspection."
Westfield, however, said drivers have told him they report maintenance problems, but a bus may be assigned to another driver before it has been repaired.
"Yes, they have a check system, but who is monitoring that check system?" Westfield said. "Those are the monitoring systems and situations that have not been corrected."
He said he's reached out to all school board members and Superintendent Bryan Johnson in hopes of arranging a meeting to discuss drivers' concerns, but has only heard back from Robinson.
"With this [coalition] forming, I'm wondering, what are the [coalition members] seeing that we're not delivering on?" Robinson said. "So I'm definitely looking forward to hearing their feedback and meeting with them."
Jones said she hadn't heard from the coalition, but she thinks it's important Durham addresses every maintenance need "so we can ensure the most adequate and safe means of transportation for our kids."
"I don't think there should be any lack or delay in those things, if that is the case," she said.
Westfield said the coalition plans to relay its concerns to the board by the end of the year. He said the group hopes to work with the board on some type of oversight system to ensure Durham meets its obligations.
***
Robinson, meanwhile, said she hopes Hamilton County Schools moves toward in-house transportation.
"That will cost money, and people need to understand that, but if you want safety and you want what's best for the children, then we'll pay for it," she said. "And the community will have to be happy about that."
Harris said he and Woodmore community members want the bus safety concerns to be addressed with the same impetus as anti-bullying campaigns.
"We want them to push these safety standards about school bus safety at the same force and rate," he said.
He also suggested educating students on bus safety and proper behavior. Some bus drivers have expressed concerns that bad student behavior can be hazardous.
Eaves, the transportation director, said the district has a program in elementary schools to teach bus safety and etiquette.
School board member Rhonda Thurman said she hopes parents and students understand that students are expected to behave properly on the bus.
"Kids just think that they leave school and they don't have to live by the rules, and it makes for a very dangerous situation a lot of times ," she said. "This is just so gut-wrenching and so horrific for all the parties concerned . This is still like a bad nightmare."
Jones said she hopes no other district, school or family has to endure an event as tragic as last year's bus crash.
"Last November 21 changed everybody's life in Hamilton County," she said. "I don't think our life will ever be the same. But I don't want what happened on November 21 to go in vain and for us to ever forget those children and what happened that day."
Contact staff writer Rosana Hughes at rhughes@timesfreepress.com or 423-757-6327. Follow her on Twitter @HughesRosana.