Photo Gallery
Jury finds Woodmore bus driver guilty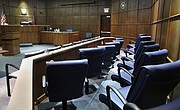 After deliberating roughly 10 hours total, jurors on Thursday convicted a Chattanooga driver of criminally negligent homicide, along with a combination of lesser charges, in a 2016 school bus crash that killed six children.
Johnthony K. Walker also was found not guilty on several assault charges.
It's unclear how the verdict affects Walker's punishment, though he does face less time in prison than he did before trial. Walker, 25, is scheduled for sentencing April 24 before Judge Don Poole in Hamilton County Criminal Court.
"The jury worked hard, and we're pleased with the verdict," said Hamilton County District Attorney General Neal Pinkston. "We knew going into it that there were difficulties that would arise, like there are in any trial."
After the 5 p.m. verdict, some mothers who lost children in the crash said guilty was better than innocent. But one also described the verdict as bittersweet, saying prison isn't ever a good solution.
"At the end of the day, Johnthony Walker drove for a company, and they are to be held accountable," said Diamound Brown, mother of 6-year-old D'Myunn Brown. "I'm coming for Durham School Services. They're responsible for not pulling him off the bus a long time ago."
Durham, a company based out of Illinois, provides the majority of Hamilton County's school buses and drivers. It faces about 30 personal-injury lawsuits in connection with the Nov. 21, 2016, crash that involved 37 Woodmore Elementary School students. Those lawsuits are expected to be litigated more fiercely now that Walker's criminal trial is finished.
Prosecutors said Walker overturned his bus and crashed into a walnut tree because he was on the phone while traveling 50 mph in a 30-mph zone. Six students died, several more were injured. Many of Walker's 34 criminal charges stemmed from their injuries.
Since Tuesday, when Walker's trial began, prosecutors called eyewitnesses who saw him speeding, police officers who reconstructed the scene, and medical examiners to prove their case.
But Walker's defense attorney, Amanda Dunn, said police officers ignored a crucial witness who saw a second vehicle that caused Walker to swerve off the road and used outdated reconstruction methods to produce a higher estimated speed. On the stand, Walker said he was traveling 35 mph.
Furthermore, a state witness said she and Walker were on the phone for seconds - not 3 minutes and 50 seconds, as prosecutors said. They weren't talking at the time of the crash, Dunn argued.
Dunn declined to comment after the trial.
Walker faced six counts of vehicular homicide, seven counts of assault, 17 counts of reckless aggravated assault, and one count each of reckless endangerment, reckless driving and use of a portable device by a school bus driver. Many of those charges are felonies.
After hearing all of the proof, jurors began deliberations Wednesday night. When they returned Thursday at 8:45 a.m., they had a question two hours into deliberations.
Did jurors have to return the same verdict for all 17 of Walker's reckless aggravated assault charges? The question foreshadowed how they would later rule.
"Each count is an individual decision," Poole told them.
The next time jurors entered the courtroom, it was 5:08 p.m., and families, attorneys and community members were staring back at them, anxious to know their decision.
Jurors first addressed Walker's six counts of vehicular homicide, a Class C felony that carries 3 to 15 years in prison. They said he was guilty of criminally negligent homicide, a lesser felony that carries one to two years in prison per count.
Next, they said Walker was guilty of 11 of his 17 counts of reckless aggravated assault, a Class D felony. Jurors convicted him of assault for the other six counts, which is a less severe misdemeanor that carries a maximum sentence of one year in custody.
Without the necessary medical documentation to prove serious bodily injury, jurors found Walker "not guilty" on six of his seven assault charges. Finally, they convicted Walker of reckless driving, reckless endangerment and use of a portable device by a school bus driver.
After the verdict, jurors prepared to go home to Clarksville, Tenn., where attorneys went to pick a jury, agreeing that heavy media coverage of the crash had likely biased the jury pool in Chattanooga.
"We got justice," Latesha Jones said as she stood outside the courtroom. Her daughter, Cor'Dayja Jones, 9, died in the crash.
"Thank you, Jesus. Thank you, thank you, thank you."
Contact staff writer Zack Peterson at zpeterson@timesfreepress.com or 423-757-6347. Follow him on Twitter @zackpeterson918.
Tweets by @zackpeterson918