Emergency responders across Hamilton County and the region were responding to dozens of emergency calls after severe storms swept through the area late Sunday night, knocking out power, bursting windows, downing trees and ripping apart homes.
The thunderstorms throughout Southeast Tennessee caused flooding and damage and widespread power outages, and at least one tornado touched down.
Hamilton County Emergency Management Service responders have transported 14 patients to local hospitals, according to a news release.
Rescue efforts are currently underway as mutual aid agencies for law enforcement have been sent to the Chattanooga area from Meigs, McMinn, and Rhea counties. An additional 15 units from the Tennessee Highway Patrol are assisting with search and rescue efforts.
LIVE UPDATES: At least nine dead, dozens hospitalized and 150 buildings damaged after storms and tornado rip through Chattanooga area
Deputies from the Hamilton County Sheriff's Office are working with rescue personnel throughout the area to check on the wellbeing of citizens in damaged neighborhoods and structures, according to a news release from the sheriff's office.
Hamilton County Maintenance Department personnel are working to clear roads as quickly as possible. Several roads are closed, impassable, and/or dangerous due to debris, trees, or power lines over the roadway.
"At this time, it appears the storm damage is concentrated in the Standifer Gap and Jenkins Road area," the release states.
Photo Gallery
Bearden vs. Mount Ida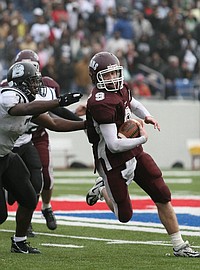 (READ MORE: Roads closed to traffic due to flooding, severe storm damage in Chattanooga area)
As many as 60,000 customers were without power as of 6 a.m. Monday, according to a news release from the Electric Power Board. Due to "catastrophic damage" to portions of the electric system, complete restoration will likely take multiple days.
"Our thoughts and prayers are with the families who suffered lasting impacts from the storms last night," EPB spokesperson J.Ed. Marston said in the release. "We know how much people rely on electricity, and we're doing everything we can to complete the power restoration as quickly as possible, but with catastrophic damage like this, repairs will take time."
The Chattanooga Fire Department shifted resources to the East Brainerd area and called in extra, off-duty personnel, according to a news release early Monday morning. The department also confirmed that several people have been transported with injuries.
"Our crews are working to get to these scenes, dealing with downed trees & power lines," said Lindsey Rogers, public information officer for the department. "We have firefighters on foot and using ATVs going door to door in different subdivisions, including neighborhoods on Igou Gap Road, Gray Road, and Jenkins Road- just to name a few locations. Several people have been transported with injuries. We are working to get to more than 300 addresses and we are seeing heavy damage."
Strike teams from surrounding counties will be assisting Chattanooga Fire Department and Hamilton County Volunteer Fire Departments.
According to the National Weather Service around 1 a.m. Monday, several storms had blown through Polk, Marion and Hamilton Counties earlier in the evening causing roadway flooding and some property damage.
Winds that may have been a tornado touched down around I-75 in East Ridge and traveled northeast through East Brainerd, Collegedale and Ooltewah, according to Amy Maxwell, a spokeswoman for HCEMS.
"A lot of storm damage a lot of trees down, trees on vehicles, trees on homes," she said.
She could not say whether it was a tornado, pending confirmation from the National Weather Service.
Rogers did note in the fire department's press release that areas that have been hit "have multiple collapses, injuries, trees down, gas leaks, and power lines down. Crews are working as quickly and as efficiently as possible to help those in need while mitigating hazards. This will be a prolonged operation."
A reporter for WTVC Chattanooga, Bliss Zechman, tweeted that her house was "completely destroyed" during the storm.
"@MariahRockNC9 and I are safe, but very scared. We can't get through to 911. Please pray for us and everyone affected," she said in her tweet.
Zechman noted that she and her roommate had sought shelter at their neighbor's house, but weren't sure when they would get help.
Here is a quick photo I grabbed. It completely blew our door off. But we couldn't get out the front, because trees are blocking the entire entrance. pic.twitter.com/a4N2eBK2ZE

— Bliss ZechmanNC9 (@BlissZechman) April 13, 2020
She shared a photo of the damage, noting that the wind had "completely [blown] our door off."
The National Weather Service has not yet confirmed any tornado touchdown but will survey the areas in daylight to assess. Bradley County emergency officials confirmed a tornado touched down there around midnight.
According to the service, Jasper in Marion County seems to be hit the hardest with flooding while the East Brainerd, Cleveland and Etowah areas were hit the hardest by the storm winds.
Hamilton County emergency management officials initially opened a family reunification center at Grace Baptist Church, 7815 Shallowford Road, at 1 a.m. on Monday. Then the center had to close because of significant roof damage and was moved to the YMCA at 7430 Shallowford Road.
The Chattanooga Police Department (CPD) reminded people that it is safer to stay home right now, especially with the threat of downed power lines and trees.
"PLEASE remain in your homes. It is safer to be in your homes right now. Wires, trees down. PLEASE STAY OFF THE ROADS TO ALLOW EMERGENCY CREWS TO GET THROUGH & TO PEOPLE WHO NEED HELP," read a tweet from CPD.
Hamilton County Schools officials have said there are reports of extensive damage to East Brainerd Elementary, 7660 Goodwin Road. One school official had trouble getting close enough to the school, but said there are multiple reports that the roof is almost completely gone.
A Times Free Press reader said in an email to the Times Free Press that the assisted living facility where their mother-in-law lives was hit by a tornado.
"The residents were evacuated from their rooms after the storm ripped through," E.E. Yates said in the email. "It blew down some trees, blew out some glass (the windows in the room where my mother-in-law was were blown or knocked out, and she was cut by glass fragments), apparently took off part of the roof, and generally did a great deal of damage. Some residents were injured sufficiently to warrant their being taken to the hospital!"
One man, visiting his family from Indiana, was riding his bike to survey the damage to his mother's neighborhood off Shallowford Road.
"It sounded like a train went through the house and I had to ask my mom if there were trains nearby," Spencer Rienke, 24, said of the storm. "It just took down our fence and there's no other damage to our house, but that was definitely a tornado...it threw all kinds of debris in our yard and tied a fence post or some metal into like a knot. It looked like a frayed rope."
More than two dozen calls reporting collapses and potential entrapments and even injuries were made to Hamilton County emergency services in the first five minutes after midnight Monday.
Andy Smith, son of Hamilton County school board member Joe Smith, posted on social media that his home was completely destroyed.
"Tornado hit our house dead on in East Brainerd significant damage but we are all ok. #pleasepray," Andy Smith said.
Joe Smith confirmed that his son and family were okay, and also said he had heard of several other people's homes being damaged or destroyed.