The third night of protests in Chattanooga began as a largely tame affair, with thinner crowds than those seen on Saturday and Sunday.
Organizer Brie Stevens told attendees who gathered at Miller Park for what was advertised on social media as a peaceful protest that she and other organizers would not stand for violence or destruction of property as the night went on.
"You are allies in this movement," she said. "We need you to let us step up and lead the movement. We are here, but we will not take you vandalizing the city, we will not take you turning a peaceful protest into anarchy, we will not support you getting in police officers' faces, antagonizing them, putting people like me, on the front lines, black, in charge in harm's way.
"You will not hang on a pole. You will not deface public property tonight. I don't know what's coming. I want you to hear me when I say this. I want you to know we need to be safe. There will not be any bodies dropped."
(READ MORE: Chattanooga police officers take a knee with protesters in sign of solidarity)
As dusk approached, after about an hour of low-key chants and mingling, protesters began to fill the street in front of the federal courthouse building, lining up across from about two dozen law enforcement officers.
Blasting music and songs like "F-- the Police," the protesters chanted "I can't breathe, I can't breathe" and "these racist [cops] have got to go." Some danced and toed the yellow centerline while one man demonstrated the posture Minneapolis police officer Derek Chauvin took while pressing his knee to George Floyd's neck.
Photo Gallery
Daily Photos 09.25.2008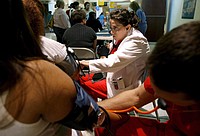 Marie Mott, a local activist and candidate for Chattanooga City Council who had called for peaceful demonstrations, walked between the crowd and the row of officers and said "Y'all just hanging out. I told you not to get in their faces, but y'all just hanging out. You've got a right to be here."
Businesses across Chattanooga were closed Monday evening as threats of potential violence and vandalism spread after two nights of protest and unrest that saw arrests of more than 20 people in the city.
Multiple demonstrations occurred over the weekend, as hundreds came out to protest police brutality and the death of George Floyd, a black man killed by a white Minneapolis police officer.
Mott organized a self-proclaimed peaceful demonstration for 7 p.m. Monday. Mott said in a live video Monday afternoon that the protest was in response to local elected officials' response to the weekend protests and law enforcement's characterization of the protesters.
An altercation at the Hamilton County Courthouse Sunday night between law enforcement and protesters led to Hamilton County Sheriff's Office deputies deploying tear gas and drawing "less lethal" weapons on protestors.
Later the same evening, the National Guard was mobilized on Chattanooga's Northshore, where dozens of protesters faced off with law enforcement and guardsmen into the early hours of Monday morning.
The county courthouse and Hamilton Place mall both closed early Monday afternoon. Businesses near Hamilton Place had already locked their doors after social media posts regarding potential unrest and criminal activity. Multiple media outlets also reported heavy law enforcement presence near the mall Monday afternoon.
Later in the afternoon, PetSmart, Walmart and several other businesses off of Gunbarrel Road closed early, some blocking their doors with carts and other objects, citing protests.
Many shopping center parking lots had heavy police presences around 6 p.m. and traffic barricades surrounded the mall parking lot.
Mayor Andy Berke issued a statement Monday in which he said Chattanoogans who protested this weekend "expressed rightful outrage at the unjust killing of George Floyd and the many more racial disparities we see in our country."
"We did see a few people this weekend who had other agendas - to distract, divide, and destroy. That is unfortunate, but we cannot let the actions of a few pull us from the path of progress," the mayor said. "... I am committed to listening to those seeking change and working to advance our community agenda."
This is a developing story. Follow the Times Free Press for updates.
A Twitter List by TimesFreePress
A Twitter List by TimesFreePress
Tweets by memangrum