Note: This story was updated to remove a reference to an investment fund, which was mentioned by city officials at the meeting but could not be confirmed with the developers.
Groundbreaking for the proposed $79.4 million Chattanooga Lookouts stadium on old foundry land in the South Broad District could take place in April, officials said Tuesday.
Brent Goldberg, the city's chief financial officer, said at the first meeting of the new Chattanooga-Hamilton County Sports Authority that the time frame for breaking ground would allow for a planned April 2025 opening for the ballpark where the Lookouts owners would like to start the team's minor league baseball season that year.
Goldberg told the newly created panel that plans are to issue up to $80 million in bonds by the end of December to fund construction of the facility on the rundown former U.S. Pipe/Wheland Foundry property in the South Broad District.
Chattanooga Mayor Tim Kelly said the stadium and other development in the area would begin a transformation of the city's western gateway.
He told the panel that redevelopment of the site has the potential "fundamentally shift our trajectory upward and forward."
Hamilton County Mayor Jim Coppinger said that while there's a lot of talk about a new ballpark, plans are to offer events year-round.
"It presents a lot of opportunities as a venue," he said at the meeting.
Photo Gallery
Chattanooga-Hamilton County Sports Authority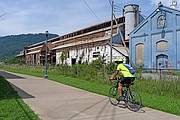 Progress on deal
Meanwhile, 10 organizations have signed on to form a community coalition intent on securing Chattanooga's first community benefits agreement with Hardball Capital, the owner of the Lookouts.
After more than 50 residents and group representatives met last week to kick off the effort, Michael Gilliland said organizers began discussions with Jason Freier, Hardball Capital's owner, over email.
"His response is that he is excited to be able to meet with us and that he is committed to entering into negotiations," said Gilliland, a community organizer with Chattanoogans in Action for Love, Equity and Benevolence, which is one of the organizations seeking an agreement.
Freier told organizers that Hardball Capital could not enter into any formal negotiations before a lease agreement and development agreement determine what powers and responsibilities their company actually has for the site.
Attempts to reach Freier for a comment were unsuccessful.
Gilliland said organizers discussed this with city staff, which informed them that the next big public decision related to the stadium would be the bond issuance, several months from now.
"We believe that for developers to enter into negotiations in good faith, it needs to be done before all the chips are in their basket in terms of decision-making," Gilliland said.
The group now has months, instead of weeks, to identify the goals of the agreement, raise attorney fees, select a negotiation team and work out the deal with Freier, which was welcome news at the group's second meeting Monday night in the City Council Chambers.
"It is rare that surrounding communities and groups get an opportunity to negotiate and receive benefits from a major development, such as the proposed stadium," said Maria Noel, president of the South Chattanooga Community Association, another group participating. "We came together to share ideas and consider priorities on those things that are important to the neighborhoods, workers, businesses, schools, organizations and individuals that will be impacted."
City staff members have repeatedly said that they want the stadium development to happen with the neighborhood and not to the neighborhood, and Mayor Tim Kelly directed staff to help develop a community agreement to outline expectations beyond those already included in the project.
At the Sports Authority meeting, John Shearburn, managing director of Warburg Pincus, was named the panel's chairman. Rudolph Foster, a property owner in the Broad Street area, was chosen as vice chairman. Edna Varner, a senior adviser at the Public Education Foundation, was picked as secretary-treasurer.
Chattanooga and Hamilton County already have approved creation of a special tax district around the planned stadium. Most of the new property tax revenue from the special district, Lookouts' lease payments, sales taxes, parking revenues and $1.4 million each from the city and county will pay for debt service on 30-year bonds to be issued for the project, officials have said.
Through tax-increment financing, such special districts are designed to spur development in areas often before economic activity would typically take place.
Revenues from the tax district of about 470 acres around the stadium would pay for 58% of the project. The district includes not just the 120 acres of developable foundry property, but the South Broad area around it. Also included are a number of tracts south of Chattanooga Creek, including a site for a proposed greenway connecting to Alton Park.
City and county officials have said they initially expect $350 million in new development in the tax district over the 30-year period, but Coppinger and Kelly have said $1 billion or more is anticipated.
Contact Mike Pare at mpare@timesfreepress.com or 423-757-6318. Follow him on Twitter @MikePareTFP.