One of Hamilton County's oldest and most historically significant high school athletics programs is on the brink of fading into extinction.
The Howard School, which once produced an unprecedented streak of four consecutive undefeated seasons from 1959-62 as well as numerous nationally recognized sports figures, including Pro Football Hall of Fame defensive lineman Reggie White -- arguably the greatest player in NFL history -- is in the midst of a competitive decline that threatens to shut down multiple sports.
"It's not a stretch to say this is grave danger territory for Howard athletics," said Jon Johnson, the school's dean of students and the baseball team's head coach.
While the school has experienced a significant surge in enrollment over the past decade, the number of students participating in sports has not matched that growth rate.
The reason for the school's enrollment jump is an influx of Hispanic students, particularly over the past four years when their number rose from fewer than 400 to now around 900 of the school's 1,542 total.
For the first 155 years of the school's existence it had been a primarily Black student body. That changed in 2020, however, when Hispanic students -- specifically Guatemalan -- became the predominant demographic.
(READ MORE: Changing demographics, progress achievements mark a new day at Chattanooga's Howard School)
"We welcome the Hispanic community, but the reality is those kids do not play football or even baseball," said Johnson, who has also taught Spanish at the school for 13 years and whose wife is Cuban.
School administrators said fewer than 200 students participate in sports. School figures also show that only one Hispanic student played football and baseball, while 40 helped make up the soccer team.
That means that while the rosters of its athletic teams have not grown, the school's overall enrollment increase has forced Howard to compete against schools with double and even triple the number of players in sports other than soccer.
"The number of Black students in our school has remained basically the same for the past decade, but with the rise in our overall numbers, we're having to play against schools that we simply don't have the numbers to compete with," said Johnson, who also experienced the competitive disadvantage of coaching a baseball program that had far fewer resources than opposing teams in the largest classification.
Last season, Howard's baseball team lost to region opponents by an average of 20-1, compared with an average score of 8-7 against nonregion competition, in that case games against smaller schools.
"The result of a prolonged competitive imbalance in athletics is that motivation to play wanes, particularly among inner-city kids," Johnson said. "The next step is that an activity that keeps some of those kids interested in school loses its motivation, so whatever those students could become is never realized.
"As a coach, part of your job is to be a motivator. But there's only so much motivation you can push before kids begin to lose hope, and we have kids now who are coming from circumstances that are challenging already, so they need to feel that hope that they can be competitive or else it's much easier to just quit."
Photo Gallery
Howard athletics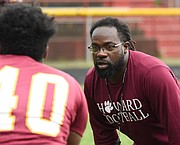 ENROLLMENT ISSUE
The Tennessee Secondary School Athletic Association, which governs the state's high school sports, groups its member schools into classifications based on enrollment. Because Howard's enrollment continues to climb, the school's athletic teams have been moved up to the largest class for basketball, baseball, soccer and softball, while football has moved up two classifications in the past five seasons and now competes in 5A -- the state's second-largest class in that sport.
If the school's enrollment continues to climb at its current rate, the football program will move up to 6A in the next classification period in 2024.
For the two years since the Hustlin' Tigers moved up in classification, the football program has been at such a disadvantage -- compiling a 1-17 overall record during that time -- that coaches have seen a steady decline in the number of students interested in participating.
"We're seeing more and more of our kids become discouraged and just decide to quit or not even come out to play at all," said Howard football coach Dedric Maffett. "It's discouraging to see my kids, some of the toughest kids in the school, lose hope.
"Kids who are already facing some really tough challenges just living their life are being put in a situation where something they had loved doing, like playing football, has become just another obstacle."
In its two seasons of competing in 5A, Howard's football program is 0-8 against region competition, losing those games by an average score of 40-5 and each ended with the state's running-clock mercy rule in effect. The team finished 1-9 this past season, with its one win against King's Academy, a Knoxville program that competes in the state's smallest private school league.
(READ MORE: Chattanooga could receive extension as BlueCross Bowl host)
"We're competitive for the first half against the bigger teams, but then exhaustion sets in, and that results in our kids getting injured or just giving up from being tired and not having the same energy," Maffett said. "As much as you try to do mental preparation, when you look across the field and see the other team has reserves lined up all the way down the sideline and we have fewer than 20 on our side when our starters are on the field, that's tough.
"To be honest, we've reached the place right now where the program is in trouble for the future. Why would kids want to play and not be able to compete?"
Howard began the 2022 season with 39 players, but due to injuries and attrition, the Hustlin' Tigers dressed only 28 for their final game. The four other schools in its region had rosters that far exceeded that size: Rhea County (79), Ooltewah (92), McMinn County (96) and Walker Valley (108).
"We played them in the last game of the season, and what stood out was how extremely hard their kids play despite getting beaten up so much during the season and trailing in our game by a lot," Walker Valley coach Drew Akins said of the Hustlin' Tigers. "That says a lot about the character of those kids that they're still out there competing so hard.
"The kids they have are talented and well coached, but they just don't have the number of bodies it takes to be competitive at our level. So many of their kids play on both sides of the ball, so they never come off the field. After a while you can just see them getting tired, and then it becomes dangerous for their kids to play 70 or 80 snaps in a game."
The Hustlin' Tigers were much more competitive in their final two years in 4A, finishing with a winning overall record each season, compiling an 8-4 record against region competition and reaching the playoffs each of those years. Two of those losses did not come on the field, but were forfeits due to COVID-19.
TRAVEL COSTS
Besides smaller roster numbers, the move up in classification has also created added travel expenses for an athletic department that already struggled with financial resources. In 2016, Howard competed in a region with five other Hamilton County schools, but since the move up, it is now part of a league that has only one other Hamilton County team and includes trips to McMinn County, Rhea County and Bradley County's Walker Valley, which more than tripled the travel expenses.
Johnson, Maffett and school principal Leandrea Ware presented an appeal to the TSSAA's Board of Control on Thursday morning, asking that Howard be allowed to move down one classification so that it could compete with schools with similar roster sizes.
That request was denied by a 7-2 vote, so for the next two seasons Howard is slated to remain in Class 5A with the same four schools, plus East Hamilton, which is being bumped up from 4A after a rise in its enrollment.
The addition of East Hamilton will likely only complicate Howard's predicament as the Hurricanes are one of Chattanooga's strongest football programs, averaging eight wins over the past four seasons.
(READ MORE: Howard students, staff protest overcrowding issues at Hamilton County school board meeting)
"What we do as educators is try to impact student's lives, and when they're being impacted negatively, you have to fight for change," Ware said during her plea to the Board of Control. "Let's look at what we're able to do to level the playing field so all students have an equal opportunity. Just because we have nearly 1,600 students does not mean we have the same number of kids interested in playing athletics.
"We're here today for Howard, but I believe other schools are facing the same challenge."
For Howard to have any chance of dropping down, the TSSAA would have to rewrite its rules dictating how classifications are set. Such a change is unlikely considering enrollment has been the format used since the organization began separating schools into classes in 1969.
Before voting to deny the appeal, Board of Control member Greg McCullough told the Howard contingent, "It's a problem, but it's not something we can fix for y'all and not for other member schools."
After being denied their request, the three Howard representatives admitted as they left Thursday's meeting that their school's athletic program is facing a situation in which time is running out on finding viable options to prevent the demise of football and potentially other sports.
Hustlin' Tigers senior Roy Miles Jr. played football for four years, starting on the offensive and defensive lines. During that time he saw and felt the mental toll of going from being competitive in 4A to severely outmanned in 5A.
"Games don't feel winnable anymore, even before we play them," Miles Jr. said. "It's like David versus Goliath every week, only David didn't even have a rock to throw. We had guys who quit because they didn't think we had a chance to win anymore. It's an awful feeling to be getting beaten up on the field, and then you start to see guys to your left and right just give up.
"I love playing football so I would never quit. But I broke down talking to my mom about it during the season. I for sure see the football program being in big trouble unless something changes."
Contact Stephen Hargis at shargis@timesfreepress.com or 423-757-6293. Follow him on Twitter @StephenHargis.