Brandy Howard says her last straw was the day her daughter came home from school and announced she felt bad for being white.
"Mom, I never used to think about it before, but now I see somebody with Black skin or brown skin and I'm afraid they're going to hate me because I have white skin," Howard recalls her daughter saying last year.
She said she immediately pulled her ninth grader from East Hamilton High School and started home-schooling.
Howard chairs the Hamilton County chapter of Moms for Liberty, a conservative organization that aims to encourage parental involvement and advocate for greater transparency in schools.
"I am not going to allow my children to be taught that there is somehow a disconnect because of (skin color)," Howard said in a phone call. "She does not need to be concerned that somebody's going to dislike her because of that, and she doesn't need to be judging somebody else based on their skin color either. We can all love each other and be kind without having to look the same."
It's stories like these -- white children feeling bad -- that have, in part, led Tennessee lawmakers to ban ideas about systemic racism in K-12 public schools.
A law passed last year strips funding from public schools if they teach concepts relating to white privilege or examine certain concepts about race through any lens beyond "historical," "impartial" and "facts," according to the bill.
Locally, it has made teachers more cautious when discussions of race arise.
Davis Lane, a U.S. History teacher at Brainerd High School, said since the law took effect, he's more careful about ensuring certain students don't feel guilty.
"Because of the way the laws are, we don't want anybody to leave the classroom feeling like what's going on in America is somehow their fault," he said in an interview. "And so, we do have to be kind of careful about how we word things and phrase things to make sure that guilt, that historical guilt, is not placed on the shoulders of our students."
But modern ideas about race and racism are pertinent to students' understanding of America's past and present, some Hamilton County students and teachers say.
"They're trying to suppress certain topics that are super relevant to youth," 16-year-old Vickie Song, who attends Chattanooga School for the Arts and Sciences, said in an interview. "It limits people's learning. We go to school to learn different perspectives. We know that diversity is important, and hearing diverse perspectives is part of that."
Lane said racism, in his class, must be kept to a historical context.
"We try to keep it within a historical standard of what happened in the 1860s-1870s," Lane said. "There have been some really good questions about race and ethnicities and why some were treated differently and better than others. We've had some really good discussions in class."
Brainerd Principal Crystal Sorrells said teachers teach about race according to state standards.
"It's when you move outside of those parameters that you need to be prepared to show the articulation between what you're doing and the standard," Sorrells said in an interview. "I'm more focused on the standard that's being taught, and how that's being enacted in the classroom. And that's where we put our attention and our emphasis."
NATIONAL CONTEXT
The Tennessee effort to ban certain racial concepts was part of a nationwide push last year. As of this past spring, 16 states had passed such bans on divisive racial concepts, from New Hampshire to Arizona and from Idaho to Georgia, according to ABC News.
The laws were generally portrayed as banning the teaching of critical race theory, a law school framework for legal analysis that suggests race is not biologically grounded but a social construct embedded in U.S. history, life and laws to oppress and exploit Blacks and other people of color.
Conceptually, that theory is not being taught in public schools, Deborah Caldwell-Stone, director of the American Library Association's Office for Intellectual Freedom, said in a phone call. But the theory's concepts -- privilege, systemic oppression of people of color, unequal treatment of people of color under the law, the long-lasting effects of slavery -- are ideas often explored through literature.
Classics like Harper Lee's "To Kill a Mockingbird" and Toni Morrison's "Beloved" contain themes and ideas that could now be considered illegal, giving those who wish to ban these and books like them legal precedent to do so -- and that is already playing out, she said.
"We're at a point where we've seen elected officials, who've sworn to uphold the Constitution, endorse official government censorship of particular viewpoints and ideas of entire topics on the grounds that they don't match the politics of a particular advocacy group or don't meet the moral approval of particular religious groups, and offering that as a majoritarian opinion," Caldwell-Stone said.
Photo Gallery
Educational discourse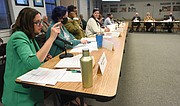 The American Library Association has seen a rising number of challenges to books dealing with the experience of Black Americans and the impact of police violence on Black communities and Black children, Caldwell-Stone said.
"We believe that many of these books are age and developmentally appropriate and that, certainly, individual parents or families can make choices for their own child, but we're seeing choices made for entire communities that deny the existence of marginalized groups," she said.
It comes down to a difference in how some parents view the purpose of education, Caldwell-Stone added.
"There are parents who believe that education isn't a process of providing skills around critical thinking or broadening perspectives on the world or gaining an understanding of others' lives, but really should be a process of training their child in a particular religious practice, a particular political viewpoint," she said. "And there's nothing that stops them from achieving that. But there's a question of whether public schools should be co-opted for that purpose."
WHO DECIDES?
Recently, the Moms for Liberty Hamilton County chapter posted a photo on Instagram that says, "We do NOT CO-Parent with the Government."
Howard believes exactly that.
"I don't want to send my kid into an environment where they're actively opposing what's being taught at home," Howard said.
Moms for Liberty was founded in Florida and has more than 200 chapters across the U.S.
The group has gained national attention due to its close ties with Florida Republican Gov. Ron DeSantis and has led efforts to challenge books in schools.
Howard's chapter strongly advocated for scrutinizing books and participated in a district book policy review committee formed in January to respond to questions raised about materials in Hamilton County public schools. While many of the books questioned by members of the committee involved LGBTQ themes, others like "The Hate U Give" and "On the Come Up" by Angie Thomas, focused on race and the experiences of Black youth.
On its website, Moms for Liberty teaches its members that the point of critical race theory is to create division among the races -- "Divide and Conquer: Split us into groups, get the groups to overthrow society and replace with new ideology."
The site warns of other "buzzwords" synonymous with critical race theory. The list includes: "equity, antiracism, white privilege, identity, ally/allyship, social construct, implicit/unconscious/internalized bias and systemic racism."
A list of books the group deems inappropriate can be found on the site, along with reviews noting passages the reviewers feel are obscene, inappropriate or examples of critical race theory.
One passage from the book, "Far from The Tree" by Robin Benway reads:
"Joaquin was definitely not white like his sisters. Joaquin knew even before he met his sisters that they would definitely be white. He knew that white baby girls were first-ranked on most people's list of Children We Would Like To Have One Day. He knew they were more expensive, too, that people paid almost $10,000 more in legal fees for babies who were white, so he knew that the girls' adoptive parents had some money."
Moms for Liberty cites this as an example of critical race theory.
"The goal of doing any of the reviews, and actually the goal of our organization as a whole, is to support parental rights and encourage parental involvement," Howard said.
Howard said she feels certain ideas about systemic racism are pushing a leftist political agenda, which has no place in public education.
"When you're going to provide material that's going to create an emotional reaction, for mental health purposes, you've got to be careful about that," Howard said. "But do you think that if you're only shown that same perspective over and over and over and over that there might be a motive, an underlying motivation there? A slant?"
She said schools are no longer sticking to the facts, and while horrible events like the Holocaust or slavery are not "neutral," they shouldn't be politicized.
"There are some central themes in assigned reading over and over and over again," Howard said. "The parents are always portrayed as bad people, especially if they're Christian parents. And then every interaction, surprise, surprise, every interaction with a police officer, the police officers are always bad. They're always the bad guys. And I don't like that too many times the people of color in these books are gangbangers and drug dealers. I don't want my kid learning that either. Color doesn't define who you are."
THEORIES OF KNOWLEDGE
Books allow ideas to be explored on a deeper level, 17-year-old Jerald Arden Freeman, who attends STEM School Chattanooga, said in an interview.
"When I was in middle school, I read a ton of books about slavery and such, and I learned a lot from it," he said. "And most of that stuff wasn't even taught to the depths the books brought it to."
Kaitlyn Castellanet, 17, who attends Signal Mountain Middle High School, said restricting conversations about race is harmful.
"I think that it's a dangerous new policy or a dangerous idea to even attempt to question or even postulate," Castellanet said. "These are conversations that need to be had. And banning books that contain more sensitive or controversial topics will just simply lead to those conversations not being had."
In her classes, they rely on books to facilitate discussions on race.
"In my English class, last year, we read 'Things Fall Apart' and several stories by Nigerian authors, and what happened was that we would read these excerpts, and then we would have small seminars in which the teacher would lead the conversation by asking questions," Castellanet said. "And it really led to open discussion as we were able to isolate these principles by ourselves, rather than being led by the authority figure. And then we were able to compare it to concepts with other theories of knowledge or history and examine it within our society."
Red Bank High sophomore Liliana Trejo, 14, said that while some discussions about race get heated, it's valuable to hear everyone's opinion.
"Some people had an opinion, others had the opposite opinion," Trejo said. "So we just tried to discuss why we had that opinion."
Castellanet said students can handle it.
"We're mature enough to disseminate the topics of those books and form our own opinions on them," she said. "And not allowing those talks to even be had because they're placing certain themes and topics on a shelf that's unapproachable because they're so controversial, it's simply steering away from progress and development, and we're going to be even more isolated within our ideas because we're not able to access them."
PERSPECTIVES MATTER
Edna Varner, a retired educator from Hamilton County Schools, said she still remembers when segregation was in place.
"We had culturally responsive teaching when I was in school," Varner, a Black woman, said in a phone call. "I know everything white people do -- because they were the subjects of all the books. I know what white people eat for Thanksgiving. It was just my culture that we didn't know about. We learned about it in the neighborhood, but we didn't learn about it in school. It wasn't elevated, either."
She added that it made her feel like a visitor, as if she should be grateful to live in America among the whites.
And as voices of color and alternative perspectives become more commonplace in schools and today's society, there are those who don't understand, she said.
"They don't understand the book, and so they see a single word that's offensive and they want it banned," Varner said. "I think that's what it is. I don't think they're horrible people. I think they just don't get it. And they are afraid of what they don't get."
What might be considered offensive at a predominantly white school would be valuable at others, she said.
"Our district is culturally diverse," Varner said. "There are books read in schools of predominantly kids of color and they may have some things in those books that are offensive to people in other neighborhoods. But they are not offensive to the children in those schools. They live with that. And so, one group of parents, the board, should not be deciding on a list of books that nobody in the district can read."
Kendra Young, executive director of education advocacy organization UnifiEd, also spent the majority of her career at Hamilton County Schools. She said it shouldn't surprise anyone that people of color throughout history have had different experiences.
"A huge problem is that what we're seeing people describe as CRT is just actually a different perspective of our country, especially in early history," Young said in a phone call.
A good education means having the ability to consider others' perspectives, Young said, quoting Aristotle: "It is the mark of an educated mind to be able to entertain a thought without accepting it."
"And our job as a human is to see that perspective, to evaluate it, and then make a conscious decision as to whether or not that person's perspective maybe changes ours or maybe it doesn't," Young said.
BANNED CONCEPTS
The following concepts shall not be included or promoted in a course of instruction, curriculum, instructional program, or in supplemental instructional materials:
– One race or sex is inherently superior to another race or sex.
– An individual, by virtue of the individual's race or sex, is inherently privileged, racist, sexist, or oppressive, whether consciously or subconsciously.
– An individual should be discriminated against or receive adverse treatment because of the individual's race or sex.
– An individual's moral character is determined by the individual's race or sex.
– An individual, by virtue of the individual's race or sex, bears responsibility for actions committed in the past by other members of the same race or sex.
– An individual should feel discomfort, guilt, anguish, or another form of psychological distress solely because of the individual's race or sex.
– A meritocracy is inherently racist or sexist, or designed by a particular race or sex to oppress members of another race or sex.
– This state or the United States is fundamentally or irredeemably racist or sexist.
– Promoting or advocating the violent overthrow of the United States government.
– Promoting division between, or resentment of, a race, sex, religion, creed, nonviolent political affiliation, social class, or class of people.
– Ascribing character traits, values, moral or ethical codes, privileges, or beliefs to a race or sex, or to an individual because of the individual's race or sex.
– The rule of law does not exist, but instead is series of power relationships and struggles among racial or other groups.
– All Americans are not created equal and are not endowed by their Creator with certain unalienable rights, including, life, liberty, and the pursuit of happiness.
– Governments should deny to any person within the government's jurisdiction the equal protection of the law.
Contact Carmen Nesbitt at cnesbitt@timesfreepress.com or 423-757-6327. Follow her on Twitter @carmen_nesbitt.