It remains to be seen whether U.S. Rep. Marjorie Taylor Greene, whose divorce from Perry Greene was finalized in December, plans to keep the last name she's become so closely associated with.
When a Chattanooga Times Free Press reporter asked in a phone interview this past week whether she plans to keep using "Greene," the Northwest Georgia representative was silent for four seconds. A staff member then came on the line and ended the interview.
(READ MORE: In new term, Rep. Marjorie Taylor Greene details priorities, including immigration crackdown)
Dropping her married name could pose problems for the representative, who would risk losing the national name recognition she's worked hard to build around her three-part moniker.
Dropping "Greene" could also send an unintended negative message about her ex-spouse, experts in political communication said, and may conflict with her support of traditional marriage and the family unit.
Keeping her name as it is, they said, has few downsides.
"There's no right answer on what to do with someone's name," Drew Plant, a public relations strategist based in Atlanta, said by phone. "It's totally a personal decision."
Greene captured national attention during her 2020 campaign and still consistently makes headlines thanks to her hardline policies and close association with former President Donald Trump.
She and progressive Rep. Alexandria Ocasio-Cortez of New York are often referred to by their initials, MTG and AOC. Ocasio-Cortez has a similar decision to make soon, as she recently became engaged to Riley Roberts.
(READ MORE: Georgia U.S. Rep. Marjorie Taylor Greene, husband move to finalize their divorce)
Greene is more closely associated with her name than most of her colleagues in Congress, said Chapman Rackaway, a political science professor at Radford University in Virginia. Her brand is known far beyond her North Georgia district, Rackaway said in a phone interview.
"She has built one of the most important things in politics," he said. "Name recognition is absolutely vital. Most political figures and candidates don't want to mess with any name recognition, because once you build it, it is an important resource."
If she was only planning to run for office in the 14th District, or in Georgia, name recognition wouldn't be as much of an issue, Rackaway said.
Photo Gallery
Marjorie Taylor Greene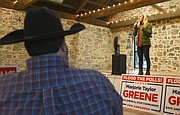 Many politicians think carefully about what name to use before running for office, Plant said.
"Once you've gone forward with that, and your name's been on a ballot, on political signs and been in the paper and next to office doors, that is established as your brand," Plant said in a phone interview.
Greene's brand may be more distinctive because she's chosen to use three names -- first, maiden and last. That places her in the company of other women politicians whose names pay homage to both their birth and married surnames, including Hillary Rodham Clinton, Amy Coney Barrett and Ruth Bader Ginsburg.
(READ MORE: Marjorie Taylor Greene's support in Northwest Georgia is as high as 80%)
"She's (Greene) just known by her initials, MTG," Rackaway said. "So dropping the 'G' there could alter that and kind of disturb her brand identity."
Unlike their male colleagues, female politicians can face extra complications when it comes to naming, since they may change names during their career due to marriage or divorce.
"We wouldn't be asking this question of a man," Rachael Robnett, psychology professor at University of Nevada Las Vegas, said by phone. "The implications of divorce, for that reason, are a little bit less weighty for men."
Women who drop a married name could be perceived as hostile towards an ex-spouse, whether intentionally or not, said Plant. Some choose to keep their ex's name for the sake of their children, the PR strategist said, though none of Greene's children are minors.
In September, when Perry Greene filed for divorce, the representative issued a statement thanking him for making her a mother and being a great father to their children.
"Marriage is a wonderful thing, and I'm a firm believer in it," Greene said in the statement. "Our society is formed by a husband and wife creating a family to nurture and protect. Together, Perry and I formed our family and raised three great kids."
No matter what Greene chooses to do with her name, Robnett said, people will make inferences about her based on her decision. While people in her district and dedicated followers around the country would likely adjust to a new name relatively easily, Rackaway said, others who pay less attention could be confused to hear news about "Marjorie Taylor."
"In my opinion, the fact that we are asking these questions about Marjorie Taylor Greene, that is evidence of how these naming practices are pretty unfair to women as they're currently practiced," Robnett said.
Contact Ellen Gerst at egerst@timesfreepress.com or 423-757-6319.