Devin Bloss lived a double life during a remarkable week in August 2021.
During the day, the Signal Mountain resident was -- and is today -- a husband and dad who went to work every day at Unum. But for those few nights, he and other U.S. military veterans comprised an online network trying to assist Afghans who'd helped the coalition during the war flee their country.
And it was all on a clock, as the resurgent, repressive Taliban was readying to retake power after two decades.
"It was surreal," Bloss said. "I've got people's lives in my hands at night, then I'm going in the next morning and talking about a supplier's poor performance.
"It was adrenaline, coffee and not much sleep," he said. "It was a constant emotional roller coaster. Work was the calm."
(READ MORE: Signal Mountain veteran: Vietnam copter rescue 'just needed doing')
Photo Gallery
Veteran Devin Bloss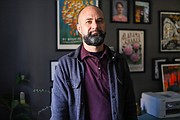 A Colorado native, Bloss said he grew up in a family with a long history of military service -- his grandfather was a soldier who was in the second wave on D-Day at Normandy, and his father served with the Air Force in Vietnam.
"I wanted to do my part," he said.
Bloss said he earned an appointment to the U.S. Air Force Academy, graduating as a second lieutenant. A purchasing officer, he said he served in Anchorage, Alaska; Los Angeles and in the Middle East before he was discharged as a captain in 2003.
Back in the civilian world, he said he worked at Lockheed Martin and FedEx before signing on with KBR, a Halliburton subsidiary with a "huge" military contract for troop support in Iraq and Afghanistan.
"They were looking for people with a background in federal contracting who'd been deployed," said Bloss, who "developed a feeling for Afghans, for their country" while working in Bagram and Kabul.
(READ MORE: Chattanooga veteran Joel Blake 'just wanted to serve')
Bloss said he worked a "series of jobs" when he came back from Afghanistan. In 2011, he said, he was tapped by Black & Veatch, a Kansas City-based engineering firm, to return to Afghanistan in support of the U.S. Agency for International Aid, an arm of the U.S. State Department.
Bloss said he spent a year in Kandahar, making more friends and "really hoping to have a hand in rebuilding" that war-torn country. After coming home, he said, he stayed in touch with his Afghan cohorts.
Last year, President Joe Biden announced in April a drawdown of U.S. and allied forces in Afghanistan, saying that America's 20-year military mission there would end Aug. 31. Bloss said his mind went to the Afghans with whom he'd worked -- especially a man named Aziz and his family.
(READ MORE: Cleveland, Tennessee's Bartosz witnessed Japan's 1945 surrender)
"When it became obvious that the Taliban was going to overrun the country," Bloss said, "I started hearing a lot of chatter from friends I'd worked with, asking 'Is there any way you can help us get out of here?'
"These were people we'd worked with, vetted, good to go," he said. "We'd promised them we wouldn't leave them."
Bloss said when he started reaching out online for contacts from his military and contracting days, something remarkable happened -- he came in contact with a group of veterans with whom he had little, but just enough, in common.
"We didn't know each other. Our only bond was that we were all veterans who knew people (in Afghanistan)," he said. "British Special Forces, U.S. Marines, Navy SEALs, (U.S.) Air Force and a Canadian. We knew some guys still on the ground in Kabul.
"It really snowballed," Bloss said. "The next thing you know, I'm coming home from work every day and working through the night, coordinating with Afghan friends to try to get them out as Kabul was being taken over."
Bloss said he and his group started working in earnest Aug. 20. The aim, he said, was to get their friends through Taliban checkpoints and to the Kabul airport for a flight out. That proved more difficult some nights than others, he said, as the situation on the ground deteriorated.
"It was chaos," he said. "(Taliban) were beating people at checkpoints. Some nights (our people) couldn't get through the checkpoints, and all we could do was tell them to try again tomorrow.
"As the timeline got shorter, it got more frantic More crazy. More confrontations."
Bloss said he remembers well the early morning of Aug. 25, when he got word that Aziz and his family had finally made it inside the Kabul airport.
"I went upstairs about 5 a.m.," he said. "My wife was still asleep, and I just started crying. I was tired and super emotional."
The next day, Aug. 26, the Islamic State group claimed responsibility for what it called a "martyrdom" attack -- a bomb went off just outside the Kabul airport, killing more than 150, including 13 U.S. service members.
"We'd had intel the day before that something really bad was about to happen," Bloss said. "Once the bomb hit, that was it (for us)."
Bloss said there's no way to know how many members of how many families the online veterans and their in-country confederates got to safety. What he does know is that the effort continues to get Afghans out who'd worked with the allied forces.
"It's down to one or two flights a week, but we're still honoring our commitment," said Bloss, who added he and his son went to Toronto earlier this year to visit Aziz and his family.
"It's been over a year, but I hope people don't forget that there are still people there who are targets of the Taliban, whose lives are in jeopardy," he said. "Hopefully, at the end of the day, they can all get out and have a better life."
BIO
Name: Devin Bloss
Age: 47
Branch: U.S. Air Force
Years of service: 1997-2003
Contact Bob Gary at bgary@timesfreepress.com.