There was a time when The Flying Doughnuts, now one of Chattanooga's most iconic murals, almost didn't fly.
Nearly a decade ago in 2014, bakery owner Barbara Koch of Koch's Bakery commissioned an artist to paint the heavenly pastry scene on an aging building near her establishment. But a city sign inspector cited her for violating a code restricting the size of signs on businesses.
The donuts weren't simply artwork, the inspector argued at the time. The painting depicted the pastries she sold — which meant it served as advertising.
"If it had been bagels, everything would have been fine," said Chris Anderson, who was then a Chattanooga City Council member and now serves as a senior adviser to Mayor Tim Kelly, in a recent telephone interview. "Obviously, there's some absurdity in that."
(READ MORE: Chattanooga's Koch's Bakery closing after nearly 80 years in business)
At that juncture, Anderson assembled a coalition of residents, including artists and civic and business leaders, to collaborate on amending the city's sign regulations. Some of the modifications were adopted, and some weren't.
Photo Gallery
Chattanooga's murals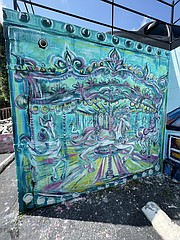 "It wasn't a question of public opinion about murals — it was more about an outdated ordinance that the public didn't agree with," Anderson said.
There were zero people complaining about the mural, he said.
"In fact, there was a pretty big public outcry in favor of the business," Anderson added.
Ultimately, the Flying Doughnuts rose to glory, and no fines were issued.
Since that time, attitudes about public art of all sorts have evolved. Murals, which were previously associated more with graffiti or considered as illegal artistic expressions, are now gaining acceptance among community leaders.
One example of that involves EPB, the city-owned utility, which earlier this summer commissioned 10 artists to adorn the 10th Street substation. The murals would help transform the urban environment and were part of "building a city where creativity can thrive," Kelly said.
"Public art is more than a nice addition," he said at the murals' unveiling. "It is central to who we are."
Fast forwarding to today, and the city is again working on updating ordinances to Chattanooga's sign code, Anderson said. Efforts are currently on hold, pending rulings on a few federal court cases concerning billboards.
"When dealing with sign laws, you're dealing with the First Amendment, and you have to make sure you're not violating the Constitution," Anderson said. "One of the goals will be to codify that murals are not signage and do everything that we can to encourage artistic expression like murals throughout the city."
Signs of life
The Artist Seven, whose real name is Eric Finley, is one of the most, if not the most, prolific muralist in Chattanooga. Over the past 15 years, he said he has completed an estimated 40 paintings around the city. His work can be found across the U.S., as well.
In early August, he completed a mural featuring several large-scale, interlocking three-dimensional geometrics shapes, adding visual intrigue to The Tomorrow Building at Somer Station. And about a month before that, he finished another piece depicting a crane at Kai Bistro, a new Asian-American eatery set to open soon on the Southside.
"Of course, murals attract business, but more so, they attract development," he said during a phone interview. "Where you have an area that's been rundown or abandoned, artists can help change the public's perspective on an area, so a place doesn't have the same stigma that it might have once had, which, in turn, helps attract new investors."
Chattanooga's Southside, specifically the Main Street area, exemplifies this transformation, he said. Going back 10 to 15 years, the area was a place that people avoided. Now, it's a popular tourist attraction — a place people want to spend time and money.
(READ MORE: Scenic City Art: A map of murals to visit in Chattanooga)
So, what's the difference between graffiti, street art and murals – and why do they seem to be gaining popularity?
The term "street art," Seven wrote in an email, "is broad and can include many different styles of art, unrelated crafts and practices, which could include graffiti. Graffiti itself, which is more properly termed 'style writing,' is a very exclusive artform with rules, egos and politics involved. It is not meant or done to be accepted.
"The increasing acceptance of graffiti by society is simply a by-product of the evolution of graffiti's execution by advanced artists … The popularity of street art and graffiti has increased due to social media and the internet to the point that it is now becoming popular culture, so of course businesses would want to try and capitalize on the draw and appeal of these exciting and raw art forms."
Marketing made easy
Olivia Reckert is another prominent muralist whose creations can be found throughout Chattanooga, including Big Bad Breakfast, Whiskey Cowgirl, Reagan's Retro Bar, Westbound, Spice Trail, River City Apparel and EPB's 10th Street Mural Project. She also has a background in marketing and advertising.
"Murals set the tone and mood of a space," Reckert said in a phone interview. "Whether it's through color or shapes, they convey a message. I love working with businesses to determine what goals are for the business."
One example of how murals help with marketing is Reckert's work that is splashed all over the walls at Reagan's Retro Bar, across from Songbirds on Station Street in the Southside. Under black lights, her work makes the space come alive in glowing, neon colors.
The owners were after something to make their bar easily recognizable in photos — even without being "tagged" on social media.
Reckert's work can also be found in several homes in the area, as she has been commissioned many times to create artwork for short-term rentals. Just by adding color, shape and a sense of movement to the walls, Reckert has the ability to convert an otherwise mundane space into an unforgettable environment guests will remember for years.
"The homeowners don't want to alter too much," she said. "But you can really enhance someone's stay through color and paintings on the walls."
The Instagram factor
When Amanda and Erik Neil, owners of two local restaurants, Main Street Meats and Easy Bistro & Bar, first moved to Chattanooga, the city was offering grants to attract artists to the area. Since then, the Neils have watched the arts play a pivotal role in transforming the Southside from a desolate area to a tourist hotspot.
"There were all kinds of artists moving to this area at that time," Amanda said. "I definitely think that did pave the way. This was all before developers started building condos."
The Neils also have connections with both Seven and Reckert.
(READ MORE: Reasons to love Chattanooga's arts and outdoors)
Upon acquiring the building that houses Main Street Meats, they inherited one of Seven's paintings — a giant, psychedelic rooster facing State of Confusion restaurant. Seven had painted the mural as a gift to the previous owner of Niedlove's Bakery.
"Murals add to a building's character, but they also help in terms of marketing and social media," Amanda said in a phone interview. "So many people take pictures in front of that painting.
"Anytime you have anything that's artsy and creative, it's really good for social media purposes. If somebody takes a picture and then tags us — it's a fun way of sharing. And that kind of marketing doesn't cost any money."
The Neils have also hired Reckert to set the mood at their new restaurant, Little Coyote, which is slated to open in St. Elmo this fall. Amanda said she plans to give Reckert the creative freedom to do as she pleases as long as she stays within the Southwest color palette and branding.
"There are a lot of different factors that played a role in Main Street becoming so popular," she said. "And art definitely helped."
Our cultural narrative
Chattanooga is an easy sell, said Donna Elle Harrison, director of cultural tourism and inclusive marketing for the Chattanooga Tourism Co. And a big part of that is the city's visual appeal to prospective businesses.
While Chattanooga is known for its natural beauty, Harrison said in a phone interview, its sense of culture and community also help the city stand out among others. Through murals, artists are telling their authentic stories about the city. And when visitors arrive, they learn about the people and history of this area.
"When you think about years ago, there were so many desolate areas," she said. "MLK Boulevard is way more open and bright than it used to be. At one point in time, we didn't have those. It's now driving businesses to want to participate in being downtown."
(READ MORE: The story behind Art for All Peoples, the mysterious street art popping up across Chattanooga)
Each new company considering relocation to Chattanooga begins with a visit, Harrison said. And when corporate leaders think about moving their enterprises, they think about bringing new employees, as well. And they want to find cities where their people can thrive and be happy.
When business leaders encounter art like murals, there are broader messages intertwined with them — like Chattanooga's sense of diversity and collaborative community spirit.
"It's more of an attraction for people to want to work, play and live here," she said. "These paintings reflect who we are."
While some murals are used for branding and maybe a little fun (think: the two-story slice of cheesy, gooey pizza at Southside Pizza), others make a statement or memorialize significant people or events. A mural on M.L. King Boulevard honors Martin Luther King Jr., and another on McCallie Avenue pays homage to the "Fallen Five" — five military members shot to death at a Navy reserve center in Chattanooga in 2015. Both are by artist Kevin Bate.
The mural on the AT&T building in downtown Chattanooga, "We Will Not Be Satisfied Until," centers on Black history and the evolution of the M.L. King neighborhood.
Artist Meg Saligman, who completed the project in 2016, led multiple input sessions and interviewed residents of the M.L. King neighborhood to inform the design and gain an understanding of the community. At 42,000 square feet, it is the largest mural in the Southeastern United States.
Drawing people together
James McKissic serves as president of ArtsBuild. He moved away from Chattanooga during the 1990s but returned about 20 years ago, pleased with the way the arts have helped transform the city.
"The overall public art has made a huge difference in enhancing the city," he said during a phone conversation.
ArtsBuild's role is to provide funding for art organizations through grants, art advocacy, internships and various community projects, including the Holmberg Arts Leadership Program named after the Chattanooga Times publisher, Ruth Holmberg. Some of the nonprofit group's more notable contributions include artwork on the side of the Kinley Hotel, murals by The Artist Seven, installations in places like Soddy-Daisy and Trenton, Georgia, and a collaboration with EPB to finance the murals for the 10th Street Mural Project.
(READ MORE: Alan Cumming to headline fall arts fundraiser in Chattanooga)
According to McKissic, artwork and murals have a profound impact on people — they "spark something within." They not only rejuvenate neighborhoods, but they also invigorate people as well. It's something we see everyday, he said — people stopping to take selfies and sharing them across social media platforms.
"Businesses and institutions that are involved with public art — people want to spend more time there and in those neighborhoods," McKissic said. "The art keeps their attention and keeps them engaged.
"Our mission is to build a stronger community through the arts, and murals build community and draw people together. We're always in support of more murals and more public art in Chattanooga."
Contact Jennifer McNally at jmcnally@timesfreepress.com or 423-757-6416.