Photo Gallery
Rick Smith stays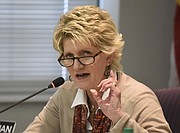 Hamilton County Schools Superintendent Rick Smith will remain at the helm.
The school board voted 5-4 Monday night against a proposed buyout agreement, meaning Smith will continue leading the school system despite receiving widespread criticism from the public and school board members after the rape of an Ooltewah High School freshman, allegedly by three of his basketball teammates, on Dec. 22.
School board members' opinions of Smith's leadership varied Monday night, but regardless, he will remain superintendent, and the board agreed the school system must move forward.
School board members Steve Highlander, Donna Horn, Karitsa Mosley, Rhonda Thurman and Greg Martin voted against the buyout. Each of them said their constituents did not want Smith to be offered $269,000 to leave his job.
Martin's